First Impressions & Setup
First Impressions & Setup
I had just got back home from visiting my parents and checked my email. Gene had sent a message asking if I was interested in reviewing the Panasonic PT-AE700U projector. All I could think was "how unbelievable is this!" The reason I was at my folk's house was to install this very unit that I purchased for them. Having already spent a lot of time with this projector, I quickly agreed to do the review.
While I was in the market for my folk's projector I left every option open. I wasn't set on the technology, the resolution or any particular features. I did a lot of research and got as much input as possible. I finally decided on the Panasonic because it provided a great value in a high definition resolution. Now I am typically not a big fan of LCD projectors, but this one was an exception. Just as some people are sensitive to the rainbow effect from DLP projectors, my experience showed that I was more sensitive to the "screen door effect" from LCD technology. The PT-AE700U does not exhibit this phenomenon - and I haveI periodically seen the issue while watching nearly every other model in this price range.
First Impressions

If you've read any of my other reviews you'd know that I like to read the manual first. The manual is short, simple and straightforward. It explained the function of buttons, types of connections, and all of the menu options. It did not get into any detail on how to make adjustments or, in some instances, the specific use of certain features. As there was such an abundance of features, I think the manual needed more detail.
In most of our reviews we like to see hefty equipment but that doesn't necessarily hold true for a front projector. Sure, it is important to have solid construction and quality parts but a light weight projector can be attractive when you are hanging it from a ceiling. At only 8 pounds I found it very easy to attach to the ceiling mount at my parents house.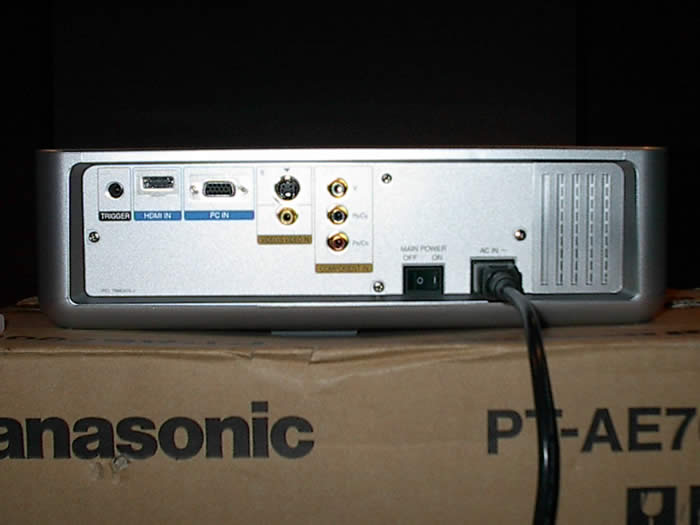 The rear panel was simple and uncluttered. The inputs consisted of HDMI, RGB (HD15), s-video, composite video and component video. There is also a 12VDC trigger which can be used to operate an electric screen. The component input used RCA connectors. No BNC connectors were available, however you could use the PC (HD15) input and a breakout cable to get RGBHV. The master power switch is located next to the AC input connector.
Set Up

Once I placed the projector in its general location and performed a rough alignment, I found that one feature I particularly liked was the lens shift adjustment knob. It was fashioned after a joystick which is directly coupled to the lens assembly. Making adjustments was simple: turn the knob to loosen the joystick and then move it around to shift the lens. Once it was adjusted I tightened the knob and "viola" it was set. This lens shift feature is rare, especially for a projector in this price range. It allows great flexibility in the projector placement which lets the custom installer place the projector above or below the screen and slightly left or right from the center, allowing them to avoid natural obstacles in a post-construction installation. Although the lens shift offers great flexibility, the manual did state that maximum picture quality is achieved with the lens in the centered position. In my testing I did not find any real image degradation when using a reasonable amount of lens shift that did not venture to the extremes.
I next did a general calibration using the AVIA DVD video section. There are several picture modes to choose from so I made the calibration adjustments in the "Cinema1" mode which appeared to have the best initial color temperature setting. With the AVIA disk and my particular screen (Da-Lite Pro Imager) very little adjustments had to be made to the color and I mostly dealth with black and white levels.
In my reference system I had the projector set up behind my first row seating at about eye level and about 15 feet from the 110 inch 16:9 diagonal screen. While thinking about the placement let me mention the fan. Although I certainly haven't experienced every projector on the market, this projector has to have one the quietest fans in its class. It was right next to my head and I could barely hear it, so it could be placed on a table top with no distraction. To connect it up I used a 25 foot Impact Acoustics SONICWAVE component video cable and a 25 feet DVIGear HDMI cable. I did not try the s-video or composite video connections. It may seem pointless to have these latter two connections these days but on my reference projector I need one because the Integra RDC-7 does not output the On Screen Display via the component video output so I ended up running an s-video cable along with the others. Here is the general table to give an idea distances and screen size.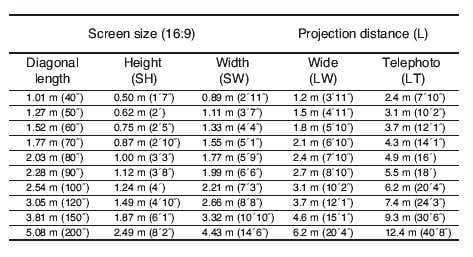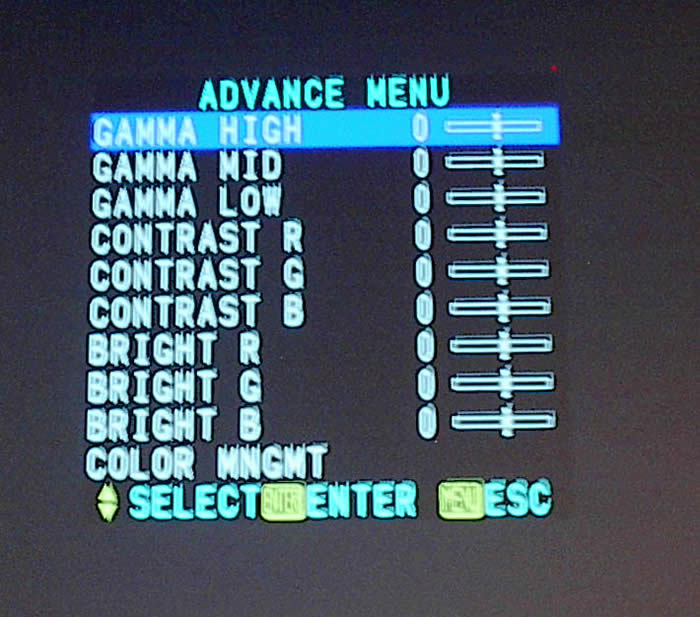 Another thing to mention is that the projector comes with a lens cap which I don't believe is for everyday use but for transporting the projector. When it is taken on and off the lens focus ring can move slightly so if you were to do so you would be refocusing the projector all the time.
Beyond the basic video adjustments there is an Advanced video menu that some may choose to take advantage of for tweaking the RGB gain, cut and gamma levels. Once everything was set up there were 3 user memories to save the settings. This allows for configuration of Day and Night settings, as well as one for Black & White films (setting the color temperature to around 5000K).
Confused about what AV Gear to buy or how to set it up? Join our Exclusive Audioholics E-Book Membership Program!