Optoma TW865-NL DLP Projector Review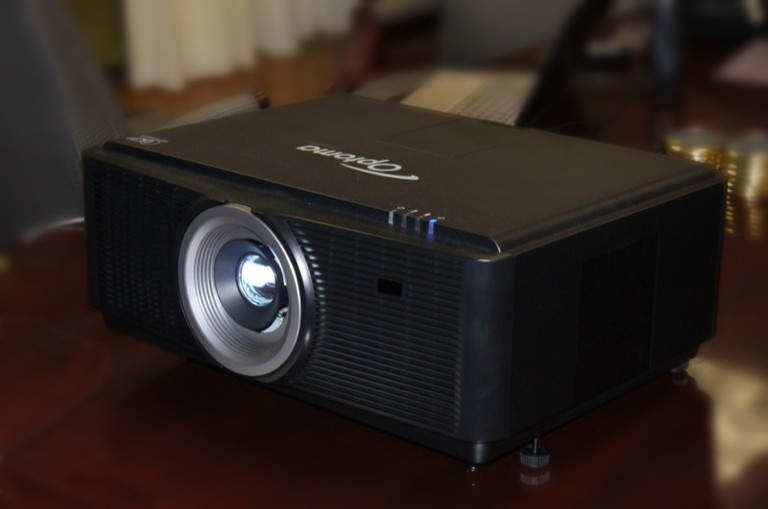 Optoma TW865-NL DLP Projector
Summary
Resolution: WXGA
Brightness: 6000 ANSI lumens
Colors: 1.07 Billion
Aspect Ratio: 16:10
Technology: DLP
Contrast Ratio: 4000:1
Weight: 40.3 lbs.
Dimensions: 21.3" W x 7.8" H x 16.5" D
Warranty: 3 years - Parts & Labor
Inputs (Video): NTSC, PAL, SECAM, SDTV (480i), EDTV (480p), HDTV (720p, 1080i/p)
Included Items: Projector, AC power cord, VGA to VGA cable, remote adapter cable (2.5mm male to 3.5mm female), remote control, batteries for remote, RS232 cable, lens mount adapter, lens cap, multilingual CD-ROM user's manual, quick start card, warranty card
While we typically review home theater projectors, we couldn't help but want to take a peek at Optoma's latest large venue product. The TW865-NL is a WXGA projector that was unveiled at InfoComm earlier this year. WXGA is 1280 x 800, or 16x10, which happens to be a very popular laptop screen aspect ratio. When I called this projector a "monster" in an email, the PR company got a little scared and wanted some clarification. Well, I don't mean that it's scary...it's just...big. Industrial. A machine. We've reviewed so many budget-minded products lately, that when you get a fully-featured DLP projector with this much output...well, it's just cool. So that's why we called it a monster. Well, that and it weighs over 40 pounds without the lens.
And the lens—well that's another all-Pro feature. You can select from three available models, including a short throw for around $2500, a standard zoom for $1000 (the one we used), and long-throw for $2000. That means you have a significant amount of placement flexibility when planning your installation. To give you an idea of how much - well, you can hit a 300" screen from either 21' away or 65' away. Another thing that helps with placement is the motorized zoom, focus, and lens shift—the latter of which does 50% vertical and 10% horizontal. The projector also has keystone correction up to 20% for more significant off-angle placements.
Lens Options

| | | | |
| --- | --- | --- | --- |
| Optoma Part Number | BX-CAA01 | BX-CAA02 | BX-CAA03 |
| F Number | 2.3 – 2.57 | 2 – 2.3 | 2.3 - 3.4 |
| Throw Ratio (Distance/Width) | 1.0 ~ 1.28 | 1.28 ~ 1.61 | 1.6 ~ 3.07 |
| Zoom Range (Ratio) | 1.28 | 1.25 | 1.9 |
| Projection Image Size | 50 ~ 500" | 50 ~ 500" | 50 ~ 500" |
| Zoom & Focus Adjustment | Motorized | Motorized | Motorized |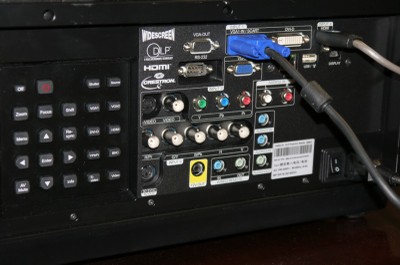 On the back of the TW865-NL you find a full, not partial, control pad including full direct input control. You can connect just about anything to this projector: HDMI, DVI, dual VGA-ins and a pass-through output, S-video, composite, component, RGBHV, BNC. I don't think you can name all the inputs without running out of breath. For audio you have two stereo 1/8" inputs, a stereo RCA input, and even stereo outs for pass-through. There's also USB with a wireless option, mini USB display port, wired remote ports and a 12V trigger. And, if you're connecting this up to a control system, the TW865 supports AMX, Extron and Crestron through both RS-232C and RJ45 connectivity. You'd think it would be amazing that a single projector could house all these inputs, but then again - it's 21" wide x 8" high x 16-1/2" deep.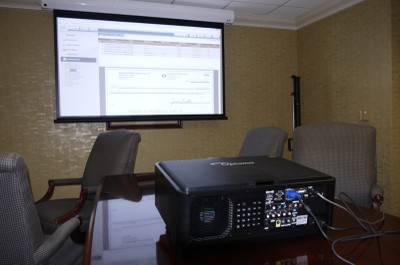 Even with ambient light the projector can really display a viewable image with sufficient contrast

The TW865-NL pumps out a ton of light. It's 6000 lumens of max output makes this projector a real torch and it can hit some pretty large-sized screens, even with a reasonable amount of ambient light. We tested it out in several rooms, including a conference room with only minimal ambient light control and also an auditorium, where - with the Standard Zoom lens—it was able to light up a 200-inch screen from around 22' away. Colors were vibrant, and even though the full on/off contrast ratio is just 4000:1, it was actually very dynamic in actual use—particularly on a larger screen. We watched several movies with darker scenes, like Resident Evil: Afterlife and Batman Begins and I felt that the TW865-NL had black levels that were really satisfying - even if they weren't necessarily reference quality. On the other hand, it could light up a screen with presentation content like very few models can.
Standard mode (left) and Dynamic mode (right) in a darkened room

Coupled with the placement flexibility and control options and this is a very formidable system. That's not to say that there are some drawbacks. For one, the TW865 sounds like a jet engine or small thermonuclear reactor when it starts up or shuts down, but during use it's actually reasonably tame—particularly if it's ceiling mounted high in the air where it's likely to be.
The remote control is actually quite good, with a dazzling bright blue backlight that fully illuminates every single button. Like the back of the projector, each input - and I mean every single one—has its own direct access button. There's also a handy Test Pattern button which throws up a quick grid for alignment and the front and back IR receivers on the projector meant that we never had any trouble getting the remote control to connect.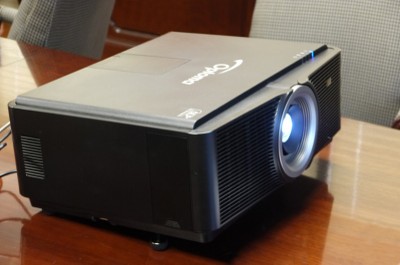 And it also supports 3D in multiple formats... which we have to admit is probably going to be the least-used feature on this projector.
Crazy Advanced Features
There are some features that we were unable to test with the Optoma TW865-NL. For one, you can connect a single computer to up to eight of these projectors within a LAN (local area network) to project content across all of those projectors simultaneously. You can also do some administration tasks with network control and management via RS-232 or RJ45 ports. It's also certified for use with Extron, Crestron, and AMX control systems.
Conclusion
The TW865-NL is, without a doubt, positioned as a large venue projector and seems ideally suited for houses of worship or even commercial installations where you need 24/7 non-stop operation. Optoma also offers an Express Replacement Service three-year warranty with one-year on the 400W lamp so down time is limited. Now this projector isn't cheap—particularly given that the 400W lamp will need to be changed every 1500 hours if you operate it in Bright mode. Still, with a street price of around $4000 or less, it represents a pretty robust product for installers who need a more rugged, commercial solution. It's only available thru Optoma Direct ProAV Resellers—and if you want to get it online, VisualApex.com is the place we'd recommend.
So our question this week is simple: With front projectors offering the biggest screen for your dollar, have you considered it? If so, tell us why - if not, tell us why not on our Facebook page—and Like us on Facebook at facebook.com/audioholics while you're there.

Unless otherwise indicated, this is a preview article for the featured product. A formal review may or may not follow in the future.