Optoma HD8200 DLP Projector with Lens Shift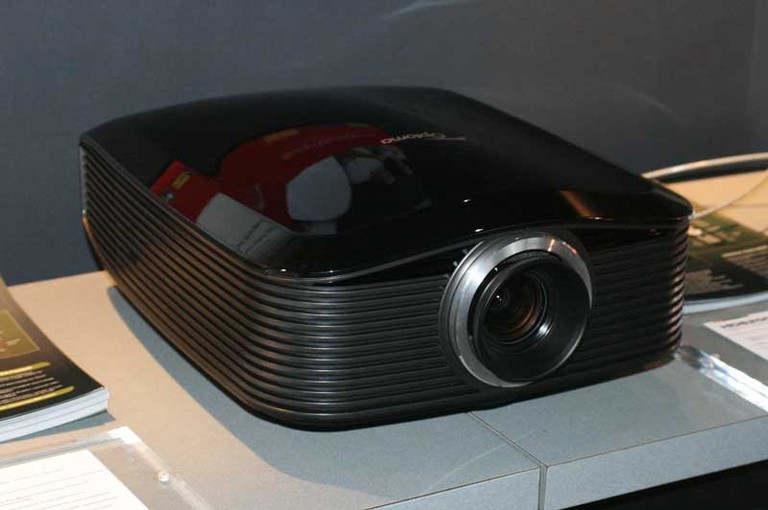 Optoma HD8200 DLP with Lens Shift
Summary
Texas Instruments DarkChip3 DMD (DLP)

30% Vertical & Horizontal Lens Shift
2 x HDMI 1.3 (Deep Color)
1 x DVI-D w/HDCP
Component/S-video inputs
RS-232C
ISFccc
"Backup" hidden remote included
20,000:1 contrast ratio
Executive Overview
Optoma showed us their all-new HD8200 home theater projector, the company's latest high-end 1080p DLP-based front projector. It's powered by Texas Instruments' DLP DarkChip3 DMD Technology, and incorporating Optoma's PureShift and PureMotion technologies. Designed to meet the most demanding custom installation environments, the HD8200 also integrates installation-friendly features like ISFccc (Imaging Science Foundation Custom Calibration Configuration) Day & Night certified modes.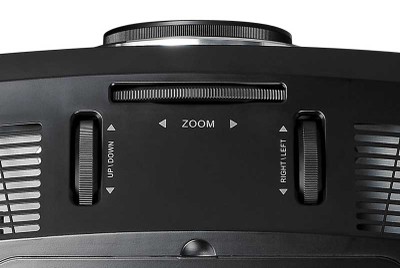 Incorporating Texas Instruments' latest, smaller version of its DLP DarkChip3 DMD chipset along with BrilliantColor technology, the HD8200 offers an improved 20,000:1 DynamicBlack contrast ratio to ensure true-to-life color accuracy. ANSI contrast is over 600:1 according to the product specialist we spoke with at the show. The HD8200 is also the first DLP-based projector to employ Pixelworks' PW9800 co-processor with DNX MotionEngine technology. Using proprietary MEMC (Motion Estimation and Motion Compensation) algorithms to significantly enhance the quality of the video delivered, the PW9800 compensates for motion artifacts ("judder") in high-resolution digital video content thus ensuring smooth playback. Combined with Optoma's PureMotion Technology for advanced image processing, and delivering a maximum brightness of 1,300 ANSI lumens, the HD8200 should be a good match for most home theater applications.
Here's where my interest really piqued - the HD8200 has a center lens placement and there is a ~30% vertical and horizontal lens shift - purposefully limited in range to keep the entire image in the optical "sweet spot".
The HD8200 features two HDMI v1.3 with Deep Color inputs and DVI w/HDCP. For legacy use, S-video and component video are provided. RS-232, a +12V trigger and an IR receiver provide excellent support for custom installers. There is an "extra" remote that exists at the back of the projector and is removable. The idea was to keep the outer black case free from buttons. The backup remote provides functionality in the event the primary remote is misplaced. Lastly, the projector incorporates more efficient cooling technologies keeping the unit cool and whisper quiet during operation.

The suggested retail price for the HD8200 is $4,999.99. Shipping dates are sketchy, but we're going with somewhere around late January from what they told us.

For more information, visit www.optomausa.com.

Unless otherwise indicated, this is a preview article for the featured product. A formal review may or may not follow in the future.
funlvr1965 posts on February 17, 2009 08:17
Optoma has its work cut out for them based on their poor performance and support track record, their HD81 was a monumental dissapointment on all sides, hopefully they are learning from their mistakes
The Dukester posts on January 10, 2009 13:12
Clint, have you seen the new JVCs and the new Sony LCOS units? I'm wondering how they compare. I have a DLP and I like the image. I don't care for LCD but the new JVC units seem to be getting rave reviews on their picture quality. Just wondering if you saw them and your impressions. I'm not into spending upwards of 8 g's with LED units on the horizon.
Audioholics posts on January 10, 2009 11:32
The new HD808 model is priced (MSRP) at around $3499 and has 1200 lumens with a DarkChip2 DMD. Other than that they are almost identical. Promising to say the least that we are finally seeing DLP with vertical AND horizontal lens shift.
BMXTRIX posts on January 09, 2009 16:03
I would be interested in a review of this for sure!

The price is a bit steep, but both LCD and LCoS have had both super zoom and wide lens shift for the last few years. The competition also has taken on DLP contrast ratios head on with a very serious jump in performance over the past few years.

DLP has been sitting on projectors with crazy offset (30%+) and 1.2 zoom lenses and thinking that is appropriate for people as they often charge $5,000+ for their machines.

I'm excited about this projector, and think it is long overdue. If they could actually do one for $3K then they will really be in the running against the LCD models… At $5K, I'm not sure why someone wouldn't just get the JVC instead.
mperfct posts on January 09, 2009 11:10
$5k and no motorized zoom/lens shift? Otherwise looks pretty good. It's up against some stiff competition in the 2k-2.5k price range, and even stiffer competition with the Mits HC7000 and the RS10 (might be a bit more $$$?).

I liked my HD80 quite a bit, but placement was a mother. It's good to see Optoma went with black too.
Post Reply
Confused about what AV Gear to buy or how to set it up? Join our Exclusive Audioholics E-Book Membership Program!