Optoma HD72 DLP Projector Review
Optoma HD72 DLP Projector Review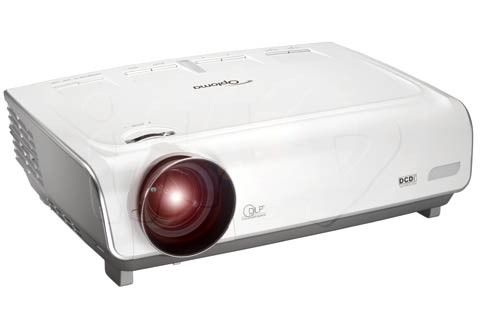 Optoma HD72 DLP Projector
Display Technology: Single 0.65-inch DarkChip2™ DLP™ technology from Texas Instruments

Resolution: 1280x768

Brightness: 1300 Lumens

Contrast Ratio: 3500:1 Full On/Off (5000:1 In AI Mode)

Noise Level: 27dB typical

Lamp Life: 3000 Hours standard

Horizontal Scan Rate: 15-75 kHz

Vertical Scan Rate: 43-85 Hz

Image Size: 28-inches to 304-inches

Throw Ratio: 1.5 to 1.9 (Distance/Width)

Uniformity: 90% Or Better

Keystone Correction: Horizontal and Vertical

Video Compatibility: NTSC, PAL, SEACAM, EDTV, HDTV

Computer Compatibility: UXGA, SXGA, WXGA, XGA, SVGA, VGA

Input Connectors: HDMI, HDCP-DVI, Component Video, S-Video, Composite Video, RS-232

I/R Pickup Receivers: Front and Rear

12-Volt Trigger

Dimensions: 13.56" W x 3.65" H x 9.67" D (344 x 94 x 246 mm)

Weight: 7 Pounds (3.2kg)

Power Supply: 100-240 Volts 50-60Hz

Projection Methods: Front, Rear, Ceiling Mount, Table Top

Warranty: 2-Year Limited With Zero Dead Pixel Policy
90-Day Lamp Warranty
Pros
Price
Excellent detail, black level and color
Very good internal video processor
Every input you would need
Quiet
Modern styling
Excellent warranty including a no dead pixel policy
Cons
Remote has sporadic operation
Standby light blinks on/off until hard shut down
Excessive offset may not be suitable for some installations
Small amount of light leakage from side of projector
Introduction
We were first introduced to the new Optoma HD72 in January at the 2006 Consumer Electronic Show. We were very interested in conducting a review of this projector based on what we viewed at the Optoma booth. The new Optoma HD72 breaks the price barrier for 1280x768p DLP projectors, selling at just $1999 MSRP. Our friends at Projector People were kind enough to lend us a demo unit for the purpose of this review.

Confused about what AV Gear to buy or how to set it up? Join our Exclusive Audioholics E-Book Membership Program!
Recent Forum Posts:
jcPanny posts on August 16, 2006 13:56
Upconversion

Jay,
Any fixed pixel display (LCD, Plasma, Front/Rear Projector, etc.) will convert the incomming signal to its native resolution (720p in the case of the Optoma HD72). The reason for an upscalling DVD player is that you can feed the display its native resolution and some players like the Oppo have much better conversion chips than the ones bulit into the display.

Also, check out the beginners section of the site for plenty of good articles on A/V components and systems.
Jay001 posts on August 16, 2006 13:06
Up-Conversion

Hi all,
Need some help again! Wow, do I ever have a lot to learn.

I am wondering if the HD72 does any type of up-conversion of DVDs? I have an older DVD player and would consider getting one of the newer up-converting ones, but if the projector already does this then what would be the point.
Thanks for any input.
Cheers,
Jay
Jay001 posts on August 15, 2006 14:10
Costco.ca/costco.com

It's nice to see a deal in Canada for a change. Costco.ca is offering the Optoma HD6800, DVI cable, 92 inch screen and ceiling mount for $1824.99 plus tax whereas Costco.com has the same projector, and 106 inch screen for $1999.99.
Great to be in Canada!
Cheers,
Jay
Jay001 posts on August 15, 2006 13:59
David Gaudreau posts on August 15, 2006 13:10
So would i be able to use this projector in a room 17'wide 24' deep by 10' high? wanted a 120" screen 3 rows of seats main viewing seats at 15.5 feet from screen wall. Is this do-able?
Post Reply