HD70 Features & Comparisons
HD70 Features & Comparisons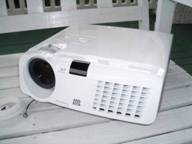 When I found out that Optoma was taking over the entry level projector market - excuse me, I mean introducing a 720p DLP projector for under $1000舑 I quickly lined up a unit for review. You heard correctly, this is a 720p-native DLP projector that is debuting for $999 (street price). To suggest that this projector might be a popular item going into the holiday season and throughout 2007 would be like saying that Reality television might be getting a bit stale. I'll just say it now: this should be the top-selling projector of the coming year, and for good reasons that I will outline in this review.
Features and Favorites
There's not much to pick on with a $999 720p DLP projector, but I can always find at least a few things to praise in particular when looking at a new model:
Quiet Fan System
At full blast (Bright Mode 'on'), the fan measures 52dB from 6-inches away. With Bright Mode 'off' the noise dropped down another few dB - just below the threshold of being measurable on the Radio Shack SPL meter. I'm not sure what the standards are for measuring the 28dB of noise claimed in the literature but you'd need to be several feet away to hit that number. Overall the noise is rather low compared to other models I've heard.

Image AI
This feature improves contrast by varying the lamp output according to the amount of luminance being measured at the input source at any given time. Functioning as a sort of "dynamic iris" the effect is similar in that the lamp will output less when the scene is darker and more when the scene calls for it.

BrilliantColor Color Processing
The description for this feature makes it appear to be "magic", but as near as we can figure it adjusts the gamma settings of the unit to pop out colors in various lighting and brightness situations. For a truly accurate Cinema setting you'll want to keep it at 0 or 1 and configure the projector for your particular needs. If you're looking at using the unit during the day (Sunday football, for example) then by all means configure the Brightness setting to its maximum setting of 9. Images and color will pop - even with considerable amounts of ambient light.
With the included feature set, the low cost of entry and the resolution capability of this projector, the HD780 is sure to be a winner in the race for front projector market share.
Comparing the Optoma H31 and the HD70
Since the H31 debuted as a great budget projector for those looking to get into the game, it seemed only natural to take a look at what the same price of entry gets you today. The differences are staggering with a lot of "give" and almost no "take". Optoma's HD70 truly offers a whole host of new and updated features without removing too much in the process to cut costs:
H31 (480p)

HD70 (720p)

850 ANSI lumens

1000 ANSI lumens

Resolution: 854x480

Resolution: 1280x720

3000:1 (on/off) contrast ratio

4000:1 (on/off) contrast ratio

4x 6-segment color wheel

4x 7-segment color wheel

200W P-VIP lamp

200W UHP lamp

DarkChip2 DLP

DarkChip2 DLP

DVI-I (w/HDCP) input

HDMI (w/HDCP) input;
Dedicated ComponentVGA input (HD15)

Backlit remote

Backlit remote

Front and Rear IR receiver

Front IR Receiver

480p support (720p/1080i downconversion)

720p support (1080p downconversion)

RS-232 Support

No RS-232 Support

5.0lbs

5.6lbs

10.7" x 3.4" x 8.3"


10.4" x 3.7" x 10.1"


Starting MSRP: $999

Starting MSRP: $999
Confused about what AV Gear to buy or how to set it up? Join our Exclusive Audioholics E-Book Membership Program!
Recent Forum Posts:
patriciogac posts on May 22, 2007 18:31
Clint:
Great review!
I tryed using Avia for calibration, but i did not like the results. can you publish the calibration numbers for the optoma d70 that the datacolor showed? Thank you!
nucoolmint posts on February 24, 2007 12:36
This was a problem with the DVD player. I now have the oppo 970HD and the component cables work fine.
billnchristy posts on December 20, 2006 19:09
What kind of time frame does it take for this to happen?
nucoolmint posts on December 20, 2006 12:18
phidelt
Great review, what led me here was a problem with my HD70 that I think may be easily corrected. I have 25FT runs of both SCART/Component and straight component cables - each of which I have hooked up to my 5-7 year old Sony DVD player (dont have model # handy). My issue is that during indiscriminate times or scenes, the HD70 will "drop" the image completely with its blue splash screen, 2-5 seconds later, the image comes back. I have tried it with a SCART/Component cable as well as the straight component port and the same thing happens, even at the exact same moment in the scene on the DVD. I ran DVD over SVIDEO and no signal problems at all. My HDMI source (cable TV) has never dropped either.

Is this a cable problem? A signal degradation problem? a projector problem? If I had a spare DVD player that was easily removeable, my plan was to move it closer to the projector and test a different DVD player with a shorter cable, but I haven't been able to do that yet. It seems to happen with action scenes/sequences, and less on dramatic slightly moving images.

Any ideas would be greatly appreciated.
I have the same problem it drops in and out. I have the Sony DVD S5550D and the HD70. It works fine on S-Video. My cable run is aprox 33 feet. The image on component when present looks great. Is this a cable problem or HD70 not being able to hold on to the sync or maybe just the DVD player.
Cheers
Lou223 posts on December 12, 2006 11:35
Convinced by your article…

Clint, after reading your article I went to BBUY to pick up my HD70 but when I arrived they had the Sony Cineza HS51A for the same price on sale. Should I go for the new DLP technology in the HD70 or for last years model Sony? Which would give me a better picture? Many thanks for your help!
Post Reply