Optoma H31 Viewing Evaluations & Conclusion
Optoma H31 Viewing Evaluations & Conclusion
The bang-for-the-buck factor is certainly here with respect to the Optoma H31's sub-$1300 price point. For movies, we chose a selection of modern and old clips and really attempted to explore the various characteristics of this player. From color accuracy, to black levels, to saturation - we constantly walked away impressed and pleased with the level of performance being produced by this entry-level projector.
DVD: The Great Escape
I wanted to get a good example of an older movie with less than pristine transfer quality. Sometimes this gives you a real world swag at how the display will function when less than optimal material is sent to it (like most television or standard definition content, for example). M y expectations were low, but the Optoma took what it was given and represented it cleanly and with excellent color saturation. The Great Escape, arguably one of the best "guy" movies of all time, served as viewing fodder for us to see how well the H31 reproduced detail and black levels from a picture that really showed its age. I could not have asked for much more and took great note of the smooth gradients and detail present in the buildings and grounds.
DVD: PlasmaScapes
We put in PlasmaScapes, the DVD "screensaver" that presents some really cool content on your widescreen display. While the resolution on these looping motion backgrounds isn't necessarily HD, there is a lot of detail and natural lines which show off a display's deinterlacing ability as well as the color and noise reduction potential of the projector.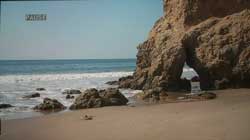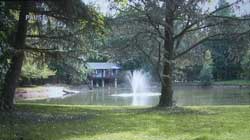 Some of these scenes are just gorgeous and I found myself being swept away to a different place as the water lapped up against the shore or a distant fountain spilled into a serene lake. If you haven't yet checked out these DVDs, they make excellent tools for showing off your new widescreen display when company is over. Whether your taste is fish tanks, beach scenes, cityscapes, or even fractal loops and lava lamps, PlasmaScapes is a neat toy to have on hand.
DVD: JKP Space Shuttle Scenes
I felt the space shuttle scenes in Joe Kane Productions' Digital Video Essentials really helped show off this projector's attention to detail and overall resolution. Provided you are farther back than the projector itself, the 480p resolution is solid. The pixelation disappeared into the background and the image took on a completely seamless look. When you are in that "viewing zone", the H31 really shines. Its vivid picture quality makes for a seriously engaging experience. It won't take long for you to forget it's only 480p and get lost in the action.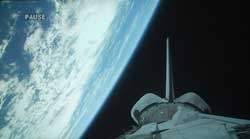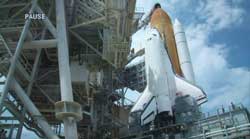 DVD: Ghost in the Shell 2: Innocence
I had such high hopes for Ghost in the Shell when I finally got around to renting it on DVD. So many people had praised it for its uniqueness and style. Rubbish. Its incomplete story line and rather uninteresting animation lend it to be a complete waste of time in my opinion. The sequel, however, is a different story. Using a healthy combination of 2D and 3D technology this time around, the animation team behind this film is producing some truly intoxicating material that is nothing short of eye-candy. On the DTS Surround .9 demo DVD, the convenience store scene will absolutely dazzle viewers on a good screen. The H31 brings this sequence to life with realistic shadow detail, rich colors and fine detail on the environmental textures. Animation in general really looked great on this projector, with its excellent color saturation maxing out its potential and creating a very impressive experience.
Conclusion
The Optoma H31 is a budget projector that, while not having the resolution of its bigger brothers, provides enough oomph to present a truly compelling reason to save some money and be satisfied with a 480p projection solution. I would never have thought that 480p could look so good, but then again resolution is not as big of a deal when the viewing distance is correctly matched to compensate. You'll want to calibrate this unit out of the box (and for each input I might add). Once you have done so you will be impressed with its features, its form, its color accuracy and detail. While it scored middle-of-the-road on our HQV bench tests, its real world performance was impressive and showed that bench tests should certainly not be the sole deciding factor when choosing a display. If you're looking for a budget display to get you into the big screen home theater experience, look no further than the Optoma H31. In addition, this unit doubles as a great portable unit for presentations or those needing some measure of portability. We have no reservations about giving out our hearty recommendation for this projector.
Optoma H31 DLP Projector
MSRP: $1299
Optoma Corp
715 Sycamore Drive
Milpitas, CA 95035 USA
(888) 289-6786
http://www.optomausa.com
About Optoma
Optoma Technology , Inc., a subsidiary of Coretronic Corporation, is a global manufacturer of high-resolution digital and home entertainment projectors for consumers, businesses, education, professional audio video (Pro AV), and CEDIA (Custom Electronic Design and Installation Association) channels. Headquartered in the heart of Silicon Valley , Optoma Technology, Inc. was founded in 1991 and has quickly become an industry leader in high-resolution projection and digital display products.
The Score Card
The scoring below is based on each piece of equipment doing the duty it is designed for. The numbers are weighed heavily with respect to the individual cost of each unit, thus giving a rating roughly equal to:
Performance × Price Factor/Value = Rating
Audioholics.com note: The ratings indicated below are based on subjective listening and objective testing of the product in question. The rating scale is based on performance/value ratio. If you notice better performing products in future reviews that have lower numbers in certain areas, be aware that the value factor is most likely the culprit. Other Audioholics reviewers may rate products solely based on performance, and each reviewer has his/her own system for ratings.
Audioholics Rating Scale
— Excellent
— Very Good
— Good
— Fair
— Poor
| Metric | Rating |
| --- | --- |
| Detail and Resolution | |
| Deinterlacing & Scaling | |
| Contrast and Black Levels | |
| Color Reproduction | |
| Noise Reduction | |
| Calibration Options | |
| Build Quality | |
| Ergonomics & Usability | |
| Ease of Setup | |
| Features | |
| Remote Control | |
| Performance | |
| Value | |
Confused about what AV Gear to buy or how to set it up? Join our Exclusive Audioholics E-Book Membership Program!
Recent Forum Posts:
mpompey posts on March 01, 2008 17:56
weisy12, post: 382620
…I think the setup disk might be the way to go for me, is the avia better than the essentials setup dvd? I was trying to save myself the step and the $. I am fairly new at all this, i was not sure if I just adjusted the brightness and contrast levels and left the advanced adjustments alone if the picture would be clear and crisp…
IMO, the Avia setup disc is a bit easier to navigate than DVE. I own both however. Considering the time and money you've invested so far, the costs of the DVDs are well worth it. I doubt you'll need to go into the advanced measurements area. Between contrast, brightness, color, tint, & sharpness. You'll more than likely be very satisfied with the picture. Since you are just starting out, the truly advanced measurements are best left to trained A/V professionals.
Welcome to Audioholics, you'll find a ton of information and experienced folks here. Don't be afraid to ask.a
weisy12 posts on March 01, 2008 08:49
H31 calibration

I understand that everyones room is different and some settings would be different, I guess I am trying to get some input on brightness and contrast levels, as well as the rgb brightness and contrast levels. I think the setup disk might be the way to go for me, is the avia better than the essentials setup dvd? I was trying to save myself the step and the $. I am fairly new at all this, i was not sure if I just adjusted the brightness and contrast levels and left the advanced adjustments alone if the picture would be clear and crisp. Some specs on my system, I have a DIY 115 inch screen and my projector is back 18ft, everything is dvi and hdmi, ps3(bluray) and I have a yamaha rx-v1700 receiver, with full B+W surround sound, expressvu HDTV.
majorloser posts on February 29, 2008 12:44
gene, post: 64070
Yea I just completed a review of a $6,000 receiver
Let me know when you need help with that Denon pre/pro and amp
mpompey posts on February 29, 2008 10:01
Which settings in particular are you looking for? Do you have the Avia setup disc? You'll need to set the unit up within the context of your current room, screen, gear, etc.

Using someone else's setting can make the image display look worse, not better. The avia setup cd takes about 15-20 minutes if you take your time. I have the H30 and I usually adjust my every 250 hours on the bulb.
weisy12 posts on February 29, 2008 08:54
optoma h31

I am also looking for calibration settings for the h31, if anyone can be of assistance that would be great.
Post Reply