Optoma H31 Setup & Installation
Optoma H31 Setup & Installation
This projector is a bit difficult to mount using a tabletop, due to its unusually high projection angle. However, if you are ceiling mounting it you will only need to concern yourself with the distance required to correctly fill your screen. For this review we utilized a Carada Criterion Series 92" diagonal screen (with Brilliant White material). This is a nice high quality screen and is optimized for excellent white levels while allowing for deep, rich blacks in a light-controlled room. For those considering the Optoma H31 in their home theater room, take a look at the 16:9 throw chart:
Throw Chart for Distancing the Projector from the Projection Screen
Screen Size
Diagonal (inches)

Size (Inches)

Distance (Feet)




width

height

wide

tele

30

26.1

14.7

3.81

4.62

40

34.9

19.6

5.08

6.16

60

52.3

29.4

7.63

9.24

70

61.0

34.3

8.90

10.8

80

69.7

39.2

10.2

12.3

90

78.4

44.1

11.4

13.9

100

87.2

49.0

12.7

15.4

110

95.9

53.9

14.0

16.9

120

104.6

58.8

15.3

18.5

130

113.3

63.7

16.5

20.0

150

130.7

73.5

19.1

23.1

170

148.2

83.3

21.6

26.2

200

174.3

98.1

25.4

30.8
The Carada Brilliant White screen we utilized is the 92" diagonal 16:9 version with a Criterion frame. This screen is an excellent fit with this projector due to its closer adherence to color and white field uniformity. We are not fans of gray screens unless you have a projector and room combination that makes the compromise a better alternative (for example: projectors with very poor black levels or a room that cannot be fully darkened). This screen material has a gain of 1.4 meaning that on-axis it is about 40% brighter than standard matte white surface materials. It supports practical viewing angles of up to 160 degrees - very good for home theater use and one of the widest possible viewing angles for front projection screens.
We positioned the projector in a temporary, but workable location. It was centered horizontally with the screen and set back about 12' 4" - towards the minimum of the throw distance range. The projector had to be mounted rather low in order for the high projection angle to hit the bottom of our screen without keystoning. By low, we mean that with the projector mounted on a 20" tall table (putting the center of the lens at a height of about 22") the bottom of the projected image is approximately 39" from the ground. To get the image to align with the bottom of our screen, we had to remove the table and position the projector a couple inches lower. Ergonomically, the projector is a bit off for tabletop use, but for a ceiling installation this will hardly matter as you would make the installation and screen fit the projector's requirements.
Keep in mind that, as handy as it is, keystoning in a fixed pixel display results in loss of resolution and detail and should be avoided at all costs. Always try to relocate the projector before giving in to the +/- 16 degree digital vertical keystone adjustment. I personally would accept a slightly off-axis picture rather than engage keystoning. To understand the significance, simply place an image on the screen that possesses crisp detail or text. Then stand up close to the screen (you can see it from the seated position, but up close is even more obvious) and toggle keystoning on and off. You will immediately see the text/detail blur when keystone is in any position but the default. The keystoning feature is probably here to stay, compensating for extreme scenarios, but those who know better leave it alone.
We ran two different cables to the projector for our tests. A well-shielded component video cable was supplied by DVIGear and gave us an excellent analogue connection from the Denon DVD-3910 player's component outputs. A well-built HDMI cable (also supplied by DVIGear) enabled us to compare the digital video connection from the Denon DVD player as well. We wanted to use the HDMI to DVI converter supplied with the projector, but our sample lacked it so we chose a converter from Gefen, Inc which did quite nicely.
When setting up and using the projector, make sure you have the Full Screen Mode set to "Normal ". This feature is handy to use as an option down the road, but for the best video performance it needs to be in the default position (more on this later). Also ensure that your Lens Shift Preset and Edge Mask are "Off". At this point you will most certainly be aware that the Menu only stays active for about 10 seconds (we timed it). This is absurdly short and results in repeatedly returning to the menu to make adjustments when you are in the course of setting up color, contrast, etc. It's a rather small problem with what is otherwise a delightfully simple menu interface.

Connections
You can connect an array of devices to the Optoma H31 projector, including DVI (w/HDCP), component, s-vide and composite. An RS-232 breakout cable is provided and there are both front and rear IR receivers, allowing for flexible mounting options.

As previously mentioned, we utilized the component video inputs (YPbPr) as well as the HDCP-enabled DVI input for our tests. We sent interlaced signal from the Denon DVD-3910 to the Optoma projector and allowed the onboard PixelWorks PW1231 to convert the signal to progressive scan, performing all deinterlacing functions as well as 2:3 pulldown. The connections are very nicely spaced out and are much easier to utilize than some other projectors I've worked with. The DVI input is odd in a market quickly being dominated by HDMI, however the DVI connection offers a much more secure connection. For video, the two formats are nearly interchangeable and the included adapter should help take care of any mismatches you may have.
When asked, Optoma quickly noted that the advantage of DVI-I (in additional to more secure connection we mentioned) is that it provides additional support for analog or digital RGB signal from either the VGA or DVI port of a computer. H31's good color and contrast makes it an excellent tool for displaying digital photos or video from computers. As the H31 is a very lightweight projector, this makes it an excellent choice to double as a presentation product (and thus potential business write-off - but don't tell your accountant I said so).
Remote Control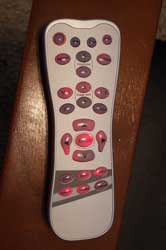 The remote control that comes with the Optoma H31 is elegant and ergonomic. I loved the button layout and the feel of the remote in general. The unit is completely backlit, though the lighting is a bit uneven across all of the buttons, making some brighter than others. Overall I found everything to be legible in the dark, save for the centrally-located Keystone and Image Shift buttons, which we recommend avoiding anyway.
The remote has a rather neat effect whereby the backlight slowly fades away after about 6-7 seconds as opposed to just turning off immediately. This is just a nice touch to an already successful remote control. The commonly-activated video mode buttons (for changing between 4:3 and 16:9 content) are easily reachable, as are the directional buttons that control menu functions. The available inputs are directly accessible on the bottom of the remote (great for programming universal remotes with macro functions) and the top of the remote adds buttons for free-frame, re-sync, and even engaging the "Hide" mode which blacks out the current image. Even Brightness and Contrast buttons are easily accessible, though I'm not certain this is necessarily a good thing. Conspicuously absent (in my opinion) are direct access buttons to the 5 handy user settings that can be configured for each input. It would be nice to have direct access to these functions, however the menu button puts this feature just four clicks away for the user.
The Menu System

As I mentioned earlier, the Optoma H31's User Menu is concise, yet entirely adequate. It is divided into four main areas represented by somewhat vague icons: Picture, Image, System and Display. Picture and Display seem to be intertwined and I didn't see a practical distinction, but they were possibly separated for aesthetic reasons.
The Picture Menu allows adjustment of Contrast (white level), Brightness (black level), Color, Tint, Sharpness & Gamma. It's also the place to go to select one of the 5 picture modes (memory settings) available to the user. The Color and Tint settings, unfortunately, are not available when using the DVI input.
The Image menu continues picture adjustments by making available settings for White Peaking (setting the max white level from the DMD chip) and Color Temperature (selectable as Film/Video/Graphics/PC). An Advanced Adjustment submenu gives the user access to much needed RGB bias/drive adjustments (labeled as RGB for Contrast and Brightness).
The System menu handles more universal controls and settings such as Language, Lamp Hour Reset, and Auto Shutdown. A Source Lock option determines whether the unit will stay on an input that loses input or automatically search for an active input.
The Display menu allows for setting the unit up as front or rear projection, including ceiling or desktop mounting. It also gives the user access to setting whether incoming source material is to be presented as 4:3 or 16:9 material (most will set this to 16:9). The available Keystone option, as we mentioned should be left off and the Zoom and Full Screen modes can be used in various scenarios where you wish to maximize the viewing image size (see Editor's Note). I tended to use some of these settings when watching various cableTV programming that had letterboxed content. When changing modes from 16:9 to 4:3 you will enable additional options for scaling the formats. 4:3 mode allows for 3 scaling settings: 1 (picture is shown in 4:3 aspect ratio, 2 (picture is stretched to fit a 16:9 screen, and 3 (image is zoomed in). If you feed the projector a 1080i signal via DVI while in 16:9 mode, an option will appear for 1) scaling the image normally, or 2) displaying the image at 540p with 6.25% overscan (which minimizes the scaling error for a 1080i source).
Editor's Note
Zoom and Full Screen modes will result in a loss of resolution for SD content. However, if the input was an HD source, H31 will actually scale the image directly from the HD source rather than upscaling a 480p image. In effect, the extra pixel detail available from an HD source (720p or 1080i) can be visible when the picture is zoomed in or displayed at one of the full screen modes.

This is especially useful if the HD source has an aspect ratio wider than 16:9. M ore pixels are put into real use instead of generating black bars when zoomed in. For this reason, it may be wise to set your HD sources to higher than the 480p resolution of the Optoma H31 in cases where you wish to engage the zoom modes.
Confused about what AV Gear to buy or how to set it up? Join our Exclusive Audioholics E-Book Membership Program!
Recent Forum Posts:
mpompey posts on March 01, 2008 17:56
weisy12, post: 382620
…I think the setup disk might be the way to go for me, is the avia better than the essentials setup dvd? I was trying to save myself the step and the $. I am fairly new at all this, i was not sure if I just adjusted the brightness and contrast levels and left the advanced adjustments alone if the picture would be clear and crisp…
IMO, the Avia setup disc is a bit easier to navigate than DVE. I own both however. Considering the time and money you've invested so far, the costs of the DVDs are well worth it. I doubt you'll need to go into the advanced measurements area. Between contrast, brightness, color, tint, & sharpness. You'll more than likely be very satisfied with the picture. Since you are just starting out, the truly advanced measurements are best left to trained A/V professionals.
Welcome to Audioholics, you'll find a ton of information and experienced folks here. Don't be afraid to ask.a
weisy12 posts on March 01, 2008 08:49
H31 calibration

I understand that everyones room is different and some settings would be different, I guess I am trying to get some input on brightness and contrast levels, as well as the rgb brightness and contrast levels. I think the setup disk might be the way to go for me, is the avia better than the essentials setup dvd? I was trying to save myself the step and the $. I am fairly new at all this, i was not sure if I just adjusted the brightness and contrast levels and left the advanced adjustments alone if the picture would be clear and crisp. Some specs on my system, I have a DIY 115 inch screen and my projector is back 18ft, everything is dvi and hdmi, ps3(bluray) and I have a yamaha rx-v1700 receiver, with full B+W surround sound, expressvu HDTV.
majorloser posts on February 29, 2008 12:44
gene, post: 64070
Yea I just completed a review of a $6,000 receiver
Let me know when you need help with that Denon pre/pro and amp
mpompey posts on February 29, 2008 10:01
Which settings in particular are you looking for? Do you have the Avia setup disc? You'll need to set the unit up within the context of your current room, screen, gear, etc.

Using someone else's setting can make the image display look worse, not better. The avia setup cd takes about 15-20 minutes if you take your time. I have the H30 and I usually adjust my every 250 hours on the bulb.
weisy12 posts on February 29, 2008 08:54
optoma h31

I am also looking for calibration settings for the h31, if anyone can be of assistance that would be great.
Post Reply