Optoma EP7150 Features, Setup and Connections
Optoma EP7150 Features, Setup and Connections
Features and Favorites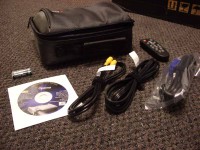 The EP7150 comes packaged in a nice box that includes a ton of goodies. First of all, the padded carrying case is a wonderful inclusion as it provides protection for a unit that is almost certainly destined to be carried about on business trips. S-video and VGA cables ensure that the two main methods of connectivity for this product are taken care of and a remote control (with integrated laser pointer) accompany a durable, removable power cable and CD-ROM user manual.
I always point out the features that set a projector or display apart from its peers. The EP7150 has a couple that caught my attention:
2000 Lumen Output
There's 2000 "stated" lumens, and then there's 2000 "real" lumens. This projector has the output to fill a fully lit room with a 60-inch tall image. I'll show some pics later, but it's very impressive.
Rapid start-up Shut-down
Unlike most systems which take over a minute to boot up, the EP7150 takes just over 20 seconds (each action) to boot up and shut down. That's pretty impressive and eliminates that odd "waiting period" when running a presentation.
There are many more features to be sure, but for now these really stood out to me during the use of this projector and are sure to be considerations when searching for an ultra-portable display.

advertisement
Basic Setup and Installation
While I utilized a Stewart Studiotek 130 screen with this projector, I'm sure most users will be situating this projector on a desk or table and firing it at a pull down or otherwise portable projector screen. Although a high (1.6-2.0) gain screen is going to be the typical complement to this projector, the images I took were from a 1.3 gain screen and still showed a very bright and vibrant image.
Take a look at the 4:3 throw chart to see how the Optoma will work in your situation:
Throw Chart for Distancing the Projector from the Projection Screen
Screen Size
Diagonal (inches)

Distance (Feet)




wide

tele

60

7.7

8.5

70

9.0

9.9

80

10.3

11.3

90

11.6

12.8

100

12.9

14.2

110

14.2

15.6

120

15.5

17.0

130

16.8

18.5

150

19.4

21.3

170

22.0

24.1

200

25.8

28.4
I found the zoom range on the EP7150 to be just about perfect for presentations. If you are in a smaller room and cannot position the projector at least 11 feet away from the screen, then you're going to be looking at less than 80-inch diagonal screen size. That's still pretty large, and the light output from this projector is good to over 190-inches of screen (from ~25 away) before you'll want more light output.
I placed the EP7150 in a temporary, but fixed, location and made sure all tests were done using the standard operating modes. I selected the "PC" mode for my brightness testing as I was sourcing the images from a Dell laptop PC. This is the typical mode you'd be using for a presentation in a brightly lit room.
Connections
The EP7150 doesn't have a ton of inputs, but it doesn't need to. Just like an ultra-portable laptop may not have an on-board optical drive, the EP7150 saves weight by eliminating things such as HDMI/DVI and reducing the optical system (for instance, it utilizes a smaller 2x speed 4-segment color wheel).

I tested both the VGA input connections as well as the composite video connections for our viewing tests, however I believe the VGA input to be the most commonly use on this type of projector. While you can connect a DVD player to this projector using VGA or s-video I don't think that running a full suite of benchmark tests would be an appropriate fit – it would be like entering a Porsche into a truck pulling contest – wrong class, wrong test.
Remote Control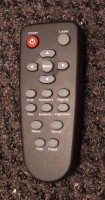 True to their style, it seems as if every Optoma projector sports a different remote control – that changes with ever new model. This one is functional, and since it will almost certainly be used in full light (and not a home theater environment), there's no reason for it to be backlit. The obligatory on-board laser pointer is easy to use, however I did find that it had a "slippery" trigger. Sometimes I'd have the button down, but it would somehow deactivate the laser anyway so I'd have to "reacquire". The handy 'Resync' and 'Source' buttons work well if you don't have Source Lock engaged and want to use two different sources for some reason. The USB connectivity allows you to utilize the remote as a mouse, though I found the 'Menu' and 'Enter' buttons to be somewhat flipped. The other function that would be a great addition to the remote is the 'Display Mode' – for cycling through the output and color options. If you are in a light-controlled board room, the Movie mode will result in much more accurate color reproduction than the PC or Bright modes. Audio is also not controllable via the remote (nor is there a Mute button) which is a major oversight in my opinion.
Keystone buttons are readily available, and with a business-class projector you'll finally hear me recommend its use. In fact, the net effect when observing text on the screen is akin to anti-aliasing, making the fonts appear to be "bold":
Confused about what AV Gear to buy or how to set it up? Join our Exclusive Audioholics E-Book Membership Program!
Audioholics posts on January 06, 2007 15:13
<A href="
https://www.audioholics.com/productreviews/avhardware/optoma-EP-7150p2.php
"><IMG style="WIDTH: 103px; HEIGHT: 100px" alt= hspace=10 src="
https://www.audioholics.com/news/thumbs/mightymouse_th.jpg
" align=left border=0></A>This is one of our first projector reviews that falls into the "ultra-portable" category. Weighing in at just under 3 pounds and measuring less than 9-inches in width, the EP7150 is in a class all by itself. This is the type of unit you'll want if you are traveling place to place or want a projector to easily set up and take down in an office or teaching environment. It's the "Mighty Mouse" of projectors in a sense and the 2000 lumens are "real" – we've seen a lot of overstated specs, but this isn't one of them. Let's attempt to dress down this superhero and see if he can stand up under the scrutiny.
[
Read the Review
]
Post Reply