Mitsubishi HC5000 Projector Review
Mitsubishi HC5000 Projector Review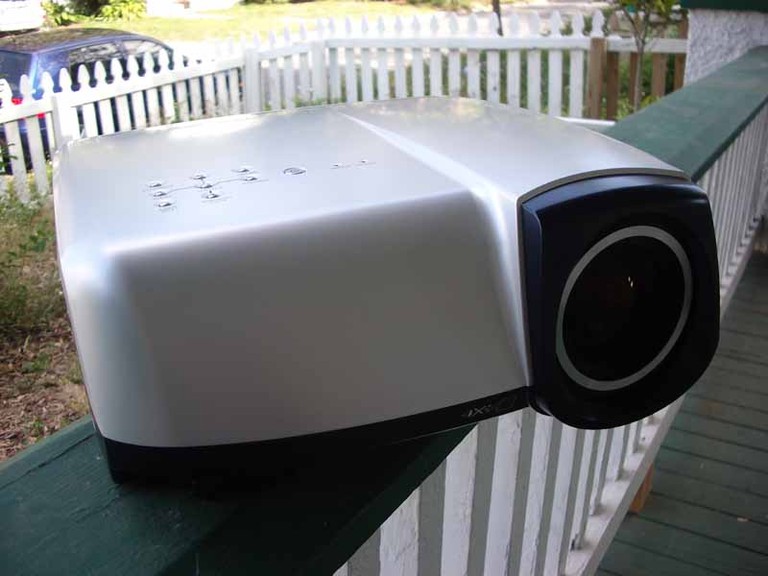 Mitsubishi HC5000 3LCD Projector
Brightness: 1000 ANSI lumens (vivid mode)
Contrast: Up to 10,000:1 (with Iris operation)
Resolution: 1920 x 1080 native HD resolution
Aspect Ratio: Widescreen native 16:9 aspect ratio (4:3 resized)
LCD Panel: 3 x 0.74" three-panel inorganic C2Fine LCD
Optical System: Dichroic mirror separation and prism combine method
Video Processor: Silicon Optix Reon VX HQV, 3D Y/C digital comb filter
Iris: Auto Iris optical system
Video Inputs: HDMI-HDCP (1.3), DVI-D, component, composite, S-video and PC/RGB (HD15)
Control: RS-232C, IR remote
Projection Lens: F=23.5-37.6mm; F1.8 – 2.3 ([email protected]");
Scanning Rate: 15-100kHz (horizontal) 50-120Hz (vertical); dot clock max 170MHz
Throw Ratio: 1.41 - 2.26

Zoom: Powered focus & zoom (1.6:1)
Lens Shift: Vertical and horizontal (75% vertical, 5% horizontal)
Keystone Correction: +/- 15 degrees (vertical)
Lamp: 160W UHP, 2000 hours normal, 5000 hours in eco-mode
Power Supply: 100-120 volts, 2.7A
Power Consumption: 245W (high); 200W (low); 4W (standby)
Operating Temperature: 32 – 104 degrees F (0 – 40 degrees C); 20-80% humidity (no condensation)
Fan: 24dBA operation (19dBA in low mode)
Remote Control: Backlit w/batteries included
Standard Accessories: Power cord, RGB cable, RS-232C cable, manuals, wireless remote control unit, batteries for remote control
Warranty: 2 years parts & labor
Dimensions: 13.1" x 4.9" x 13.8" in
Weight: 12.3 lbs (5.6 kg)
Pros
VERY quiet
No screen door effect
Motorized lens shift, zoom, and focus
Backlit remote
Native 1080p/24/60 support
HDMI 1.3 with 480i support
Cons
Slow, noticeable, undefeatable auto-iris
Weak remote signal
HDMI didn't pass Blacker-than-black
Cumbersome menu system
Limited horizontal lens shift range
Introduction
In a sea of new 1080p projectors being released this year, Mitsubishi has a distinctive product that sets it apart as a leader. The C2Fine technology renders an incredible picture and does indeed produce some excellent black levels. If you're shopping for a 1080p model you owe it to yourself to check it out.

Confused about what AV Gear to buy or how to set it up? Join our Exclusive Audioholics E-Book Membership Program!
Recent Forum Posts:
raneil posts on July 08, 2007 03:09
hc-5000 product information question

Are you sure that the projector that you reviewed has HDMI 1.3? Yours is the only review to make such a claim. If so, it sounds like a production upgrade that potential buyers should inquire of prior to making a purchase,
hdfansv posts on June 28, 2007 14:13
Hi Clint,
Just a few nitpicking in your review so that it does not confuse your readers.
"Whether it was pin-striped shirts, or city skylines that would make any jaggie-reduction scream in terror, Batman Begins is a movie that you can test nearly all aspects of a projector's video processing system with."
This sentence is incorrect. The Jaggie-reduction algorithms are not activated when the deinterlacer is in film mode. Edge adaptive interpolation switches on for video deinterlacing NEVER for film mode. The reason for that is you have all the pixels from the complete frame and there is no need for anti-aliasing filter.

Also
"We also confirmed results with 1080i upconversion."
The film mode tests are not valid when you upsample from 480i –> 1080i. In that case you are evaluating the film mode handling of the upsampling DVD player.
Clint DeBoer posts on June 27, 2007 20:14
My guess is it was the transmitter (remote). It certainly improved with new batteries but was never stellar like some other remotes I've used.

I've packed up the unit, so I missed my window to troubleshoot it further.
djoxygen posts on June 27, 2007 17:27
Question about the remote

Do you know if the poor IR reception was the fault of the transmitter or the receiver? If it was the transmitter's fault, wouldn't the issue disappear for those who use universal remotes?
Post Reply