HC1500 Measurements, Calibration and Bench Testing
HC1500 Measurements, Calibration and Bench Testing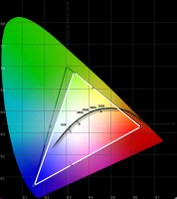 We continue to utilize datacolor ColorFacts Professional software to measure and calibrate projectors using the user controls. With the HC1500 you actually get very acceptable picture quality out of the box, provided you start with the correct initial settings for Color Temperature and Black & White levels. Color potential wasn't bad according to the CIE chart here. If anything, the greens dipped a bit towards yellow but red and blue were almost spot-on. I also recommend turning BrilliantColor down to 0 if you aren't trying to eek out as much light output as possible (i.e. keep it off for theaters and light-controlled rooms.) BrilliantColor is a nice feature, but it will cause excessive white levels and throw additional light into the room which detracts from the image on the screen. Here were my recommended settings:
Gamma Mode: Cinema
Contrast: +4
Brightness: +4 (might want to bump to +5 or +6)

Color Temp: Medium
Sharpness: -5
BrilliantColor: 0
With these settings I got the "Before" measurements you'll see below. Sharpness and Brilliant Color both defaulted to 3. For BrilliantColor this wasn't a bad initial setting, but the Sharpness control on this machine needs to be turned down completely for best results (it's not a dummy control, when turned up it will create edge enhancement artifacts – at least with the patterns we tested). Here is a breakdown of initial color temperature, measured at 80IRE, to give you an idea why we chose Medium of the available options:
Warm: 6200K
Medium: 6700K
Cool: 9000K
High Brightness: 6700K
We measured Contrast Ratio to be a healthy 975:1 (real world) at the above settings. With BrilliantColor at the default level of 3 this crept up to 1187:1 and it jumped to 1714:1 when we maxed it out to 10. In terms of color performance, our measurements showed excellent results for both red and blue with a slight tilt towards yellow for green (see pic of CIE chart).
Note: We're not opposed to using BrilliantColor, however I prefer to keep the lumens lower so as to not drive up Black levels and increase ambient room light from the screen.
The Measurements
We took our initial measurements once we located the best Color Temperature settings and configured the correct Black and White levels (imperative in any projector system, so be sure to use either Digital Video Essentials, AVIA Guide to Home Theater, or any THX DVD.) Here's what we got:
As you can see the 6700K measured color temperature extended across the board, and an elevated red and green dominated across the IRE range, but almost perfectly in unison, delivering a very nice picture overall. It would not be unthinkable for users of this projector to simply configure it with the proper Color Temp setting, Black and White level and be done with it.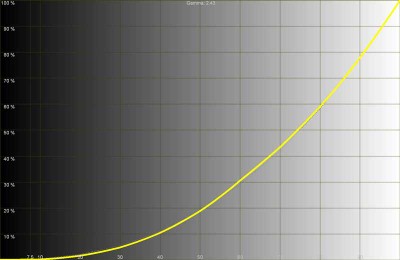 The before and after luminance histogram was almost identical, showing a smooth gradation throughout the entire range, though there was significant flatness at the bottom levels (<12 IRE). This led to some visibly crushed blacks in later video testing, so you may want to bump up black levels a notch or two above what is normal for test disc patterns. Calibration didn't affect this too much since our black and white levels were unmodified once we began.
Here are our after results for temperature and RGB:
Color temperature was almost dead on throughout the entire luminance range and RGB looked much better with a slight bit of red carrying over across the range, making the picture lean just a tad to the warm side.
The max light output in Cinema mode with the Color Temperature set to Medium and black and white levels calibrated was 26.5 fL at the screen. At max brightness mode and BrilliantColor engaged at its maximum setting of 10 that number jumped to 46.9 fL (note that without adjusting BrilliantColor you won't get much more light out of the projector). Now, kick the lamp into Standard mode and that number jumps to almost 59 fL. If you want to use this projector in a room with some ambient light (for example during a sports party, etc, you'll be able to do so with very little difficulty (though you'll be absolutely crushing your white levels). In fact, you might burn a hole in your projector screen... just kidding… I think.
Now, getting the color temperature closer to the desired 6500K is possible with the right Color Temp setting, and I'm going to give that to you. After setting black and white levels I proceeded to measure color temperature in the various modes. I found that having the projector set to Cinema Mode with color Temperature set to 'Medium' produced the best result (around 6600K at 80IRE). We also measured the color temperatures in various modes (again using an 80IRE field as our reference point):
Cinema Mode (Warm) - 5700K, perfect for black and white movies!
Cinema Mode (Medium) - 6600K, the preferred setting
Cinema Mode (Cool) - 9050K, definitely bluish in hue and much brighter (perceptually)
Cinema Mode (High Brightness) - 14000K, use this mode if you plan on using your projector for a Bat Signal
Audioholics/HQV Bench Testing Summary of Test Results
Perfect SD Score is 130
Perfect HD Score is 100
Mitsubishi HC1500 Benchmark SD Score: 66 (you are going to get a nice picture)
Mitsubishi HC1500 Benchmark HD Score: 75 (you are going to get a nice HD picture)
SD Test
Max
Points
Results
Pass/Fail
Color Bar
10
10
Pass
Jaggies #1
5
3
Pass
Jaggies #2
5
3
Pass
Flag
10
5
Pass
Detail
10
10
Pass
Noise
10
0
Fail
Motion adaptive Noise Reduction
10
0
Fail
Film Detail
10
10
Pass
Cadence 2:2 Video
5
0
Fail
Cadence 2:2:2:4 DV Cam
5
0
Fail
Cadence 2:3:3:2 DV Cam
5
0
Fail
Cadence 3:2:3:2:2 Vari-speed
5
0
Fail
Cadence 5:5 Animation
5
0
Fail
Cadence 6:4 Animation
5
0
Fail
Cadence 8:7 animation
5
0
Fail
Cadence 3:2 24fps film
5
5
Pass
Scrolling Horizontal
10
10
Pass
Scrolling Rolling
10
10
Pass
Total Points
130
65


The HC1500 was sent 480i via component from a Denon DVD-1930CI.
HD Test
Max
Points
Results
Pass/Fail
HD Noise Reduction A & B
25
0
Fail
HD Video Resolution Loss
20
20
Pass
Jaggies A & B
20
20
Pass
Film Resolution Loss
25
25
Pass
Film Resolution Loss Stadium
10
10
Pass
Total Points
100
75


The HC1500 was sent 1080i via HDMI from a Toshiba HD-XA2 HD DVD Player.
Comments on Bench Testing
The real trouble area for the HC1500 was in the area of noise reduction. The on-board processing did a very nice job of deinterlacing and jaggies were only occasionally noticeable in standard definition viewing. HD sources looked fantastic and what little noise I did experience in my HD source material didn't ruin the experience (I expect more from HD sources, so I tend to blame noisy sources rather than wish I had better noise reduction circuitry). Overall I was pleased with the apparent no-name video processor used in the Mitsubishi – it did a fair job at producing a great overall image. In particular, scaling of 1080p and 1080i content was above par, with very little distortion on even single-pixel test patterns.
Confused about what AV Gear to buy or how to set it up? Join our Exclusive Audioholics E-Book Membership Program!
Recent Forum Posts:
E-A-G-L-E-S posts on October 09, 2007 14:28
My HC1500 does 480i SD from D* via HDMI just fine?
Maybe Cons: Significant rainbow effect if you are succeptible….as I went from a 180P DLP to this and still see none.
montag451 posts on September 23, 2007 14:51
High Def through component?

I recently purchased this projector and am very happy with the picture through the HDMI connection. However, anytime I run a 480p,720p, or 1080i source through the component cables I get an incredibly unclear image. Did you experience this same problem? And can you help? Thanks

Stephan
Clint DeBoer posts on September 10, 2007 09:27
I think Mitsu's LCD projectors look WAY better overall. But I'm susceptible to their DLP's rainbows. LCD is getting much better in terms of black levels.
TVJon posts on September 08, 2007 12:49
Well, Mitsubishi did announce some new 1080p projectors - unfortunately, LCD and not DLP. And no sign of the company budging on bringing the HC3100 to the U.S. I don't understand. Maybe I'll have to switch to LCD. Several new ones announced under 3k. The new Panny sounds especially nice.

TVJon
TVJon posts on September 06, 2007 23:19
Nice review. As a frustrated "why won't Mitsubishi sell the HC3100 in the US" potential buyer, this one has a lot to like for its price/performance.

I'm hoping and wondering if Mitsubishi will release something at CEDIA that makes me happy I haven't bought my new PJ yet… a DLP at 1080p and a realistic price point.

TVJon
Post Reply