Mitsubishi HC1500 DLP Projector Review
Mitsubishi HC1500 DLP Projector Review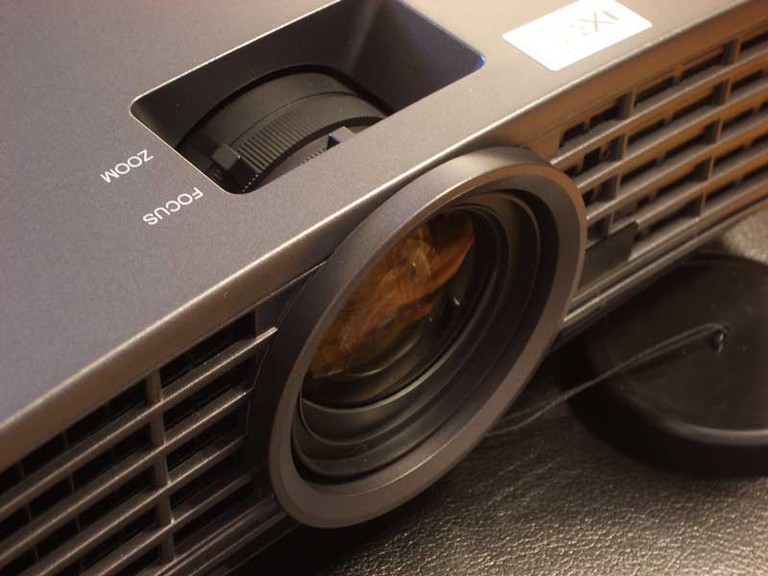 Mitsubishi HC1500 DLP Projector
Brightness: 1600 ANSI lumens (vivid mode)
Contrast: Up to 2500:1 (full on/off)
Resolution: 1280 x 720 native HD resolution
Aspect Ratio: Widescreen native 16:9 aspect ratio (4:3 resized)
DLP Engine: 0.62" 1-chip DMD, 12 deg. LVDS, DarkChip2 DDP3020
Color Wheel: 7-segment (RGBWRGB) 4x speed
Video Inputs: HDMI-HDCP, component, PC/RBG (HD15 as 2nd component), composite, and S-video
Control: RS-232C, IR remote
Projection Lens: F=23.5-37.6mm; F1.8 – 2.3 ([email protected]");
Scanning Rate: 15-80kHz (horizontal) 50-85Hz (vertical); dot clock max 110MHz
Throw Ratio: 1.59 - 1.97
Zoom: Manual focus & zoom

Lens Shift: None
Keystone Correction: +/- 15 degrees (vertical)
Lamp: 200W UHP, 3000 hours low mode
Power Supply: 100-120 volts, 2.7A
Power Consumption: 245W (high); 200W (low); 4W (standby)
Operating Temperature: 32 – 104 degrees F (0 – 40 degrees C); 20-80% humidity (no condensation)
Fan: 24dBA operation (19dBA in low mode)
Remote Control: Backlit w/batteries included
Standard Accessories: AC Power cable, RGB cable, RS-232C cable, Remote Unit (incl. battery), Light shade cover, Quick Start Card, User Manual, Safety Manual

Warranty: 1 year parts & labor, 90-days lamp
Dimensions: 12.2" x 3.9" x 9.6" in
Weight: 6.5 lbs (3 kg)
Pros
1080p/60 support
Main menu shows input signal resolution
RS-232C control
Excellent color
Good out-of-the-box performance
Cons
No 480i support over HDMI
Significant rainbow effect
Default Sharpness setting too high
Can crush blacks if not careful
Introduction
We absolutely jumped at the chance to get a very close look at the new Mitsubishi HC1500 DLP projector since we missed the boat on checking out the HD1000U which preceded it. The attraction is a clean system that handles up to 720p for less than $1000. This projector is worth a serious look.

Confused about what AV Gear to buy or how to set it up? Join our Exclusive Audioholics E-Book Membership Program!
Recent Forum Posts:
E-A-G-L-E-S posts on October 09, 2007 14:28
My HC1500 does 480i SD from D* via HDMI just fine?
Maybe Cons: Significant rainbow effect if you are succeptible….as I went from a 180P DLP to this and still see none.
montag451 posts on September 23, 2007 14:51
High Def through component?

I recently purchased this projector and am very happy with the picture through the HDMI connection. However, anytime I run a 480p,720p, or 1080i source through the component cables I get an incredibly unclear image. Did you experience this same problem? And can you help? Thanks

Stephan
Clint DeBoer posts on September 10, 2007 09:27
I think Mitsu's LCD projectors look WAY better overall. But I'm susceptible to their DLP's rainbows. LCD is getting much better in terms of black levels.
TVJon posts on September 08, 2007 12:49
Well, Mitsubishi did announce some new 1080p projectors - unfortunately, LCD and not DLP. And no sign of the company budging on bringing the HC3100 to the U.S. I don't understand. Maybe I'll have to switch to LCD. Several new ones announced under 3k. The new Panny sounds especially nice.

TVJon
TVJon posts on September 06, 2007 23:19
Nice review. As a frustrated "why won't Mitsubishi sell the HC3100 in the US" potential buyer, this one has a lot to like for its price/performance.

I'm hoping and wondering if Mitsubishi will release something at CEDIA that makes me happy I haven't bought my new PJ yet… a DLP at 1080p and a realistic price point.

TVJon
Post Reply