LG 60PX950 THX Certified 3D Plasma First Look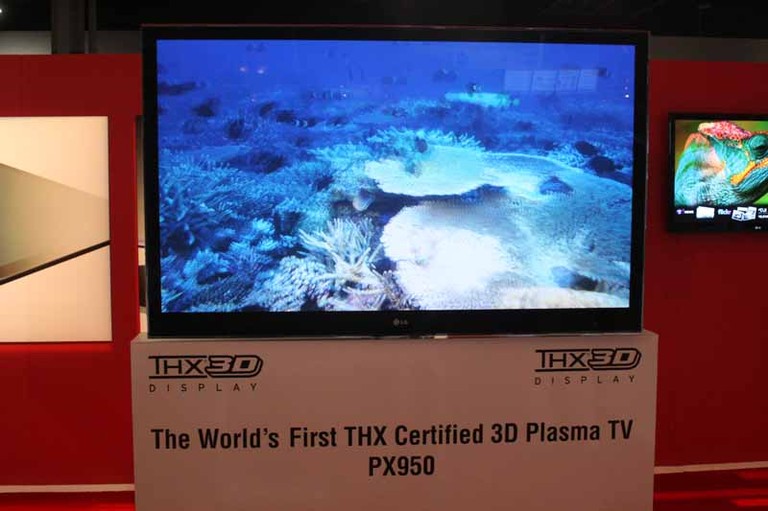 LG 60PX950 THX Certified 3D Plasma
Summary
ISFccc Ready

2D-to-3D Conversion
AV Modes: Cinema, Sports, Game

24p Real Cinema (3:3 Pulldown)

THX Certified Display (w/Bright Room Mode)

Internet Services: Yahoo! Widgets, Netflix, Vudu, YouTube, Picasa

Pictures, Music and Video via USB 2.0

DLNA Certified

HDMI inputs: 4 (1 side)

Audio: 10W x 2 (THD 10%)

Wireless 1080p Ready (WHDI)

RS-232C

Dimensions (w/o stand): 55.5"W x 33.9"H x 2"D

Dimensions (w/ stand): 55.5"W x 36.9"H x 15.1"D

Warranty: 2 year (panel), 1 year parts & labor
Executive Overview
LG front-and-centered its new PX950, the "world's first THX Certified 3D plasma TV". It was given the red carpet treatment at the booth and to be honest it looked pretty good in terms of black levels and picture quality. LG is one of the only company's that seems to be thinking this whole 3D thing all the way through. What we mean by that is that they are the only company we experienced that has rechargeable 3D glasses, for instance. Everyone else makes you reach for a screwdriver to replace the CR2025 (or similar style) batteries every 75 hours of use. Of course, with the current crop of Blu-ray movies, that would have you watching the 3 Blu-ray discs that are available about 15 times! Fortunately for consumers who can't get enough of 3D, LG has 2D-to-3D real-time conversion processing that is sure to generate some oohs and aahs... and maybe some headaches for those of us sensitive to the forced perspective brought on by active 3D shutter glasses. Still, it's extremely advanced and they seem to be one of a few companies that are leading the way in this area.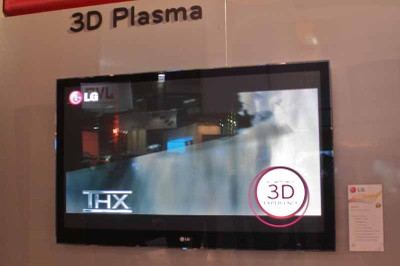 The TV itself is slim, just 2" think for a 60-inch display. It has a contrast ratio of 5 gazillion to one (estimated). It has Wi-Fi connectivity included and sports four (4) HDMI inputs. Since it's plasma it has a super-fast refresh and 3D looks really good on it in comparison to some artifacts we've noticed in other LCD-based systems. From our experience it really does seem that DLP and plasma give a consistently decent 3D experience - this isn't a hard rule against using LCD, just a present observation that most companies seem to nail the technological hurdles instantly when using plasma or DLP. 
Notable Specs & Features
ISFccc Ready

AV Modes: Cinema, Sports, Game

24p Real Cinema (3:3 Pulldown)

THX Certified Display (w/Bright Room Mode)

Internet Services: Yahoo! Widgets, Netflix, Vudu, YouTube, Picasa

Pictures, Music and Video via USB 2.0

DLNA Certified

HDMI inputs: 4 (1 side)

Audio: 10W x 2 (THD 10%)

Wireless 1080p Ready (WHDI)

RS-232C

Dimensions (w/o stand): 55.5"W x 33.9"H x 2"D

Dimensions (w/ stand): 55.5"W x 36.9"H x 15.1"D

Warranty: 2 year (panel), 1 year parts & labor

We got to see some of the real-time 2D-to-3D conversion and it was impressive. I honestly don't know how it works, but it's a neat effect. It's not at all accurate or realistic, but it does bring depth the the picture and typically in a way that is close to what you'd expect to see (things move out when you think they should move out, and in when they should move in). I think the push for conversion of this sort is, of course, a response to the lack of abundant 3D content. in the marketplace. Companies like LG and JVC (among others) figure they better give consumers something to look at while they're waiting.
For more information, please visit www.LG.com.
About LG Electronics USA
LG Electronics USA, Inc., based in Englewood Cliffs, N.J., is the North American subsidiary of LG Electronics, Inc., a global force and technology leader in consumer electronics, home appliances and mobile communications. In the United States, LG Electronics sells a range of stylish and innovative home entertainment products, mobile phones, home appliances and business solutions, all under LG's "Life's Good" marketing theme. 

Unless otherwise indicated, this is a preview article for the featured product. A formal review may or may not follow in the future.
Confused about what AV Gear to buy or how to set it up? Join our Exclusive Audioholics E-Book Membership Program!