InFocus ScreenPlay 5000 Setup
InFocus ScreenPlay 5000 Setup
Basic Setup and Installation
As always, when setting up a projection system you'll want to consider your mounting options, whether you want to hang it from a ceiling or perhaps set it on a table. The ScreenPlay likes to be mounted a couple of feet below the bottom of the screen when situated on a table. This will subsequently allow you to ceiling mount it in mos t rooms that can situate top of the screen a couple feet from the top of the room. Once placed it sets up easily out of the box and only requires power and input to get going.
To level out the projector you can use the front elevator foot and side rotating foot to get the image as perfectly squared to the projection screen as possible. To use the front foot, simply depress the button on the top side of the projector and it will free it to move up and down. I recommend making as many physical adjustments as possible before utilizing the digital keystone correction. In all honestly, you will want a professional to aid in the installation if you are ceiling mounting this unit due to the accuracy that must be obtained in order to fit the picture squarely to the screen. If you want to use the keystone feature, the ScreenPlay 5000 has a neat twist. There is an Auto Vertical keystone setting that uses a sensor to determine the best vertical keystone setting to make sure the image is perfectly squared to the screen. The same sensor can also be used to automatically set the projector if it's going to be ceiling mounted. If you do turn on Auto Vertical keystone, be aware that it will pop up a window on the bottom left of the screen in an attempt to make a correction if you bump the projector even a tiny bit (and though we never recommend its use if you wish to attain the most sharp image possible, auto-keystoning the picture is fun to show your friends and an excellent feature for boardroom use!)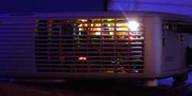 Once the projector is turned on we did notice that there was a significant amount of light leakage from the back and side panels. This picture was taken with a long exposure to help show the lighted areas, so don't think that light is literally beaming out of the sides. It does, however come through the unused rear connectors and on both vented sides. Many modern home theater projectors control light emissions so that nothing adds to the minimum output of the projector and absolutely black areas on the screen can remain as dark as possible.
Throw Distance and Projection Screen Sizing
We used a Stewart Studiotek 130 100" screen for this review, though I would have liked a smaller screen for the room. There is a manual zoom, allowing you a bit of play on distance, but this projector requires a somewhat long throw distance to realize it's potential. You will also want to sit well behind the projector to watch movies so take this into account when you plan your room and seating. Here's how the InFocus ScreenPlay 5000's default lens sizes up against various screen sizes:
| Screen Size (Diagonal) | Projection Distance (Wide ~ Tele) |
| --- | --- |
| 40" (101.6cm) | 5.0' ~ 5.7' |
| 60" (152.4cm) | 7.2' ~ 8.6' |
| 80" (203.2cm) | 9.6' ~ 11.5' |
| 100" (254.0cm) | 12.0' ~ 14.4' |
| 120" (304.8cm) | 14.4' ~ 17.3' |
| 140" (355.6cm) | 16.8' ~ 20.1' |
As you can see, with our viewing size of 100" diagonal we were putting the projector back about 12-14' to fill our screen. This is likely not an issue if you plan on installing this projector on a ceiling - however it is something that should be noted. There is a noticeable screen door pattern on this (or any 720p LCD projector) if you are seated too close to the screen. I recommend trying to situate yourself behind the projector or site at least 2x-2.5x the screen width back from the screen. If you are watching this on a 100" diagonal screen, this means you'll want to sit about 14.5' back from the screen.
The ScreenPlay 5000 lacks any lens shift capability. This means you'll need to mount the projector exactly in the correct position for your room and screen size to avoid having to do keystone adjustments or having to angle the projector. While it does come with a fairly sophisticated digital keystone function (mentioned earlier), it should be avoided whenever possible as it softens the image - even if used just a little bit.
Confused about what AV Gear to buy or how to set it up? Join our Exclusive Audioholics E-Book Membership Program!