InFocus ScreenPlay 5000 LCD Projector Review
InFocus ScreenPlay 5000 LCD Projector Review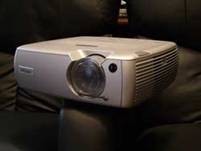 InFocus ScreenPlay 5000
Device: Three 0.7" TFT Active Matrix Panels

Native Resolution: 1280 x 720 pixels (16:9)
Projection Lens: 1:9 - 2:2 manual zoom & focus

Throw: 1.65:1 - 1.98:1 (distance/width)
Lamp: 150W UHP (2000 hour life)
Digital Keystone Correction : 9 degrees (+/- horizontal); 20 degrees (+/- vertical)
Brightness: 1100 ANSI Lumens (max)
Contrast Ratio: 1200:1 (full on/off)
Color Temperature: Low/Mid/High, selectable
Speaker: 1W, monaural

Accessories Included: Power cord, remote, s-video cable, A/V cable, computer cable, User Guide, quick start card

Video Inputs: DVI/M1 (w/HDCP), Component, HD15 (VESA), S-video, composite
Audio Inputs: stereo RCA
Trigger: 12VDC trigger for electric screen control
Component Support: EDTV (progressive), HDTV and SDTV (interlaced)
Composite Support: NTSC/PAL/SECAM/NTSC4.43
PC Support: Digital and Analogue up to 1280 x 1024 via intelligent resizing

Fan Noise: 58db (measured at source)
Communication: RS-232C
Dimensions: 11.5" (W) x 4" (H) x 10.2" (D)
Weight: 7.5 lbs
Pros
Excellent color detail
This projector is a TORCH and can play visible content in a fully-lit room
Backlit remote control
Direct access to inputs from remote
Automatic Vertical Keystoning is nifty
Cons
Fan noise (~58db at the source)
Manual zoom & focus
Needs long throw distance or smaller screen for best picture
No lens shift
Poor deinterlacing
InFocus ScreenPlay 5000 Introduction

Many people ask me about projector choices, but few have a light-controlled room in which to arrange many of the units I recommend. Last season I threw a rather large Superbowl Party and became quickly aware that there is a place in the world of home theater for bright projection systems - even at the sacrifice of black level and contrast. At the time I had used an LCoS projector that did a pretty good job of getting the picture onto the 100" screen from across the room. It was bright enough so that I could have guests watch the game without putting them in darkness. In fact, I was able to keep all of the lights on and allow unmitigated access to the central food and drink area in the same room. The ScreenPlay 5000, in comparison to that unit, is a veritable 'torch'. The amount of light this little projector throws is nothing short of astounding and I believe I have found a nice compromise to the needs of many people interested in adding a front projection system to their home.
Features and Favorites
The InFocus ScreenPlay 5000 comes with some useful features that really stood out to me. Here are some of our favorites:
Lightweight and Portable
With an included VESA HD15 input for computer use and a weight and size that make portability a reality, not just an advertised feature, the ScreenPlay 5000 truly meets the dual-use needs of a theater projector that can do double-duty in the boardroom.
1100 ANSI Brightness
1100 ANSI lumens means that you can show films or television content with some ambient light in the room, especially if you are projecting onto a 100" screen or less. I have seen projectors rated at more lumens that did not put out the light of the ScreenPlay 5000. If you are looking for something to allow sporting events to be played in a medium-lit room, this will do just fine.
Ample Color Controls
By providing controls for RGB Gain, Offset and Gamma, InFocus gives users a fighting chance to get a really good calibration out of this projector in a myriad of lighting environments. In contrast to normal practice, I performed all calibrations and adjustments with ambient light so that I could see how well the system would perform in that environment.

Confused about what AV Gear to buy or how to set it up? Join our Exclusive Audioholics E-Book Membership Program!