Hitachi CP-X2510 Full Review
Hitachi CP-X2510 Full Review
The needs of Wall Street are not much different than the needs of Main Street, in the A/V world anyway.  Bright light, quality picture, and good contrast are a must.  One difference would be the need for a business projector to have a longer life, due to the litany of boardroom (bored-room?) hours associated with awful Power Point presentations.  Note to self and others: Just because you have PowerPoint as a part of your MS Office Suite doesn't mean you know how to prepare a presentation, nor give one.
The business/classroom and house of worship market has a barrage of LCD projectors to choose from, the key is finding the best solution for your needs.  Removing the CP-X2510 projector from the box did not reveal much difference from the typical business-class projector.  I was interested to see if some of the latest advances in the residential market had been translated to the corporate side. It turns out the business projector market has its own surprises. 
Description and Build Quality
At first glance, the physical projector seemed compact and delivered the typical input/outputs seen so many times on this class of projector. HDMI was nowhere to be seen, but the typical array of inputs you'd find in the classroom or boardroom was available in quantity (more on this later). All of the inputs and outputs were grouped at the rear of the projector, where they were easy to get to. Except for the lack of DVI or HDMI inputs, the projector impressed us with two (count 'em) HD15 inputs (component video compatible), component video RCA inputs, composite and S-video inputs.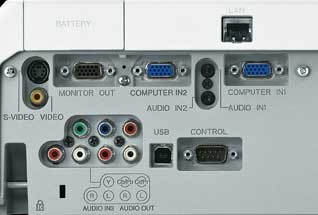 Note that the RJ45 Ethernet port shown above is only available on the CP-X2510N model
Another nice feature we see creeping up in the business projector world is the option of an Ethernet port. This particular model was not networkable, however Hitachi Business does have the cousin to this same model available to install with your network (CP-X2510N). This option allows for the monitoring and managing of one or more projectors from a remote location – pretty cool if you are seeking to manage a suite of rooms or displays from a single computer. RS-232 control is possible on this product and the unit can even send a pass-through monitor output for daisy chaining images. There are three audio inputs, two mini 1/8-inch ports for the VGA inputs and a stereo pair that can be shared with the composite, S-video and component video inputs.
For those using this projector with a laptop or PC, the included USB connector can enable basic mouse controls on the remote control to manipulate, for example, a presentation on your PC.
Setup and Use 
Mounting the projector was done in a typical style of hanging it upside down from a Peerless PRG-UNV universal projector mount which was affixed to an Auton ceiling projector lift. Once situated, all connections were easily accessible at the rear of the projector. The power input was, atypically, located on the side of the unit which presented a potential issue for those hoping to group all cables tightly in a single direction. Due to the lack or HDMI and DVI inputs, we used our laptop's VGA video port to send signal to the projector.
The setup of the CP-X2510 did not require much more than a pulse.  Plug in the power, plug in an input, and turn on the projector.  The controls from the remote were very easy to understand, and adjustments were made very quickly to optimize the image to our viewing pleasure. Primarily we were concerned with setting the right Black and White levels, something made easy by our Avia Pro DVD (you could also use Windows Media Center's built-in calibration controls). After a few adjustments on the projector mount, and adjusting the height of the screen, we were soon testing the true quality of the output.
After setting up the projector we allowed the Auto Keystone function to straighten out the picture which was displaying on our SI Screens electric drop screen. The Auto Keystone definitely helped, but it didn't nail the image perfectly. With a quick surf through the user manual, we flipped the Keystone setting to Manual and made a few minor adjustments. The picture quality was excellent, and we didn't notice any bleeding. Colors were perfect and quite vivid – the 2600 ANSI lumens were definitely enough to fill our 80" screen with plenty of light, even with the conference room lights on. The lines seemed very crisp and defined, and with the lights dimmed the Hitachi revealed an even sharper picture with better contrast.  One noticeable con was the 4:3 native, 1024 x 768 resolution.  Most laptops are now widescreen, as was the one we were using to test.  This proved difficult finding a resolution that would fit our 16:9 screen, with the use of our widescreen hp laptop. The key was using a compatible 16:9 or 16:10 resolution and then engaging the 16:9 computer signal scaling mode on the Hitachi CP-X2510.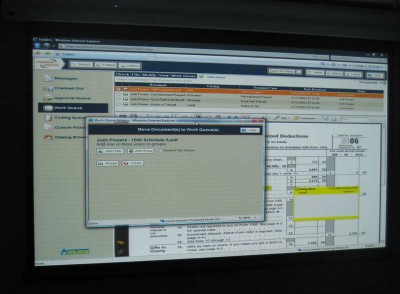 Conclusion
Once we had everything set up and working, we never really had to touch the projector over the next several weeks.  Since our projector was mounted on a motorized lift that lowered from the ceiling, it was quite impressive when clients came over and experienced the full automated presentation process.  After many uses and many lifts up and down from above, the projector remained focused and aimed correctly. Hitachi's CP-X2510 projector is an excellent value and a great performer. With a street price under $700 this is a go-to model for anyone not requiring DVI or HDMI connectivity. It's an incredible bargain given its features and quality. It is bright, crisp and has the flexibility to be used in a myriad of situations. The Keystoning capability and color controls means that power users will be able to successfully dial it in for presentation use with little difficulty. For those hoping to bring it home for home theater use there are other models and options which might make for a better choice.
About Hitachi
Hitachi Home Electronics (America), Inc., Business Group, subsidiary of Hitachi America, Ltd., markets LCD projectors, interactive panels and whiteboards and security and observation system products through value added resellers, system integrators, distributors and OEM.
The Score Card
The scoring below is based on each piece of equipment doing the duty it is designed for. The numbers are weighed heavily with respect to the individual cost of each unit, thus giving a rating roughly equal to:
Performance × Price Factor/Value = Rating
Audioholics.com note: The ratings indicated below are based on subjective listening and objective testing of the product in question. The rating scale is based on performance/value ratio. If you notice better performing products in future reviews that have lower numbers in certain areas, be aware that the value factor is most likely the culprit. Other Audioholics reviewers may rate products solely based on performance, and each reviewer has his/her own system for ratings.
Audioholics Rating Scale
— Excellent
— Very Good
— Good
— Fair
— Poor
| Metric | Rating |
| --- | --- |
| Detail and Resolution | |
| Deinterlacing & Scaling | |
| Contrast and Black Levels | |
| Color Reproduction | |
| Calibration Options | |
| Build Quality | |
| Ergonomics & Usability | |
| Ease of Setup | |
| Features | |
| Remote Control | |
| Fit and Finish | |
| Performance | |
| Value | |
Confused about what AV Gear to buy or how to set it up? Join our Exclusive Audioholics E-Book Membership Program!
Recent Forum Posts:
lsiberian posts on August 26, 2009 15:03
$700 for a PJ without DVI-D compliance is highway robbery. MY 3 year old business class projector is better than this and I got it for far less cost.

Why not highlight the Optoma HD65 instead since it's a low cost home theater solution? Or the new 1080p Optoma that's around 1000 bucks.

I question the merits of Ah doing reviews on Business projectors. Maybe this is your new office projector, but I'm not impressed.

I don't like being a downer, but this was a waste of time IMO.
BMXTRIX posts on August 26, 2009 14:48
You know I'm going to read almost anything which AH posts related to front projection and I'll definitely point out a gripe or two, but this is one of the better score sheets I've seen.
As always, I wish that more time would be spent going over the impression which the reviewer had of the projector which has been tested. What things were set to, how the setup was done.
Using a widescreen laptop typically has no impact on the projector if the desktop is extended for use instead of mirroring the main monitor. You throw away a lot of pixels when going to a 16:9 mode.
Likewise, it would have been nice to have some information about how video had performed and the flaws associated with using a business projector for home theater usage which is something many people, especially people that visit this website, will wonder about.
I agree that the performance of this projector sounds like it falls in line with the middle of the road and is VERY common to almost every single other business class LCD XGA projector under $1,000 which is currently on the market.
A five star value I would question - as I said - it is not unique anymore, or special, or a nice value, to get a $700 XGA projector.
Seriously: There are 50 projectors listed that are XGA resolution and cost less than $700. 49 of which are between 2000-3000 lumens…
http://www.projectorcentral.com/projectors.cfm?g=1&hide=0&st=1&mfg=&p=0-700&w=&r=3&br=2000-3000&ll=&t=&db=&dt=&c=&ar=&dvi=&td=&i=d&is=&sort=pop
What makes this one such a 5 star value considering the very average performance?
I really am just wondering because the review doesn't really cover what sets this projector apart from the other 49 XGA projectors which seem to fall into the same category.
I would say that a value projector worth 5 stars would need to include a digital connection with HDCP on it at the very least - and keep the price under $700.
Five projectors (from those original 50) meet that requirement…
http://www.projectorcentral.com/projectors.cfm?g=1&hide=0&st=1&mfg=&p=0-700&w=&r=3&br=2000-3000&ll=&t=&db=&dt=&c=&ar=&dvi=2&td=&i=d&is=&sort=pop
of those, the Sharp & the Boxlight both carry three year warranties, which I would consider more important for business use.
http://www.projectorcentral.com/Sharp-PG-F212X.htm
http://www.projectorcentral.com/Boxlight-SeattleX22N.htm
I think I'm always going to give these reviews a bit of a hard time because there are so many reviews which cover 5+ pages of good reading with tests and such while these projector reviews tend to run pretty thin. I would love to see some additional information and personal insight from you guys and I think others would as well.
NO HDMI OR DVI = No digital connectivity. While not critical this year, the word is that in 2011 Blu-ray will be dropping analog outputs for HD resolutions on players. Likewise, no upconversion of DVD is available over component connections.
Post Reply