Epson 8700UB LCD Projector First Look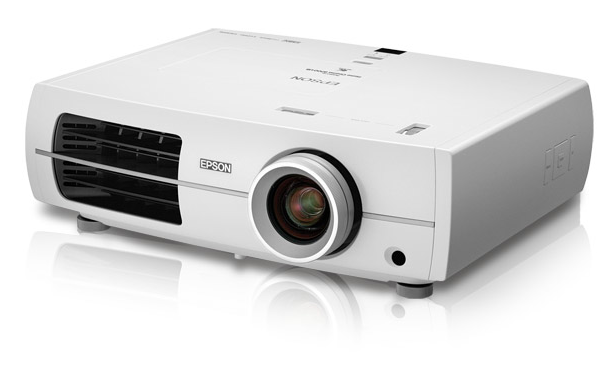 Epson 8700UB Projector
Summary
Projection System: Epson 3LCD, 3-chip optical engine
Projection Method: Front / rear / ceiling mount
Driving Method: Epson Poly-silicon TFT Active Matrix
White Light Output: 1600 lumens1 (ISO 21118 Standard)
Color Light Ouput: 1600 lumens1
Aspect Ratio:
Native 16:9 widescreen (4:3 resize)
Compatible with 4:3, 16:9 and 2.35:1 (with anamorphic lens option) video formats with Normal, Full or Zoom Modes
Native Resolution: 1920 x 1080 (1080p)
Lamp Type: E-TORL™ 200 W UHE
Lamp Life: Up to 4000 hours2
Size (projected distance): 100" diagonal (wide: 9.8' – tele: 20.9')
Contrast Ratio: Up to 200,000:1
Color Processing: Full 12-bitType: Manual zoom / Manual focus
F-number: 2.0 – 3.17
Focal Length: 22.5 – 47.2 mm, Widescreen image size (projected distance), 100" diagonal (wide: 9.8' – tele: 20.9')
Zoom Ratio: Manual 2.1x
Lens Shift:
Horizontal: 47.1% (max. left and right)
Vertical: 96.3% max (up and down)
Terminal Inputs:
2 HDMI 1.3
Composite video: 1 RCA
Component: 1x3 RCA
S-video: 1 Mini DIN
Analog RGB: 1 D-Sub 15 pin
RS-232c: 1 D-Sub 9 pin
Terminal Outputs:
2 HDMI 1.3a
HDTV
Component video
S-video
Composite video
NTSC/ PAL/ SECAM
Analog RGB (PC only)
Dimensions: 17.7" x 15.5" x 5.4" (excluding feet)
Weight: 16.1 lbs.
Executive Overview
We've reviewed most of Epson's latest projectors and the 8700UB grabbed our attention for several reasons. First off, it can be had for a mere $2199 - bringing most of the features of its Professional big sister to a more affordable consumer level. In fact, aside from a very small amount of features, extra lamp, and an admittedly mediocre mount, the 8700UB is the spitting image of the 9700UB that represents the top of the Epson LCD line. The 8700UB features 3LCD technology with Epson's C2Fine D7 chipset and UltraBlack technology. The projector aims to please by providing some of the deepest blacks yet seen in LCD front projection systems. The delivered contrast is stated at up to 200,000:1. It also delivers sharp, detailed images with Epson's latest Super-resolution technology, real color reproduction and frame interpolation. And with new pre-set color space selection and a new anamorphic lens mode for 2.35:1 viewing without an external processor, the Home Cinema 8700 UB really offers a cinematic experience in the home.
The 8700UB has a dual-layered auto iris technology that's responsible for the high claimed contrast. The bottom line is that it reacts quickly to the on-screen content, and does so silently and without a huge delay present in lesser projectors. Epson included its C2Fine D7 chipset 3LCD technology, which is the latest LCD tech they have (not to ignore the new Reflexive technology that they are releasing this year, but it is being positioned as a notably higher-end, more expensive, solution than the C2Fine systems). For processing, the built-in Silicon Optix HQV Reon-VX video processor and PW390 video scaler do a bang-up job. I mean, the picture on this thing is incredible.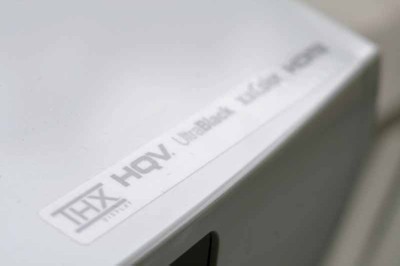 Picture quality is really helped, not only by the video processing done by the implementation of Epson's FineFrame frame interpolation circuitry, but also by the physical use of a Fujinon OptiCinema lens with 2.1 zoom ratio. Brightness is more than adequate with 1600 lumens - that typically ends up around 1000 or so after calibration, and a new anamorphic lens mode enables 2.35:1 anamorphic viewing without an external processor. This feature alone is worth the price of admission - as it means that you no longer have to buy a separate lens system in order to enjoy full-pixel implementation of 2.35:1 content on your projector. As an added bonus, you can also use it to vertically stretch 4:3 aspect ratio source material to optically fit a 16:9 space. You'll lose information at the top and bottom, but it's a nice option to have and we use it on older TV shows we happen to have on DVD or non-HD television and movies.
Configuration and setting the projector is easy as always, since Epson has a manual lens shift of 96.3 percent maximum vertical and 47.1 percent maximum horizontal. Inputs are plenty, with two HDMI 1.3 connections (with Deep Color support) and, of course, component video - which we use extensively for delay-free gaming.

Epson's 200W E-TORL lamp will last up to 4,000 hours provided you are using the system for home theater and don't operate it at the highest possible brightness (we recommend calibrating it to the dimmer economy mode for best blacks assuming a light-controlled room).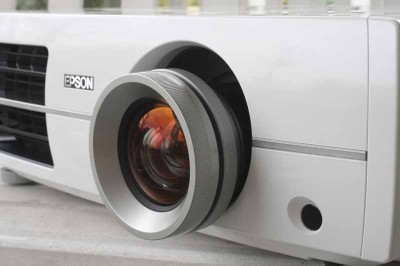 Breaking Down the Key Features

The Home Cinema 8700 UB features class-leading signal processing technologies, including dual video processors and 12 bit chip driver technology. It also has a THX Movie video mode for better color accuracy. Here is how all that breaks down in terms of an expanded look at its specific features:
D7 1080p 3LCD Technology
At the heart of the Home Cinema 8700 UB is Epson's latest generation D7 three-chip 1080p LCD imaging engine, which features individual LCD chips for each of the primary colors.  While retaining the same high (>52%) aperture ratio of earlier models, the Home Cinema 8700 UB's latest generation D7 chips and UltraBlack technology along with our latest dual-layer Auto Iris system help provide dramatically improved dynamic contrast ratio, with a remarkable 267% increase over the prior generation UB model (200,000:1 vs. 75,000:1). This improved contrast ratio provides darker blacks and brighter whites.

Cinema Filter
Epson's exclusive Cinema Filter technology features a unique, multi-layer optically coated glass panel that when activated, provides spectral response tailoring of the light engine's output.  This allows the projector to mimic a theater projector by taming spikes in the spectrum while at the same time providing an expanded color gamut of up to 115% of NTSC.  The filter is activated into position when any of the following picture modes is selected: THX Movie Mode, Theater, Theater Black 1, Theater Black 2 and x.v.Color.

200W E-TORL Lamp
Epson's exclusive E-TORL (Epson-Twin Optimized Reflective Technology) high output lamp provides a number of benefits over conventional off-the-shelf UHP bulbs.  The unique dual parabolic reflector design maximizes lamp efficiency, directing the greatest concentration of light output to the three-chip imaging engine.  The E-TORL design also provides increased collimation accuracy, minimizing stray light and improving light output uniformity with increased contrast across the entire screen surface. The Home Cinema 8700 UB features Epson's latest E-TORL lamp design, which is rated at 200 watts, compared to 170 watts in earlier versions.  This output provides maximum brightness (1,600 lumens) and is comparable in performance to the light output of conventional 250 and 300 watt off-the-shelf lamps.  The increased output allows for a greater range of screen sizes, while higher efficiency provides lower cost of ownership in terms of reduced power consumption and extended lamp life in the low power mode.  The E-TORL housing also includes a number of improvements that help extend lamp life, while the pull-out handle enables quick and easy lamp replacement.

Epson UltraBlack Technology
This feature is defined by Epson using the same words over and over, leading us to believe it must be magic and controlled by Keebler (or other) elves that put out special rays of blackness in a way that improves upon the image's ability to portray contrast. Or it could just be the way the system dims the lamp output in response to what's on the screen, generating a 200,000:1 dynamic contrast ratio – an improvement of 267% compared to previous models.

C2Fine (Crystal Clear Fine) Vertical Array Technology
Conventional LCD chips utilize Twisted Nematic technology, where the LCD chips are normally translucent (high transmittance) in their natural state.  To reduce transmittance, signal voltage is applied, but achieving a true opaque (no transmittance) state isn't achievable, resulting in light leakage that impairs the ability to produce true, deep blacks. Epson's C2Fine Vertical Array technology shifts the light transmittance paradigm around, as the Vertical Alignment chip's natural state is opaque and signal voltage is applied to produce increased light throughput, resulting in better control over deep black and very dark gray reproduction, with none of the washed-out blacks and dark grays obtained with conventional LCD technology.

12 Bit Chip Driver
By increasing the chip driver bit rate from 10 bits (1,024 levels – 1.07 billion colors) to 12 bits (4,096 levels – 68.72 billion colors), gradation and banding artifacts are virtually banished, providing a smooth, natural color palette.

FineFrame Technology – 120 Hz Frame Interpolation
The Home Cinema 8700 UB features an improved 120 Hz FineFrame Interpolation system, which derives intermediate frames from prior and following frames, and improves motion sharpness while reducing motion smear.  Fast motion images, such as sports and quick pans, are sharper, clearer and more precisely defined.

96 Hz 4:4 Pulldown; 120 Hz Frame Interpolation with Blu-ray 24p Movies
With Blu-ray movies output at 24p, the Home Cinema 8700 UB features a choice of 4:4 pulldown or 96 Hz Frame Interpolation.  The 4:4 pulldown function keeps the original film frames intact, but displays the frames with a fast 4X (96 Hz) refresh rate.  The 96 Hz Frame Interpolation feature creates three new intermediate frames between each film frame, smoothing out the image.  According to the program material and the user's preferences, either can be applied to improve image detail and reduce noticeable film judder.  The Blu-ray player's 24p output capability must be activated.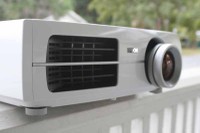 The Epson Powerlite Home Cinema 8700UB also comes with Epson's 2 Year Warranty, including 48 hour advanced replacement so consumers can rest at ease that they are buying truly high quality product from one of the largest manufacturer of front projectors in the world. As we mentioned, it can be had for as little as $2199 from venders like VisualApex.com, which is an incredible deal for what this offers. This is a really impressive product and quite possibly the premier consumer solution for LCD in the market today. We can't wait to check out Blu-ray discs and content from VUDU on the big screen from this projector. The THX video mode, backlit remote, anamorphic scaling options, excellent Fujinon lens, and ample connections means that this is a projector that will perform as well as endure for some time to come. It doesn't support 3D, but then again, neither does the industry - if you base that on the number of software titles currently available. Epson keeps making their products better and better and we're confident that this new 8700UB is going to be one of the most well-received projectors in its price class and one that should score several Editor's picks this year.

Unless otherwise indicated, this is a preview article for the featured product. A formal review may or may not follow in the future.
basspig posts on December 26, 2011 01:43
BMXTRIX, post: 808412
I'm not with you on the lumens thing. Our eyes need time to adjust from bright to dark and it can cause eyestrain and headaches to put to much light on screen. A theater is not the real world and I don't want to feel like I actually just turned the lights on crazy bright, then turn them back off again while using my projector. The only reason for more lumens is to compete with ambient light in the room, and at that point I've already lost my black levels so it hardly matters what the projectors does with black levels.

I'll stick with a dark theater area and 17 lumens per square foot.

What size screen do you have? It looks big, but I didn't read through everything to find a size. If it's 120" diagonal 16:9 image, then that's 43 square feet, and at best with the IN82 you may get just under 30 lumens sq/ft with the projector in the worst possible mode it can be in (dynamic, iris open, worst contrast, poor color reproduction). Still, very high. But, in standard mode, at medium image quality, it's more like 15 l/sf on the same size screen. At best quality, best contrast, it's more like 6 l/sf!!! That doesn't take into account lamp decay. All numbers are pulled from Projector Central's review of the IN82 projector. It is possible, if you have a light meter, that you are getting more out of it, but if you are just going by the numbers, and/or your screen is smaller than it appears, then it could be completely different.

The important thing, is that brightness can hurt the experience more than most people understand. The dark room is the key, the contrast of the projector is the next. Color reproduction comes in next. Absolute best projector I've seen is the JVC RS50 on a 106" diagonal screen. Completely floored me when I first turned it on with Blu-ray.
My feeling is I like more dynamic range than movies currently provide. I shoot high dynamic range footage, but it often looks dim compared to Hollywood stuff, but it's more faithful to the real life conditions. I preserve the highlights, but to see the shadow detail, the projection needs to be bright.
I once calculated about 59-63ft lamberts with my current setup. The screen is 154", but my room is only 32' long and I can only get the projector 13' back from the screen, which is in front of some very large speakers, so the image projection is only about 98" or so right now. Everyone comments that it's very bright. When I go to see a movie in a commercial theater, I find myself straining to watch, because I find it way too dark. Same thing when I visit friends who have HTs with projection. The only thing that provides similar brightness is a LCD monitor with the backlight maxed out. Yes, I do relate to your complaint about eye strain with too bright a projection.. in fact I experienced it when watching movies where we go from an indoor scene to bright daylight outdoors. I have to squint for a few seconds til my eyes adjust. But it's like that in real life, only worse. And that's in economy or normal bulb power. It's even brighter in 'high power' mode. For the color temp, I use 'native' and also use the 'brilliant color' mode, which greatly increase the brightness over the other modes.
It's perfectly fine, but I do hope that one day I will find a unit that can fill my 2.35:1 screen, corner to corner without me needing a lens and knocking out another support pillar. The IN82 must have been designed for a cafeteria sized venue, because even at the widest end of the lens, the image expands at a lazy rate with distance. Ideally, it wants to be 20' from my screen in order to fill it.
I'm probably in the .05% of theater viewers who want realism to the degree of real life.. sound in excess of 140dB for explosions, and brightness to 100,000 lux when the sun is in the frame!
BMXTRIX posts on May 17, 2011 22:00
ComradeBrehznev, post: 811535
Since video processing is relatively cheap these days, does this pj let me specify my screen shape and then have it filled regardless of the source shape? Why doesn't that also work with anamorphic/ why is a different lense required . e.g. I may want to watch a 2.4:1 movie correctly proportioned to fill my 1.78:1 screen vertically, the sides be damned. Alternatively can I watch it correctly proportioned but filling the screen horizontally and the top and bottom black bars be damned?
thanks!
Most projectors do this. The 'zoom' function will zoom in and crop off the edges. This is very much frowned upon (be damned!) as you are losing a fair bit of video information that is on the edges of a 2.35:1 frame when you force it to fit 1.78:1 (16:9). It is far more typical to leave it set to 16:9 mode and have black bars above/below the image.
If you have a 2.35:1 screen, you can manuall zoom in to fill the 2.35:1 screen and have the black bars fall of the edge of the screen. This is very effective, but a manual operation. Also, you lose light from the projector as you zoom in.
So, people go to anamorphic lenses which will typically cost well more than the projector for a VERY good lens. Then you need a sled to move the lens in front of/away from the front of the projector easily. Then you still need the projector to scale the image properly so that the lens can widen it for 2.35:1. The advantage is that you are using 100% of the available resolution of the projector and capturing more light output for your screen.
But, I would say that in five years or so, we will start to see a serious influx of 2560x1080 projectors which will do 2.35:1 aspect ratio natively.
ComradeBrehznev posts on May 17, 2011 15:57
Since video processing is relatively cheap these days, does this pj let me specify my screen shape and then have it filled regardless of the source shape? Why doesn't that also work with anamorphic/ why is a different lense required . e.g. I may want to watch a 2.4:1 movie correctly proportioned to fill my 1.78:1 screen vertically, the sides be damned. Alternatively can I watch it correctly proportioned but filling the screen horizontally and the top and bottom black bars be damned?
thanks!
jostenmeat posts on April 28, 2011 20:05
Thanks man. You know, about this discussion on dynamic range with lumens, I was thinking of scenes with more dramatic shifts in brightness. The first one I thought of is a foreign movie called White, where in one scene it's basically underground, very dark, and the immediate next scene is on frozen ice in bright sunlight.

Then I thought of Star Trek too, and particularly the opening. I agree that movie is definitely reference. I rarely watch the "making of", and while this was no exception, I did hear that he used models as much as possible.

I still think that Kill Bill 1 and 2 might look better though.

Now you're making me want a RS50 too. Hahaha. I so don't want to know how much it costs.
BMXTRIX posts on April 28, 2011 19:52
Carada Criterion Brilliant White 106" screen and I watched a bit of Star Trek and some Tron. Star Trek is pure reference with their opening scene. Tron is weird because the colors are very unnatural throughout. But, to test the Epik subwoofer in conjuction with 8" 3-way in-wall speakers was definitely solid with Tron. Very jealous of that projector and the client who I installed it for. I've heard nothing but good things about JVC projectors I've sold to this point, though I've heard of a few bad apples being out there in the JVC bunch for some reason.
Post Reply
Confused about what AV Gear to buy or how to set it up? Join our Exclusive Audioholics E-Book Membership Program!