Anthem LCOS Projector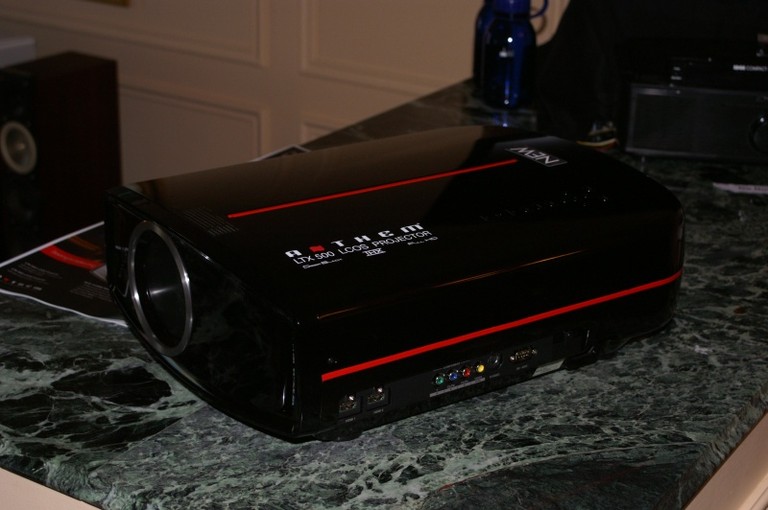 Anthem LCOS Projector model LTX 500
Summary
Executive Overview
Brand new for 2009 is the Anthem LCOS Projector model LTX 500 (also on hand was the lower priced 300 model - both just re-branded JVC projectors). The projector is full HD, THX ready and includes 2 HDMI inputs, as well as RGB rca inputs, an S-Video out and an RS-232 serial port for communications. Features a 50,000 to 1 contrast ratio. The MSRP is $7499. The 300 retails fro ~$5500. The Anthem LTX 500 projector had an absolutely stunning picture quality. In a word, fantastic! But of course, so is the JVC it is based on. This is now the 6th or 7th company (at least) who has taken the JVS LCoS line-up and run with it. I guess when you see a good thing...

For more information, please visit www.anthemav.com.


Unless otherwise indicated, this is a preview article for the featured product. A formal review may or may not follow in the future.
Confused about what AV Gear to buy or how to set it up? Join our Exclusive Audioholics E-Book Membership Program!
Recent Forum Posts:
funlvr1965 posts on February 17, 2009 08:15
Anthem makes great products and have excellent support, I have their D2 audio processor but this is definately a new direction for them and I wish them well
FreddyC posts on January 16, 2009 20:00
I thought that I read somewhere that Anthem was going to be creating a high-end HTiB, with a JVC projector (or maybe an Anthem projector), and one of their pre-amps. I guess it makes sense in this case to just go ahead and rebadge it. But that red stripping … why couldn't they keep it simple like Pioneer did?
hodedofome posts on January 16, 2009 10:28
I believe the JVC projectors are going to have a lower MSRP than what they've announced previously. So it could be $7500 or less by the time it comes out.
Sherardp posts on January 16, 2009 09:31
I'll take the JVC any day, not a fan of that red stripe either. JVC projectors are second to none for the price you pay.
strube posts on January 16, 2009 01:24
You mean you wouldn't pay extra $$$ for it to say "Anthem" on it ?
All joking aside, it seems to me (unless I am mistaken, which I usually am :rolleyes that the LTX 500 is the JVC DLA-HD750, which actually has a higher MSRP at $8000 than the Anthem at $7500. If this is true it surprises the hell out of me .
I think Runco was actually planning on going for a rebrand of this with an MSRP of $14995 :
http://www.amazon.com/Senario-22208-Torpedo-Dark-Projector/dp/B000EULXNY
Post Reply