Mothers Day Electronics Gift Guide 2012
Mothers Day Electronics Gift Guide 2012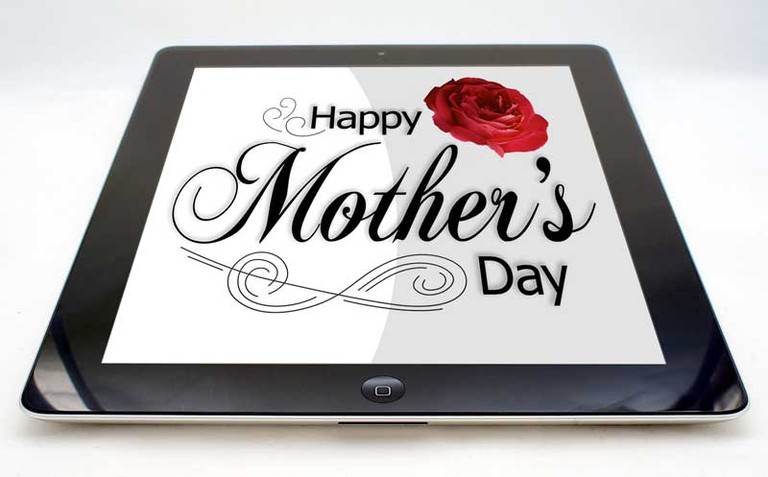 Mothers Day Electronics Gift Guide 2012
Every year I take it upon myself to educate you in the art of bringing our collective mothers into the 21st century properly. And lest you think that's going to be accomplished by brainwashing her into listening to uncompressed music on a separates system while waxing eloquent on the merits of 10 gauge lamp cord speaker cables... well, let's start a bit smaller. The larger items on our list will be there simply because they represent a way to deliver "audio-creep" into your living space in a way that is attractive to a mom, thus enabling you to get a foothold and encourage her to enjoy a little bit more of the hobby. Other items are just cool gadgets that we think she'll really enjoy. Still others are items designated for moms already well-integrated into the digital age. If you've got that kind of mom, or wife, then consider yourself fortunate!
With Mothers Day on its way, here is our annual Gift Guide for choosing the best and hottest electronics gadgets for 2012. These are items that we think she'll enjoy. So settle back, enjoy yourself, take off your audiophile hat, and think about the joys of motherhood as experienced through the world of technology.
Joe V. Leather River Song Diary TARDIS Kindle Touch Cover

Price: $64.99 | Buy it now | Read Our Best Kindle Cover Picks

My wife (also a Mom) loves Doctor Who. So it was with great glee that we recommend the Kindle cover inspired by River Song's diary of her adventures with the Doctor. This cover is blue and resembles the exterior of the Doctor's TARDIS. The cover is hand rubbed and aged with leather dye. It folds back completely to itself, allowing you to use the Kindle with one hand. You can get the TARDIS for the Kindle, Kindle Touch, Kindle Keyboard, or Kindle Fire - so just about any (late model) version will be... um... covered (pun intended). This is definitely a cover that will last you a lifetime.
Klipsch Mode M40 Noise Canceling Headphones

Price: $349.99 | Buy it now

Look, don't buy these unless your Mom is going to be impressed by fashion-meets-audiophile sound... or she travels a lot. I mean, the M40 Mode Headphones by Klipsch aren't meant to be given to someone who'll shrug their shoulders, toss them on the couch and go back to watching American Idol. But if your Mom has discerning taste, or has to frequently tough it out on the airlines, then these are for her. The M40 Mode's have high-grade leather ear cups and feature state-of-the-art active noise canceling (ANC) for up to 45 hours on a single battery. For the techies, a 40mm woofer provides the deep bass and dynamic midrange and the phones use an active crossover to split those from the 15mm tweeter. 2 detachable, Hi-Fi inspired cables fit any device with a 3.5 mm headphone jack. In terms of style, the headphones are built from the same durable materials used in high-end eyewear and cloth cables like those used in premium, hi-fi systems. And, as you'd expect from a Klipsch product, sound quality is never compromised.
Logitech UE Air Speaker

Price: $399.99 | Buy it now | Review coming soon!

What's better than a speaker that looks cool? How about one that sounds as good as it looks? That's the Logitech UE Air Speaker. AirPlay has been a technology we've been extremely impressed by. If you're in the apple ecosystem it's bound to be a part of your life if you're buying current AV products and love the idea of streaming music wirelessly. Logitech just released their first AirPlay-enabled speaker, the Logitech UE Air Speaker. The UE is Logitech's abbreviation of a company they purchased back in '08, called Ultimate Ears. The Air Speaker, which looks like the business end of a Hammerhead shark, is pretty cool-looking, with minimal buttons and an integrated iPhone/iPod dock that retracts into the base when not used.
Samsung UN65D8000 (8000 Series) SmartTV

Price: Varies | Buy it now | Video Review
Look if you're going to get a new TV, go big! Samsung Smart TVs allow you to easily search for movies, TV shows, browse the web, explore Samsung apps, chat with friends and find many other types of new interactive TV content. Samsung Apps is a growing collection of premium apps specifically built for your TV that connects you to your favorite digital content such as movies from Netflix or Blockbuster, TV shows from Hulu Plus, videos from YouTube, Next Level sports information from ESPN, Music from Pandora, and social updates from Facebook or Twitter. The Samsung LED 8000 series also includes a Full Web Browser to navigate the internet, a Search All feature so you can find videos via apps or other connected devices and a recommendation engine which suggests movies you might like from your Video-On-Demand services. Samsung Smart TVs allow your digital experiences to converge on a brilliant HD screen.
Apple iPad 3

Price: $499 (and up) | Buy it now

The third  generation iPad 3 is a full third thinner than the original iPad and comes with a faster dual-core A5X chip. But of course it's the new retina display that makes the iPad 3 something to behold. And, with the addition of a ton of new next-gen tablet games, this is going to result in some very impressive gaming experiences. It's still compatible with the optional Smart Cover, which attaches magnetically and auto-wakes the iPad up from sleep through the integration of internal magnets. It also folds over, giving you a convenient triangular stand. There are two cameras, so you can do FaceTime and use the iPad to take HD video and photos. The unit has a 10-hour battery life. In short, your Mom will love it.
REALM RH1056md Headphones by Scosche
Price: $199.99 | Buy it now

Headphones are often a hard sell for Mom, but the REALM RH1056md's are so supple and comfortable to wear, you just might pull it off. Each component of the RH1056md reference grade headphones motor structure is designed to work in perfect harmony to deliver an impeccable audio performance. The tapLINE III remote and mic means you can control play, pause, volume, skip tracks and more from the control surface. 40mm REALM drivers feature a custom blend of mylar for a virtually weightless audio membrane. Precision wound copper voice coils... rare-earth neodymium magnets... the entire feature set seems well-designed to create an extremely accurate musical reproduction. Even the leather-wrapped viscoelastic memory foam softens in reaction to your body heat and allowing the RH1056md headphones conform to your unique shape.
Aperion Intimus 4T HT Speaker Package (Cherry or Black)

Price $1799 | Buy it now

Aperion Audio speakers are among the best bang for the buck in the industry. They have some really great products in a wide variety of styles and sizes to suit any need, and yet they continue to innovate their product line. We really like that - and so will your Mom... at least we think she will. They also come with a five year warranty, free shipping and lifetime tech support. That's not bad. Not bad at all. If you're an absolute bass hog, maybe you can mix and match the system and upgrade the sub - either to a larger Aperion model or one from another company. In either case, Aperion's going to help you get the exact sound you want in your living space and the Intimus 4T Hybrid SD System is a great starter system.
Gear4 AirZone Series 1 Airplay Speaker

Price $299.99 | Buy it now

When GEAR4 presented the AirZone Series 1, we had to get our hands on their first wireless home stereo system with Apple's new AirPlay technology. The stylish metal design and high gloss finish make the AirZone Series 1 an above-average looker and the features make it even better. Mom can dock her iPhone, iPod touch or iPad or just use AirPlay to stream music wirelessly from anywhere in the home. Don't bother telling her that there will be no loss in audio quality - she'll be too busty listening to her favorite tunes to care. Need to put the nail in the coffin on this purchase? Set-up was easy and the system delivers excellent sound that fills even larger sized rooms. With the AirZone Series 1 you can also stream music wirelessly from your PC or Mac using iTunes.
Verbatim Store 'n' Go USB 3.0/FireWire 800 Drive for Mac

Price: $174 (500GB) | Buy it now

Hard drives aren't usually sexy. This one is. And if Mom uses the computer, backing up her stuff is the difference between a fast recovery of a crashed system or deleted file, and a lot of misery. Of course it helps that fast and portable external storage for the Mac just keeps getting cheaper (and better). Verbatim's Store 'n' Go SuperSpeed USB 3.0/FW800 Portable Hard Drive provides a fast, safe, and portable solution for Mac users to save and back-up their most important data. This HFS+ formatted drive is Mac-ready out of the box and includes both Firewire 800 and USB 3.0. Plus it looks like a slick drive, with a piano gloss finish and a raked back curved top. The drive's USB 3.0 connection offers expanded functionality, as it is completely backwards compatible with USB 2.0.
SOL Republic Amps Earphones
Price: $59.99 | Buy it now

If over-the-ear headphones aren't Mom's thing, then try some in-ear models. Amps are in-ear headphones featuring their "i4 Sound Engine" speakers. They are engineered with angled shafts that mirror the natural shape of the ear canal. They also use a right-angle connector so the cable doesn't break. Available in black and red, the SOL Amps are made to be comfortable in-ear headphones that are engineered to stay in place while providing a secure seal. Each Amps comes with four multiple tip options for the perfect fit in any ear and there's a 3-button remote and microphone so it works with your iPhone or SmartPhone.
Hopper/Joey DVR

Price: Free+ (lease) | Get it now | Read our First Look | Review coming soon!

Mom might enjoy the new simplicity of the Hopper & Joey system. DISH Network has completely changed the way it does DVR - particularly as it has to do with a whole-home setup. And this really makes sense, considering that right now you need a DVR in each room in order to record your favorite shows - and those shows can't be shared from one room to the next. Now they can. DISH is introducing Hopper and Joey, a whole-home high definition DVR entertainment system. The Hopper HD DVR and accompanying small Joey set-top boxes create a whole-home HD DVR entertainment system that lets DISH customers easily record, pause, and play back shows from any room in the home. While most whole-home DVRs do not have the same DVR functionality on every TV, the Hopper and Joey whole-home system offers the exact same DVR functionality on every TV, letting customers pause, play and rewind both live and recorded HD programs in up to four rooms. We've been reviewing the Hopper-Joey system for several weeks now and it's incredible!
Stem Time Command Mini

Price: $79.95 | Buy it now

Does Mom have a lame alarm clock? If so, it may be time for an upgrade. Stem Innovation's Time Command Mini is a little alarm dock with the surprisingly big sound. You can charge and play your iPod, iPhone or iPad while saving valuable space on your nightstand. Like the Time Command clock which preceded it, the Time Command Mini's one alarm and three buttons are simple - but now it's even smaller. The Time Command Mini can charge and play Apple devices, has a precisely tuned Sonic IQ acoustic system, and comes with a fully dimmable LED display so it won't keep you up at night. Pivoting dock connector supports mean that it's easy on your iOS device, and it will fit most devices both in or out of most protective cases. You can even expand your control of the Time Command Mini with the Stem:Connect App, a free download from the App Store that lets you set calendar-based alarms with repeat functionality, keep an eye on local weather information, and much more.
NuGuard GripBase & GripStand

Price: $39.99 | Buy it now

Not everyone runs out and buys the newest iPad, so if you've got the original - check this out. The Newer Technology NuGuard GripStand/GripBase bundle is the multi-use solution for using your Apple iPad on the run or at a desk. The hard plastic protective shell of the GripStand grips your iPad snugly while enveloping it in a shock-absorbing inner rubber liner. The removable, skid resistant desktop stand can be swiveled 360° and positioned at virtually any angle for viewing or typing needs. The desktop stand also doubles as a highly effective one hand grip so you can use your iPad while standing or walking. And to take presentations to the next level, the NuGuard GripStand handle can even be rotated to use as a hook to hang your iPad on the wall in either landscape or portrait orientation. Going mobile with your iPad is a breeze too. During transport, flip the iPad around so the glass is facing into the protective case for extra protection.
Supertooth HD Bluetooth Car Speakerphone

Price: $129.99 | Buy it now

You want your mom to stay alive while driving, don't you? You know she's putting on make-up while making calls and navigating to the kids soccer game... so why not take away at least one potential distraction? The SuperTooth HD is equipped with state-of-the-art voice commands, providing a hands-free solution for drivers, allowing them to answer the phone, call pre-dialed phone numbers, check battery level, check voice mail, and much more! SuperTooth Handsfree Assistant feature composes and sends SMS, e-mails, Facebook messages and Twitter notes by using your voice. The SuperTooth HD can also read incoming SMS and e-mails (for Androids and BlackBerrys only). This service is powered by Dial2Do. Thanks to voice commands and SuperTooth Handsfree Assistant service, you can talk and text on your phone keeping your eyes on the road and your hands on the wheel, so you can abide by the law and focus on driving.
EDGE Design Aktiv iPhone 4/4S Case

Price: $99 | Buy it now

Want to give your Mom the coolest iPhone 4 or 4S case we've yet seen? The EDGE Design Aktiv iPhone 4/4S Case began last year as a KickStarter project and reached its funding (and then some). The result is a line of cases that are incredibly attractive and VERY unique. The Aktiv is a high-strength, lightweight, aluminum chassis in anodized finish (orange, blue, black, silver and more). A strong polymer band, which is available in 8 different accent colors, surrounds the aluminum chassis and holds your iPhone in place. It also serves to protect the iPhone from actually touching the device and degrading the signal. All EDGE Design cases are packaged in a reusable water resistant pouch, which the company sells separately for $15 and provide added protection when needed. It doesn't come in pink, but your tech-mom-in-training doesn't go for that anyway, does she?
iHome iW2 Airplay Speaker

Price: $199.99 | Buy it now | Video Review coming soon!

We've now reviewed three AirPlay speakers... and all of them are in this gift guide. It's obvious we think they're cool - and so will your mother. The iHome iW2 is closer in looks to the Gear4 AirZone Series 1, but functionally closer to the Logitech UE Air Speaker Here's what I mean. The iW2 has a similar appearance to the Gear4 AirZone Series 1 with rounded sides and approximately the same dimensions. But it lacks a display and uses an App, iHome Connect, to setup the speaker on your network. That means you don't have to fuss with using the top controls to configure your wireless network or password. We like that. We also like the fact that the iW2 works with four different iHome Apps to bring you alarm functions, Internet radio and even custom EQs.What your mom will like (and everyone else for that matter) is that it sounds good, plays loud and is easy to use.
Moshi Luna Illuminated Keyboard

Price: $99.95 | Buy it now

Anyone can love the minimalistic design of Moshi's Luna keyboard. It offers a sleek profile during the day, while its true beauty shines once the night settles.  Luna's backlit illuminated keys have 4 different levels of brightness, which makes typing easier in all lighting conditions perfect for touch typists and gamers alike.  The crystal clear acrylic frame further accentuates Luna's elegance by offering a zero-gravity appearance in low ambient lighting.  Luna provides an ergonomic 9-degree tilt angle to ensure that the wrists remain comfortably flat while typing, and each individual scissor key mechanism has been optimized for precise tactile responsiveness.  Furthermore, Luna supports multimedia function keys under both Mac OS X and Windows, making it the most versatile keyboard for systems running dual operating systems.
Scosche clipSYNC Keychains for iPod and iPhone

Price: $19.99 | Buy it now

This one is almost a stocking-stuffer. If your mom has an iPhone or iPod, then giving her a keychain that doubles as an always-ready USB docking/charge cable is a pretty nifty idea. The clipSYNC simply attaches to your keychain and lets you conveniently charge and sync your iPod or iPhone anywhere you can access a USB port. No more hunting for cables. It supports USB 2.0 for the fastest non-3.0 data transfer possible and it looks pretty cool as well. We put one on our carry-on luggage, so we always have access to a charging cable when we need it. Scosche makes a mini-USB cable (clipSYNC) and a iPhone connector version so you can be sure to have something that will work with all smart phones and USB-standardized portable electronic devices.
And you know, there are a whole host of products that may not seem very "Mom-ish" at first glance, but can make Mom's life easier. If your Mom uses the computer, for instance, you can add any number of features to her desk or computer system to provide ease of use or better ergonomics. You can get her some extra "bling" for her iPhone or iPad. Even MonoPrice got into the game this year, producing a MonoPrice Mother's Day Gift Guide that had tons of gadgets, gizmos, and accessories that might make for a fun set of gifts - just make sure YOU do all the leg work to get everything installed and configured!
Hopefully there were at least a few good suggestions in here for your beloved Mom. We certainly try to elevate the technical prowess of our parents every chance we get and Mother's Day and Father's Day is the perfect opportunity to splurge, gadget-style!
Confused about what AV Gear to buy or how to set it up? Join our Exclusive Audioholics E-Book Membership Program!
Recent Forum Posts:
indulger posts on May 02, 2012 20:02
You know what my wife asked for which is so simple but really great to have…a "Lapdesk/Lap Caddy". Makes perfect sense. The cushion bottom for the uneven surfaces and the table top so the laptop fan has room for circulation without getting block by blankets, pillows, pj's…..etc. It's techy like and personal too. Not only that, I can borrow it.
Post Reply