Mothers Day 2010 Gift Guide
Mothers Day 2010 Gift Guide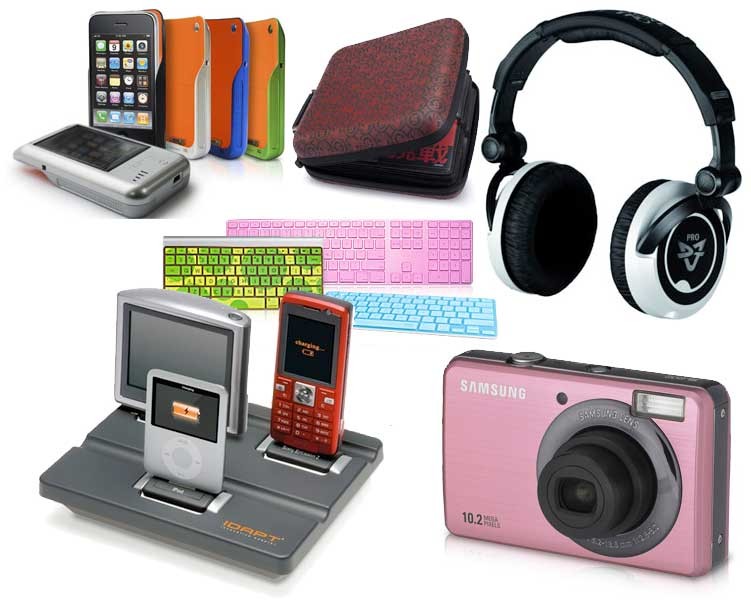 Mom's like gadgets too!
This Mother's Day, why not bring your beloved parent up to speed through the carefully-planned insertion of choice tech gear into their daily arsenal? We're not talking James Bond tech here, just your standard circa-2010 fare that will make your Mom the coolest one on the block and give her the ability to dazzle her friends with the brilliance of her son or daughter's choice in gifts...
If your Mom is anything like ours, they are about a generation behind in terms of technology and gadgets. For my Mom, having a Skype session is something special, and involves "getting all set up" for the big event... despite the fact that we do it at least once a month. And my folks are just now warming up to the idea that they don't have to buy every single movie on DVD - Netflix allows them to watch a lot more content for less. And Hulu? That's a Hawaiian dance, right?
But now Mother's Day is coming. And this is your chance to plant a gadget into your mother's hand that is sure to level the playing field and restore dignity to the family name. We've listed a few of our favorites here in this article designated to show off a few products that might impress, update, or even (heaven forbid) make that special Mother's life just a little bit easier.
NovoThink Surge Solar iPhone/iPod Touch Charger
Price: $69.95 (iPod Touch) $79.95 (iPhone) | Buy it now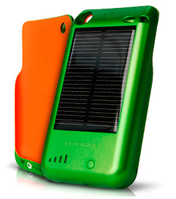 With Novothink's Surge iPhone/iPod Touch Solar Power charger you can harness the power of the sun! (Intro dramatic Space Odyssey musical score here) While solar power has been around for decades, Novothink brings it home to a more practical use with their carrying case that conveniently and simply recharges your iPod or iPhone, providing extra juice and enabling the ability to use it almost indefinitely without having to plug it in... provided "indefinitely" means limiting your use to a few hours per day - but you get the idea. This is an excellent product for hikers, bikers and those who simply like to remain untethered to the world. LED status light indicators give you the status of your battery and the clean case proves unfettered access to all iPhone functions. The Surge even has a built-in USB connection so you can charge or sync with iTunes without ever having to remove your iPod or iPhone out of the case. The Surge is available in two colors for iPhone, with four more colors coming on board soon. An included (free) Solar Planner App helps you estimate your solar needs based on your desired usage.
iSkin ProTouch for MacBook/Pro/Air
Price: $24.99 - $34.99 | Buy it now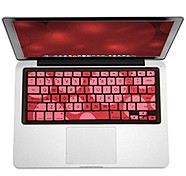 Your mom hates dirt - admit it. That's why you need to consider getting her the all new ProTouch Keyboard Protectors for Macintosh computers and laptops. The keyboard covers are full-time silicone covers that keep your keyboard safe from everyday hazards that could lead to permanent damage... like the soda my wife spilled on our last laptop. Good times, good times... Anyway, the built-in Microban protection is an anti-bacterial layer that inhibits the growth of, uh, bacteria, that can cause stains, odors and generally make your keyboard not as nice as when you bought it. Best of all, teh silicone cover is made to fit your keyboard perfectly, whether its an Apple keyboard, MacBook pro, MacBook, or MacBook Air. It just lays right on top and stays - until you remove it. And when you remove it, you can wash it with regular soap and water. Try THAT with your keyboard! No, really, don't. Just... just don't. This isn't a glamorous gift by any means, but to solve that iSkin has made several playful colors and patterns to spice things up. There are eight total versions to choose from, including the Classic and FX and Vibes versions to add some excitement in the form of color and patterns to your stale laptop keyboard.
Yamaha RX-V367 AV Receiver
Price $229.95 | Buy it now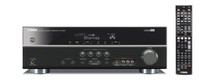 This is an unbelievably low price to pay for an AV receiver that reads HDMI audio from your new Blu-ray player, gaming system, or cable/satellite box. Yamaha's newest entry-level receiver is 3D-ready and features four 1080p-compatible HDMI inputs that will accept audio. Sporting 100 watts by five channels, 3D early adopters should be excited. While the 3D standard isn't exactly finalized, you'll be able to update the firmware of the RX-V367 to include new 3D features as they become available. Oddly enough, this will apparently be accomplished via computer download burned to CD and played through the receiver by the user. The main left/right channels sport five-way binding posts while the rest of the channels are relegated to spring-clip connectors. In addition to the four HDMI inputs, there are two component and four composite inputs (there is a composite input on the front panel as well). There is a single subwoofer output and even a iPod docking connection for adding either the YBA-10 Bluetooth or YDS-11/12 accessory (not included). For digital audio inputs you get two each of coaxial and optical. This little receiver's got a lot of punch in a small, inexpensive package.
Slappa HardBody CD Cases with d2i Pockets
Price: $15.99 - $59.99 | Buy it now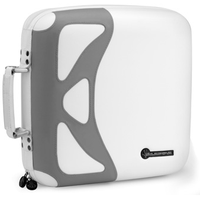 There are endless styles of CD cases and storage solutions on the market, but we're convinced that the traditional CD cabinet is a thing of the past. Yes, that means you, Mom! With digital downloads, media streaming and digital MP3 music players, physical CDs should be ripped and then nicely and neatly tucked away (yes, that's exactly what I'm saying: CD's should be heard and not seen). Our own storage cabinet was getting on our nerves once we realized we hadn't really touched it in over a year and it was more suited to storing the more frequented Xbox 360 games and 5.1 surround discs we use on a regular basis. In either case, Slappa's d2i pockets, which allow post-storage maneuverability of your CDs within the cases, and their hard-shell design, made this an easy choice for a quick gift for Mom this Mother's Day.
IDAPT i3 Universal Desktop Charger
Price: $49.99 (includes up to 6 tips) | Buy it now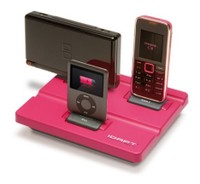 The IDAPT I3 is an innovative device that uses a simple system of interchangeable tips to allow you to charge up to three portable devices (mobile phones, PDAs, MP3/MP4 players, Bluetooth devices, digital cameras, etc.) at the same time. It's the interchangeable tips and unified power system that make it truly ground-breaking. What we like is the ability to simply come home and pop in a few of our devices simply by setting them on the appropriate spot on the charger. The system seems well-suited for personal use in the office or on your nightstand. It supports most of the popular charging tips from the likes of Apple, Nokia, Samsung, Blackberry, LG, Sony-Ericsson, Palm, HTC, LG, Motorola, Jabra, etc - and even supports most GPS systems like TomTom, Garmin, Navigo, Navman and Mio. For those looking to do even more, the system supports a custom tip for recharging compatible AA and AAA batteries. The best thing - it's available in hot pink!
Panasonic DMP-BD65 Blu-ray Disc Player w/Netflix

Price: $155 | Buy it now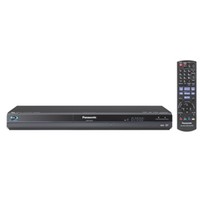 Consider giving the gift of Blu-ray this year. For $155 it's hard to pass up. On top of that, this player has full network features, including support for Netflix streaming videos! The Panasonic DMP-BD65 offers ultra fast booting and access to various online content with VIERA Cast. It features a slim design just like previous Panasonic models but it brings a lot more features. Panasonic has reduced the player's depth by 18 percent, giving it a small footprint of only 7.8 inches - which makes for easy placement even if you have space constraints. Below the disc tray is a thin flap that conceals an SD card slot and USB port. You can view your digital photos and high definition videos shot on AVCHD format stored on the SD cards. The SD slot supports SDHC cards from 4GB to 32GB and SDXC cards from 32GB to 2TB. The USB port offers a way of playing MP3 music directly and viewing your digital photos just by popping in a thumb drive. With Netflix offering its streaming media service for plans beginning at just $8.95/month this is a great feature to bring off of your PC and into your living room. Trust us, Mom won't be disappointed.
Ultrasone DJ1 PRO Headphones
Price: $269 | Buy it now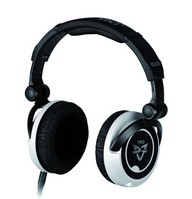 OK, these aren't the cheapest pair of headphones to grace the market, but they aren't near the most expensive either. The story behind them is interesting, however. In cooperation with "the most famous DJs", Ultrasone developed these professional DJ headphones. What we noticed right off the bat was that they had a level of low frequency response we hadn't heard before in a headphone. That made us sit up and pay attention. It was kind of like putting a subwoofer in your inner ear - and in case you're wondering, that's good. That's very good (not a REAL subwoofer in your ear, but having something like a subwoofer). Using a heavy duty 50 mm Mylar driver, the closed-back DJ1 PRO dips down where other headphones and earphones only long to go. Equipped with MU-Metal shielding these headphones also provide some natural noise isolation so you don't have to crank up the headphnes so much to enjoy music in noisier environments. Volume to each ear can be controlled independently with a special extra cable, though we have no idea why you would want to do that, and you can fully remove the cables from the headphones. The DJ1 PRO even comes with a specifically designed zippered hard case that ensures safe transportation and storage. Mom will rock.
iHome iP90 iPod Docking Alarm Clock
Price: $99 | Buy it now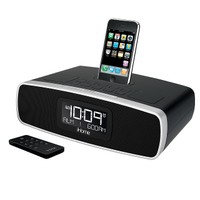 Newly designed for 2010 with a bigger display and bigger sound, the iP90 represents the latest in iHome's unique and extensive clock radio franchise. Made to charge, play and wake to iPhone/iPod, it has many great features including a remote, AM/FM pre-sets, dual alarm, Time Sync, 7-5-2 alarm settings and more. About the alarms - what makes this a great clock radio, aside from the iPod dock, is the way iHome caters to the main feature of this product. The alarms can be set to go off on weekdays, weekends, or seven days a week. In addition, there are two alarms, so you can have a separate time for the weekdays and another time for the weekends. It's an amazingly intuitive and helpful system. Additionally, the LCD display dims to nearly any level you'd like and the wake-up function can be set to alarm, iPod or radio. It's pure genius because it doesn't overthink itself and simply does what it does well. Great product - great gift!
Warpia Wireless USB Audio & Video Display Adapter
Price: $179.99 | Buy it now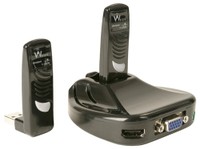 Ever wondered how to get Internet content like Hulu to your television without having to buy a gaming system like the Xbox 360 or the PS3 and running software on your PC? Our solution is to simply hook your laptop up to your TV and go to town! But what about cables and navigating the websites, etc? Well, the Warpia Wireless USB Audio & Video Display Adapter Set is one of the ways you can overcome these obstacles. With this system you simply plug a USB transmitter into your laptop or desktop computer. Then you connect the receiver to your television via an HDMI cable and power it up using the included power supply. It's so simple it will revolutionize what your parents can watch on television. Ands best of all, they won't have to buy a new TV. 
Hopefully there were at least a few good suggestions in here for your beloved Mom. We certainly try to elevate the technical prowess of our parents every chance we get and Mother's Day and Father's Day is the perfect opportunity to splurge, gadget-style!
Confused about what AV Gear to buy or how to set it up? Join our Exclusive Audioholics E-Book Membership Program!