2011 Father's Day Electronics Gift Guide
2011 Father's Day Electronics Gift Guide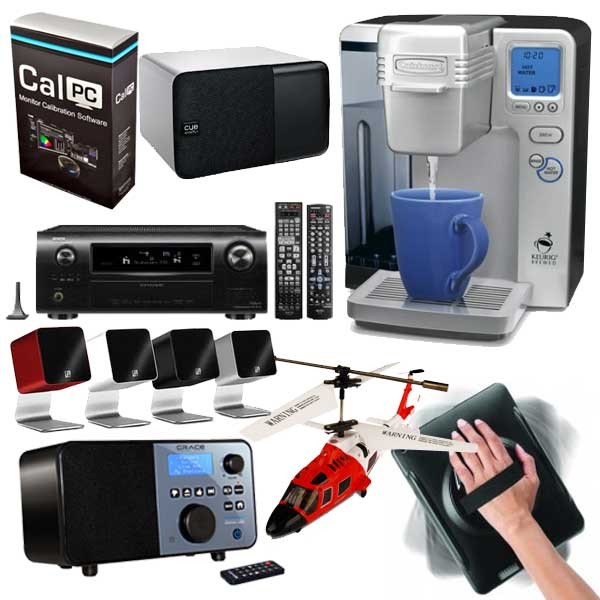 Father's Day Electronics Gift Guide
Every Father's Day we attempt to structure an electronics gift guide with items that will bring him into the 21st century. I mean, that's our job, right? So here it is... 2011, and this year we've got a whole host of products, ranging from the small to the large. We've attempted to hit all price points and, to keep things fair, we didn't sort this list in any particular order. If your Dad is lost in the 80s or, worse, thinks high tech is perfectly represented by that new Dell you bought him last year, well... these products should help to broaden his horizons.
So without any further ado, here are our electronics picks for 2011. Here's to hoping that your Dad encounters some upgraded products that will make his life easier, bring him happiness, and tickle his fancy this Father's Day.
UFi UCube Speakers

Price: $149.99 | Buy it now
UFi is a one-hit-wonder company (so far) that has just rolled out a spanking new line of speakers, called the UCube. The full name is UCube Compact USB Digital Speakers - a name that pretty much says it all - they're cube-shaped (even the driver is a flat, square radiator), powered by USB and quite compact. They are a bit of an enigma, but still pretty cool. I mean, they measure just 3" square, so technically, you can tote them around town with your laptop - but not as easily as some of the smaller all-in-one solutions we've seen. But, we liked that the UCubes look like they belong with your new high-end MacBook Pro or MacBook Air. They even go with the iMac - I mean, they're beautiful to look at. They also sound pretty good - and the company emailed us just the other day telling us they were still dialing in the speakers so they sound even better. Part of this comes from the fact that the speakers "store" power, so that they can pull off 15W of peak power when they need it. If you're tired of speakers that only come in black (and occasionally  silver), you'll appreciate UFi's custom (removable) brushed aluminum stands and color choice of red, black, white or silver.
Cuisinart SS-700

Price: $199.99 | Buy it now

We love our coffee. And while it's not electronics, per se, an advanced coffee maker seemed just the thing to add to our list this year. When we looked around, the one that really stood out to us was Cuisinart's SS-700, a single-serve K-Cup machine that is perfect for any Father who loves his coffee. The single-serve machines are great, in part, because - like a great, customizable home theater - the SS-700 (and any K-Cup system for that matter) can use any of over 200 different flavors of coffee available on the market. That's a whole lot of customization. If your dad likes to tweak his home theater, he'll really love the way the Cuisinart Single Serve Brewing System lets him customize his coffee. The brewer not only allows you to use the incredible variety of coffees, teas and cocoas available, it lets you dial in the temperature and cup size as well, using the backlit LCD display. It even lets you dispense hot water for your own tea bags or oatmeal. This is the coffee machine to get if you're into the K-Cup phenomenon and it makes a great gift. 
Keyport Sliding Key System

Price: $49 and up | Buy it now
We were fortunate enough to be able to try out a new keychain alternative called Keyport. Keyport is billed as the "ultimate keychain alternative" in that it replaces your conventional keychain. Instead, you get a streamlined device that consolidates the everyday personal items (keys, USB flash drive, bottle opener, mini-LED, etc.) that you typically carry on a bulky keychain.  About the same size as a traditional auto key fob, the Keyport provides access to each with just the Slide of a thumb. Up to 6 keys or devices can fit into the Keyport and we went with three keys, an LED flashlight, 8 GB USB thumb drive and a bottle opener. Keyport is compatible with the vast majority of keys worldwide, though we managed to find one (for a cylindrical lock) that confused both our local locksmith and Keyport equally. Keyport is cool in that you can build your ideal universal access device with a choice of keys (called "blades") & Keyport inserts.
XtremeMac Luna SST Dual iPod Alarm Clock

Price: $129.99 | Buy it now

XtremeMac has set out with their Luna SST to create a bedside alarm clock that can actually produce stereo sound with imaging. In fact, the company bills the Luna SST as a "home audio system" - big words for an iPod-based alarm system designed for the bedside. But, when you look at it more closely, you find that the SST features a detachable left speaker so you can place it on the opposite nightstand. On top of that, you can configure the dual alarm system to actually work independently of the other. So that detachable speaker? It actually has its own snooze and activation controls and both speakers don't fire off simultaneously - waking both sides of the bed. Brilliant! The Luna SST's front display is a large, amber LED that is easy to read from across the room and, more importantly, can be dimmed to your taste. The Luna SST from XtremeMac also comes with a remote and you can download their free alarm clock app that allows you to personalize the settings to taste.
Audio-Technica ATH-ANC7b QuietPoint Active Noise-Canceling Headphones

Price $219.95 | Buy it now

We checked out the Audio-Technica ATH-ANC7b QuietPoint Noise-Canceling Headphones on a recent trip to the Charlotte Motor Speedway (via plane) and were terrifically impressed with their ability to block out unwanted cabin noise. While noise-canceling headphones aren't necessarily the best headphones you can buy for premium sound in a quiet environment, they will bet any non-noise canceling headphones in allowing you to actually hear your music in a noisy one. What we found with the Audio-Technica ATH-ANC7b headphones was that they actually did a decent job of reproducing low bass and clean highs, making our iPhone 4 music sound good, even while suffering under 100dB-plus cabin noise for just over 2 hours.  We found the earcups to be extremely comfortable, and the cushioned pads fit over our ears snugly, but without causing fatigue, even after extended use. A switch on the side activates the active noise-canceling features (with an included AAA battery) and the headphones, while they will work without ANC on, sound better with it engaged. Even if your Dad isn't into music, the ANC feature can be activated on flights simply to eliminate the external noise to a more tolerable level - and it really works, just turn it on and off to experience the difference (which is profound).
ThinkGeek Star Trek Pizza Cutter

Price: $29.99 | Buy it now

Pizza... the final frontier. This is the ultimate geek present for your Dad. Trust me, he's going to love it. The ThinkGeek Star Trek Enterprise NCC-1701 Metal Pizza Cutter is an officially licensed Star Trek collectible product. The pizza cutter has a laser-etched stainless steel blade with a solid zinc-alloy chrome-plated handle body. The blade diameter is a full 4 inches and the entire pizza cutter measures 8-1/2 inches from the tip of the cutter to the end of the handle. It weighs a sturdy 9-3/4 ounces, over 1/2 a pound! While it's definitely a usable product (you actually can cut pizza with it), the Star Trek Enterprise Pizza Cutter isn't dishwasher safe, so you'll have to hand-wash it. If your Dad likes Star Trek - you have to get this!
ThinkGeek Electronic Rock Guitar Shirt

Price: $29.99 | Buy it now

Allow your Dad let out his inner geek with the world's most frivolous, but incredibly addictive gift: the ThinkGeek Electronic Rock Guitar Shirt. You see, air guitar in the shower is no longer sufficient - and why wait until you can boot up Rock Band 3 on the Xbox 360? I mean, with this shirt Dad can jam out to his favorite chords right now. The shirt is a bit of a technical marvel (and will remain so, provided you never wash it, lol). The pick is magnetic and works the "strings" to react to the guitar with sounds activated by pressing down on the integrated fret board. It can play just about anything because every button on the neck represents a major chord. It even comes with an external battery-powered amp that "goes to 11" and clips to your belt. Of course, if guitar isn't his thing, ThinkGeek also has electronic drums and keyboard shirts as well. Rock on, Dad!
iPhone 4 Cases from Ballistic and AGF

Price: $14.99 (AT&T only) - $34.99 (AT&T/Verizon) | Buy Ballistic | Buy AGF

If your Dad is into the iPhone 4, but only has a standard case for it, there are some new products on the market which are quite impressive. We personally use a Ballistic HC case - but that's so monstrously bulky that many people find it too large and cumbersome (we just like that we can drop our iPhone 25 feet off the edge of a roof and have a fighting chance of it not breaking!) The newest case from Ballistic is the SG, which is a beautiful case with three layers of protection. The outside is made of soft thermoplastic polyurethane material that can absorb the shock of a drop. Around that is a tough impact resistant polycarbonate, and the phone itself sits on a bit of soft silicone. On the AGF side, their Vandelay case is a nice holster-compatible solution with a two-piece shell that allows you to remove the bottom for docking the iPhone - a very handy feature indeed. Their Beetle case comes in 6 different color combinations and has a nice slim, lightweight fit and is a two-piece design, so your phone fits snugly inside. It's not as durable as some others we've seen, but it definitely offers a nice design and minimal protection for those who don't toss their phones around too much.
Denon AVR-3312CI A/V Receiver

Price: $999 | Buy it now

Dad needs a new receiver. Trust us, he does... especially if he hasn't yet moved into the world of HDMI and automatic room calibration. With a wired Ethernet connection, the brand-spankin' new Denon AVR-3312CI AV Receiver lets you go online and stream music and images from the likes of Pandora, Rhapsody, and Napster to stream your favorite music, or Flickr. The wired network connection also lets you use a web browser to control the receiver - and that includes from a PC, Mac or even an iPhone or iPad. The amp section on this receiver is really nice - each 125W channel is powered by its own discrete circuit and, as you'd expect, the AVR-3312CI decodes everything in terms of currently available audio formats. For those interested in frills, the new receiver from Denon includes Audyssey MultEQ XT, Audyssey DSX and Dolby Pro Logic IIz. The receiver will take any analogue input source and upconvert it to 1080p via its HDMI outputs. It's 3D-compatible, if you care about that sort of thing, and there is even a separate remote control for Zone 2 - which it supports with assignable amps and discrete source control. This is a hot receiver, and it's worth every penny of its $1000 price tag.
Swann Emergency Strike Gyro Balanced Helicopter

Price: $69.99 | Buy it now

Swann's Emergency Strike remote-controlled gyroscopically-balanced helicopter is a miniature search and rescue copter. Equipped with the latest dual-rotor counter-rotation gyroscope technology lets you fly up, down, backwards, forwards and sideways with the multi-directional infrared remote. With some practice behind the controls and a little imagination, your Dad will be able to fly this fast and agile chopper like a pro. It really is a durable toy, and a great starter helicopter for those who like the idea of piloting a remote control aircraft. Powered by a built-in rechargeable Lithium battery, the unit charges by plugging the charging lead into either an active USB port (cable included) or the infrared controller. It takes about 50-60 minutes to get around 8 minutes of flying time. This RC helicopter is also made for indoor use, being both lightweight and durable. This is something that any Dad is certain to enjoy.
Handstand iPad and iPad 2 Case

Price: $49.95 | Buy it now

Handstand is a company that formed to address the issue of ergonomics with respect to how we hold our iPads. Seeing a need for a more comfortable solution, they set to work and brought to market the HandStand. HandStand allows you to keep your hand in a comfortable, ergonomic position while turning the iPad for best viewing. It becomes an extension of your body. You can hold it effortlessly, spin it portrait or landscape, or even display the screen to others. The cover is made of molded polyurethane, the same tough stuff they use for in-line skate wheels and is semi-flexible so that it can take some abuse provides shock-absorption. The strap is a heavy duty elastic and is designed to make it easy to slip your hand into the HandStand. Their motto seems to be "work, watch or play effortlessly". In either case, we like it - it will help you to do more with your iPad and get more value out of your investment.
Grace Digital Wi-Fi Internet Radio

Price: $169.99 | Buy it now

The new Grace Wi-Fi Internet radio is billed as "the 1st Internet radio to allow complete control of your Pandora stations directly from the front of the radio, the remote control or the Free iPhone remote control app". In addition to Pandora, you can listen to over 50,000 other radio stations, including NPR on Demand, BBC, and iheartradio. It works with any wireless (Wi-Fi) 802.11b/g/n wireless router Internet connection and is WEP, WPA 1&2 compatible. It can also operate as a standalone Internet radio. We really like the design of the radio - it's got a nice retro feel, but it mixes that with a very straightforward interface and easy-to-read LCD screen.
Sun-Sniper Pro Camera Strap

Price: $88 | Buy it now

Does your dad like to take pictures? Mine does, and so imagine my surprise when I was presented with the Sun-Sniper Pro, a new type of camera strap that actually makes sense. Typical camera straps don't allow the camera to sit low enough to be comfortable. Instead, it will cause a DSLR to jump bump around on your chest. The Sun-Sniper Sniper-Strap comes with a ball-bearing-equipped camera connector that fastens into the tripod mount on any camera. Additionally, the strap is longer, so the camera hangs back on your hip where it belongs. It is a PHENOMENALLY cool product and one that had all of my colleagues gazing at my new rig with wonder and a hint of jealousy (one of them flat-out asked where he could buy it and proceeded to call up the website on his iPhone right then and there.
Wicked Reverb Headphones

Price: $19.95 | Buy it now

Form? Function? Wicked audio is definitely going after the budget-conscious consumer who wants a nice-looking pair of headphones. Now, by "nice-looking" we aren't suggesting these are by any means subtle. No, the Wicked Reverb design is loud - and so are its efficient headphones. The headphones boast a frequency response of 20 Hz - 20,000 Hz, which is total bunk - but for under $20 they will play music. The impedance is 32-ohms and they use a standard 40mm driver. The cord length is 4 feet long, but the company also includes a 6 foot extension cable, unheard of at this price. The company has a very high production value to its marketing of its products. The music they advertise is, however, highly compressed and modern, and that's the type of audio that will sound simply wonderful on these headphones. For $20 it's a fun gift and we can't really criticize it too much now, can we?
Cue Radio Model r1 + s1 with iPod Dock

Price: $399 ($479 w/s1 speaker) | Buy it now

Cue is making a sophisticated man's iPod-docking table radio. The Model r1 is a premium AM/FM radio with an integrated universal iPod/iPhone dock. It has features like an auto-dimming LCD display that guarantees you won't be blinded in the middle of the night. The companion Model s1 satellite speaker even let's you pair the two for true stereo sound. The Cue radio will play and charge any Apple iPod or iPhone ever made and there is even an Aux input so you can connect non-Apple mp3 players and other sources. Cue touts an "extremely accurate clock" that comes with dual alarms that can fire off multiple sound sources. There are touch controls for iPod navigation that light up when an iPod is connected, and the snooze/mute buttons (that last one can actually be problematic at times). Audio quality is a big point for Cue, and the 100W r1 has low noise and lots of dynamic range that is output through a bi-amped speaker (or two, if you add the s1). The Cue r1 and s1 are designed and assembled by hand in Somerville, MA. The system includes a full-function remote control, AM antenna, and a 10 ft speaker cable for use with the optional s1. This isn't a cheap product by any means, but it is very refined.
CalPC w/M2 Colorimeter

Price: $299 | Buy it now

We love SpectraCal, having used their software as our primary display calibration system for several years now. This year, the company debuted its new CalPC Monitor Calibration system. The application only runs on PC, but it can precisely calibrate nearly any computer monitor - and believe me, they need it. While this may not sound like a great gift for the NASCAR or NFL Dad, there are a bunch of engineers out there that would love to tweak on something like this. CalPC uses cool tools like Auto White Balance, Direct Display Control (DDC), and the Hot-Swap ICC Profiler tool to quickly calibrate your monitor and store those settings. SpectraCal claims the entire process can be done in less than 10 minutes - and once you get the hang of it, we'd agree. CalPC is the only software on the market that will calibrate both a PC's monitor its display card hardware.
All Dad's are different, and hopefully there are enough suggestions here for you to peruse and get your brain running over with ideas. This Father's day you can educate, entertain, or otherwise engage your Dad with some of teh most fun gadgets and AV products we've seen all year.
Enjoy!
ChrisT posts on December 27, 2011 20:41
Great List
I like the list but I love the Audio-Techinca noise cancelling headphones. For the money these are probably the best headphones on the market today. I have done a full review of the of these headphones which I would appreciate your feedback at
Audio-Techinca ATH-ANC7b Noise Cancelling Headphones
.
Thanks,
- Chris
ChrisT posts on December 27, 2011 20:40
Very nice addition to the list.

- Chris
ChrisT posts on December 27, 2011 20:40
How has the Just5 cell phone worked out for you Dad? Would it be good as a first phone for kids?

- Chris
ChrisT posts on December 27, 2011 20:39
I agree the helicopter is cool. I hope you got it for Father's Day. If not, next time you need to leave bigger hints.

- Chris
ChrisT posts on December 27, 2011 20:37
Great List

I like the list but I love the Audio-Techinca noise cancelling headphones. For the money these are probably the best headphones on the market today.

Thanks,

- Chris
Post Reply
Confused about what AV Gear to buy or how to set it up? Join our Exclusive Audioholics E-Book Membership Program!