2011 Back to School Gift Guide!
2011 Back to School Gift Guide!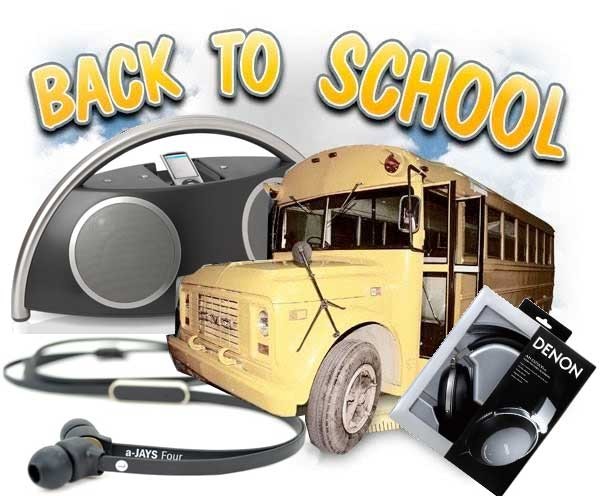 Back to School Electronics Gift Guide
It's that time again. Kids are going back to school and parents are looking for the perfect items to stick in their bags to equip them for the many tasks and experiences they will face in the big beyond. While not all of the electronics we'll suggest here will be task-oriented, they will all guarantee to at least put a smile on your favorite student's face. From headphones to iPhones, we cover all of the goodies that are sure to be huge hits this back-to-school season. Without further ado, hold on to your hall passes and be sure not to miss the bus as we take you on a tour of some of the greatest gizmos hitting the shelves this year. Expect some new, and some not-so-new, but in all cases, we'll cover the best things you can purchase for little Suzie or Johnny as they head off to school or college.
Belkin FlipBlade Adjust for iPad 2
Price: $29.99 | Buy it now

The iPad 2 is one of the most popular Back-to-School accessories, so how about making sure you can use it to its fullest. Use your tablet anywhere with the ultra-slim, compact stand that easily transforms from small and portable to safe and supportive. Four adjustable positions let you view your tablet from any angle in either landscape or portrait view, including a low angle for comfortable typing. This lightweight, compact stand is as minimal as it is strong. The durable material provides a firm base for viewing your device, but won't weigh down your bag or backpack on the go.
RageGage Smash Pad

Price: $19.99 | Buy it now

RageGage is a dynamic, customizable smash pad "scientifically" designed for Rage relief. Use periodically to release pent up anger and avoid injuring yourself, coworkers, or equipment. The button is designed to take the worst manner of physical abuse that you can dish out during a temper tantrum so that you can quickly rid yourself of pent up anger and get back to whatever upset you in the first place. You can also download custom voices for the RageGage, or make your own (maybe of that special someone you'd love to smash). When you're not releasing rage, RageGage serves as a USB gaming interface. You can play online and PC based games, or virtually smash your Facebook buddies with their Smasher application for Facebook.
Denon AH-D2000 Over-the-Ear Headphones

Price: $349.99 | Buy it now

Denon's AH-D2000 have long been our reference headphones for comparing new on-ear and over-the-ear models. We like to think that the "AH" in the model name stands for Audioholics, but I think that's just wishful thinking on our part. While we can't guarantee that these are the best headphones for $350, they have yet to be beat in any of our personal listening tests. For that reason alone, we recommend them to any parent looking to give his or her student a killler gift this school season. Noise canceling headphones may be better at reducing ambient noise over the simple noise isolation these phones provide, but often that feature comes with a price - reduced fidelity. If you're all about the audio, then these headphones by Denon shoudl be at the top of your list.
Harman Kardon Go + Play II Portable iPod Speaker

Price: $349 | Buy it now

As a high-performance loudspeaker, the portable harman kardon Go + Play™ II lets you take your iPhone or iPod device to new musical heights – wherever you happen to be. In either AC or battery mode, simply dock your iPhone or iPod device on the harman kardon Go + Play II's angled cradle and let your favorite music fill up the space with a rich spectrum of sound, including thunderous bass. Benefitting from a full range of advanced technology, the harman kardon Go + Play II has dual high-frequency and advanced midrange transducers producing great clarity, and high-excursion, low-frequency drivers for a deep, impactful bass punch. Designed to complement any interior design scheme, the harman kardon Go + Play II is easily transported by its arched, stainless-steel handle and offers a distinct, modern look in black with silver accents. Best thing is - it sounds as good as it looks!
InCharge Mobile for iPhone 4

Price $79.99 | Buy it now

InCharge Mobile is a 2300mAh rechargeable battery pack and case from XtremeMac that offers full protection while doubling your iPhone 4 talk time. It includes a built-in viewing stand for watching videos and using FaceTime. InCharge Mobile also includes LED battery status indicators, an on/off switch for conserving battery and a micro USB cable for charging and syncing. All of these features are included in a low-profile design that encases the iPhone without adding bulk.
Apple MacBook Air

Price: $999.00 | Buy it now

Both the 11- and 13-inch MacBook Air now feature the latest generation of Intel processors, the Core i5 and i7. With speeds up to 1.8GHz and faster memory, the new MacBook Air gains up to 2.5x the processing performance over the previous generation. MacBook Air also features the Intel HD Graphics 3000 processor, which includes an on-chip engine for video encoding and decoding. That means you experience video playback and FaceTime calls that are smoother, more responsive, and more true to life. The MacBook air uses a solid state drive, so it is more durable and just as fast as a laptop with a traditional drive. If you're shopping for a laptop for your student this school year - this might be the best you can get for the money.
Antec Soundscience Rockus 3D/2.1 Speaker System

Price: $249.99 | Buy it now

Any audioholic worth their salt wishes they could have huge, full range speaker sound for every application. Antec believes they have that solution with their new soundscience rockus 3D 2.1 Speaker System. Now, if you are like me, you saw the "3D" buzzword tagged on there and felt like stomping on it like that fax machine in Office Space but let's take a closer look. First of all, like most office solutions, the soundscience rockus (not sure why they don't want you to capitalize any of that) is 3D in that it has built in pseudo-surround DSPs. So it is, in a way, 3D (other than the way in that it is NOT flat like paper). The 3Dsst is a suite of DSP algorithms that creates a virtual surround sound experience from 2.1 stereo speakers. 3D sst actively analyzes incoming stereo audio signals and intelligently places them into a 3D sound field, resulting in immersive 3D sound for your movies and games from 2.1 speakers.
AOC Aire 20" LED Monitor

Price: $99.99 | Buy it Now

The e2043F is a 20-inch WLED-backlit display. Part of the AIRE/LED series, it features a super-ultra-thin frame (1.29 cm) with a 16:9 aspect ratio. The AIRE/LED series also features a "Standby Mode," in which the display only consumes 0.1 Watts. A glossy piano-black casing elegantly frames a 20-inch super-ultra-thin wide screen. It boasts a high Dynamic Contrast Ratio, which allows for high color differentiation that produces deeper blacks and lighter shading. The embedded Screen+ feature allows the user to divide the workspace into four self-contained areas.The base can also be folded for easy wall mount installation. The monitor is EPEAT Gold Certified for Green Conscious Packaging and Manufacturing and has a low consumption of 15 watts (typical).
Denon AVR-3312CI A/V Receiver

Price: $999 | Buy it now

Dad needs a new receiver. Trust us, he does... especially if he hasn't yet moved into the world of HDMI and automatic room calibration. With a wired Ethernet connection, the brand-spankin' new Denon AVR-3312CI AV Receiver lets you go online and stream music and images from the likes of Pandora, Rhapsody, and Napster to stream your favorite music, or Flickr. The wired network connection also lets you use a web browser to control the receiver - and that includes from a PC, Mac or even an iPhone or iPad. The amp section on this receiver is really nice - each 125W channel is powered by its own discrete circuit and, as you'd expect, the AVR-3312CI decodes everything in terms of currently available audio formats. For those interested in frills, the new receiver from Denon includes Audyssey MultEQ XT, Audyssey DSX and Dolby Pro Logic IIz. The receiver will take any analogue input source and upconvert it to 1080p via its HDMI outputs. It's 3D-compatible, if you care about that sort of thing, and there is even a separate remote control for Zone 2 - which it supports with assignable amps and discrete source control. This is a hot receiver, and it's worth every penny of its $1000 price tag.
Verbatim Store 'n' Go 500GB USB 3.0 Hard Drive (Colors)

Price: $89.99 | Buy it now

Fast and portable (and colorful) external storage for the Mac, delivered! The Store 'n' Go SuperSpeed USB 3.0 Portable Hard Drive provides a fast, safe, and portable solution for Mac users to save and back-up their most important data. This HFS+ drive is formatted specifically for compatibility with Mac operating systems and dazzling transfer speeds with a super-cool look. The drive's USB 3.0 connection offers expanded functionality, as it is backwardly compatible with USB 2.0 ports.
Stem Innovation: TimeCommand

Price: $99.99 | Buy it now

If your student is going away to college, then perhaps an alarm clock that works with his or her iPod or iPad is the perfect going-away gift (assuming a Maserati or new BMW M5 series is out of the question). Command your sleep/wake environment with this evolutionary alarm clock music system for iPod, iPhone, and iPad. Charge and play your Apple devices - even connect and control your bedside lamp. Expand your mastery of TimeCommand with the free Stem:Connect App from iTunes. Simply connect your bedside lamp to TimeCommand's unique power supply and control the lamp with the touch of a button. Download the Stem:Connect App and enable additional features such as dimming for incandescent bulbs and Wake-by-Light, which allows TimeCommand to automatically switch the lamp off when you go to sleep or activate the lamp when an alarm sounds.
If this doesn't satisfy the needs of any student heading off to school this year, we don't know what will. Of course, if they sneak a peek at this list of products you may have them wanting more than you can afford! 
Happy shopping!
Confused about what AV Gear to buy or how to set it up? Join our Exclusive Audioholics E-Book Membership Program!