2006 Audioholics Product of the Year Awards
2006 Audioholics Product of the Year Awards

2006 Product of the Year Awards
2006 pushed the envelope of technology on the world of home theater just as we've been struggling to catch up to the awesome products of last year. 1080p became a reality, at least in the world of displays and Blu-ray and HD DVD made a soft thump on the marketplace, silently announcing these formats are heading for prime time as evident by the release of first generation products from Samsung, Toshiba and Pioneer. A/V receivers evolved once again as seemingly as quickly as the PC market while speaker systems pushed the value and improved performance envelop up a notch.
With such a constant and steady fast evolution, it's challenging to know who offers class-leading products since there are so many good solutions out there - all suited to specific market demands and client needs. With that in mind, we selected gear in each category that really stood out based on our personal experiences via reviews or demo's as well as the market trends it set based on performance, features, and value.
Award: Flagship A/V Receiver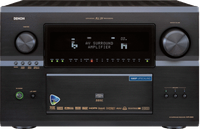 Denon AVR-5805CI Multi Function A/V Receiver
Despite the AVR-5805 has been out for a couple of years, it still remains a technological marvel that most separates solutions could only dream of matching its performance and features. The scorecard from the A/V Receiver Checklist proved to be a chartbuster in terms of its Critical Features rating as well as its overall score for a receiver/processor regardless of price. Even more impressive was the unprecedented power reserves of this receiver and its ability to drive low efficiency 4-ohm speakers with relative ease. Most importantly, the Denon AVR-5805CI sounded pristine in all modes of operation. Its auto setup and room correction via Audyssey MultiEQ was the most comprehensive and accurate system we have tested to date and the addition of Audyssey Pro upgrades is a custom installers dream. THX Ultra2 processing, independent processing with amplification for 2 source surround sound, 4 powered zones, up to 22 channels of distributed audio, 10 amp power assignability, digital video processing and scaling up to 1080p to enhance standard picture sources, video upconversion to HDMI, active IEEE1394 and Denon Dlink ver 3, and in the tradition of Denon flagship predecessors superb bass management and speaker setup flexibility are all hallmarks of this product.
Some of the key feature upgrades for the new Denon AVR-5805CI model include:
Audyssey MultEQ Pro upgrades with 32 point calibration compared with the original 8 point calibration
Ability to edit post calibration Audyssey response curves
Option to use calibrated Audyssey mic and preamp kit calibrated to B&K reference standard
HDMI Video upconversion
HDMI 1080p pass through
Expanded HDMI inputs
XM Support
Estimated Availability: December 2006
MSRP: $7,200

Award: A/V Receiver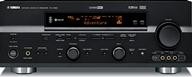 Yamaha RX-V659 A/V Receiver
It's no secret, I thoroughly enjoyed this receiver. This is one of the few times I've found a product that I didn't expect more from. Instead I couldn't help but to be in awe of the intelligent blend of bleeding edge features mixed with excellent performance typically found in the more expensive models. Over the past few years, we've seen the amplifier sections in Yamaha receivers continually improving via more robust power reserves, lower amplifier output impedance, better linearity, and lower noise floors. The RX-V659 is truly an overachiever delivering much MORE than rated power and not hiccupping on 4 ohm loads as one would expect of any receiver in this price class.
If you have been riding the sea of receiver options for the last couple of months or so, your ship has come in. Although it lacks HDMI facilities compared to other products in this price class, it more than makes up for it in the sonic department. I can't think of a finer receiver in this price class. Kudos to Yamaha on such a well engineered and well executed product.
MSRP: $549 | Buy the New Version Online
Award: Multi-channel Power Amplifier
Emotiva MPS-1 7CH Modular Multi Channel Power Amplifier
Emotiva caught us off guard last year with their new modular cage card 7CH power amplifier - the MPS-1. Its use of high quality parts (such as 105 degree C rated capacitors), and high build quality is a rarity at this price point. Though it didn't quite hit rated power, it proved to have excellent power reserves, channel separation, bandwidth uniformity and commendably low output impedance which are many of the prime metrics in defining great amplification. See our measurements and analysis and you will quickly understand why we are fans of this amp.
Pair this amplifier with a quality receiver such as Yamaha RX-V2700, Pioneer Elite VSX-82TXS or a Denon AVR-3806 and you have a separates killer at a fraction of the price one would ordinarily have to spend to get this level of performance and features along with enough left over amplifiers and independent zone controls to run speakers throughout the home for a whole house audio solution. Its fit and finish are top notch, making pride of ownership off the chart for those who require high performance and looks to go hand in hand. Best of all, price was reduced making this bargain amp even more irresistible to discerning budget minded audiophiles.
MSRP: $1699 with free shipping
Award: Universal DVD Player
Denon DVD-3930CI Universal DVD Player
With virtual identical video performance and HQV test results to their flagship DVD-5910CI, the DVD-3930CI represents the best value in a single box flagship performance standard DVD playback system. Rugged build quality and stellar audio fidelity via all forms of outputs (ie. Denon Link 3, HDMI, Analog), the DVD-3930CI leaves little to be desired.
Some Key Features include:
HDMI 1.1 with native multi-channel DVD-Audio support
5.1 audio output with separate 2-channel audio output circuitry
Dual component video outputs (RCA/BNC)
Single s-video and composite video output
Denon Link 3rd Edition
Silicon Optix REALTA video processing
Upconversion to 720p/1080i/1080p
480i via HDMI possible
Digital horizontal and vertical keystoning
Discrete bass management for analogue and HDMI audio outputs
If you are looking for 90% of the performance of the DVD-5910CI for roughly 39% of the price, you simply cannot do any better than the Denon DVD-3930CI for SD DVD playback and high res multi channel audio.
MSRP: $1,499

Award: HD DVD Player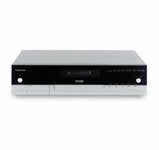 Toshiba HD-A1 HD DVD Player
How could we have a product of the year award and not include the Toshiba HD-A1 HD-DVD player! The Toshiba DVD player was the first to offer consumers a taste of the future and we are exited that this format will only get better as it progresses. The HD-A1 although operationally slow really started to shine with the recent firmware upgrade 2.0 (plus it beat everyone to the punch - and that's worth something). The Toshiba HD-A1 is also very capable at converting standard definition DVD and scores remarkably high on the HQV benchmark tests. All faults aside the player when used with reference HD DVD titles like The Chronicles of Riddick is eye candy for the videoholic, this coupled with its tank like build quality earned it a spot in our product of the year awards. We can't wait to review and evaluate the generation two HD DVD players.
MSRP: $499 | Buy a Blu-ray Player Online
Award: High Performance Loudspeaker System

RBH Sound T-30LSE Loudspeaker System
RBH Sound has never been a company to rest on its laurels. Just as they've demonstrated in the past with the venerable T-2P system, it was time for them to take a successful existing speaker system and improve upon its design by employing driver and electronics technologies from their ultra high-end Status Acoustics division. Thus the Signature T-30LSE was born.
The T-30LSE employs the same 6.5" phase plug drivers found in all of their Status Acoustics products, and the venerable Scan Speak 9500 tweeter – which is arguably one of the world's finest tweeters regardless of price. RBH also significantly updated the bass portion of this speaker by increasing the box volume 25% by producing one individual cabinet and opening up the back of the satellite portion of the tower to the subs. They also integrated their new high excursion 10" aluminum subwoofers which were integrated into the prototype Status Acoustics Titus speakers we demoed last CES. The result – a speaker system that can play flat down to 18Hz at high SPL levels.
Pristine audio quality, lifelike soundstage and unlimited dynamics are just some of the virtues that landed these speakers our high performance Product of the Year award for the Loudspeakers category.
MSRP: $15,000/pair | Find a Local RBH Dealer
Award: Custom In-wall Speaker System


Axiom Audio Architectural Hybrid In-wall Speakers
Looking for hi-fidelity sound in a slim profile with high spousal acceptance? The new Architectural series provides the identical sonic attributes of their critically acclaimed box speakers without the compromises that plague other in-wall speakers. Thanks to their integrated back boxes, the speakers are isolated from the wall cavity ensuring minimal performance variation and sound leakage between walls. The speakers are ported at the bottom for optimal functionality and aesthetics in tight spaces. Best of all these speakers come furnished with damping anchors and can be easily installed after the drywall is already up as opposed to most in-wall speakers with back enclosures which are meant to be installed during the framing stage of the home construction.
We had the opportunity to install and evaluate the top of the line W22 and W150 speakers and were very impressed with what we heard. The W22 and W150 mated with the Axiom Audio's highly regarded QS8 surround speakers and a good subwoofer will sonically blow the doors off similarly priced conventional in wall speakers. The Architectural Series hybrid in wall speaker's fantastic looks, excellent build quality, ease of installation and awesome price to performance ratio easily earned them top honors.
MSRP: from $440/pair | Review
Award: Custom In-wall Subwoofer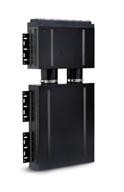 Velodyne SC-IW In-wall Subwoofer
Velodyne is no stranger to product of year awards from the press. Their new SC-IW proved to be the most innovative in-wall subwoofer product we've seen to date.
The SC-IW fits flush in a standard 2x4 wall and is easy to install with a unique two cabinet system for either new construction or retrofit applications. This in-wall sub driver fires vertically in the wall using a patent-pending T-shaped driver design that minimizes wall vibration and maximizes woofer travel and performance. The driver itself is a narrow configuration that has the equivalent surface area of a 9" cone, sports a 3" voice coil and dual spider system and is stated to have the same output capability as the SPL-1000R.
The SC-IW includes both a standard 14" grill for easy installation and servicing and an incredibly small grill that is less than 5" high. Both grills can be painted to match the room's décor. The SC-1250, a rack-mountable amplifier that powers the SC Series, features 3000 watts dynamic / 1250 watts RMS power and can easily drive twin SC-IW subs using standard speaker wire. At last, the Velodyne of in-wall subs!
MSRP: $999 | Shop Velodyne

Award: Budget Loudspeakers

Onix x-ls Bookshelf Loudspeakers
$200 can get you a nice dinner at a fancy restaurant with your significant other, or it can reward you with sonic bliss from these over-achiever Onix bookshelf loudspeakers. Don't let their size or price fool you. Given the remarkable-for-its-class collection of strengths and the budget-respecting price tag, AV123 has crafted a formidable product that's musically satisfying and sure to provide years of listening enjoyment. For the ultimate theater system on a budget, consider mating four of these speakers with the matching x-cs center channel and one or two x-subs. Skip the fancy dinner one night, eat sloppy joe's and treat yourself to a taste of hi fidelity.
MSRP: $219/pair

Award: Compact Subwoofer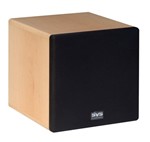 SVS SB12-Plus Subwoofer
That's no typo. SVS has finally produced a high performance subwoofer smaller than a refrigerator with chillingly high performance of a much larger sized product. It may be relatively small in size (about 1 cubic foot), but it's SV Sound through and through: well built, and lots of power and SPL output. Coupled with its collection of built-in processor features and it's the logical choice for those who want the SVS sound in a manageably sized package. For those who desire the best performance for the whole listening area with minimum occupied space, we suggest running a pair of these subs. Brace yourself to plunge into new depths with this little over achiever.
MSRP: $699
Award: Active Room Correction System

Audyssey MultEQ Pro Room Equalizer
This is a new category for us but felt it appropriate after spending the last couple of years evaluation auto equalization / room correction systems built into various brands of receivers. To date, nothing we've tested comes close to the sophistication, accuracy and innovation of the Audyssey room correction system. With over 2x the resolution of MultEQ XT found in the flagship Denon AVR-5805, virtually unlimited calibration points, individually calibrated microphone (with cal file that matching it to an industry-standard B&K reference mic), calibrated preamp, and the ability to customize system response curves, Audyssey leaves no stone unturned or speaker uncorrected. An Audyssey-trained installer uses the Installer Kit (sold separately) that comes with the individually calibrated mic and preamp, USB cable, mic stand, and 72' of XLR cables and beautiful padded carry case that can be taken on-site for MultEQ Pro installations.
MSRP: $2,500

Award: Budget Front Projector
Optoma HD70 DLP Projector
When we found out that Optoma was taking over the entry level projector market – excuse me, I mean introducing a 720p DLP projector for under $1000 – we quickly lined up a unit for review. You heard correctly, this is a 720p-native DLP projector that is debuting for $999 (street price). To suggest that this projector might be a popular item going into the holiday season and throughout 2007 would be like saying that Reality television might be getting a bit stale. I'll just say it now – this should be the top-selling projector of the coming year and it more than deserves our Product of the Year Award for excellence and value.
MSRP: $1399

Award: Digital Music Server


Olive Symphony Wireless Music Center
After reviewing several products in the $2000-$5000 category, we were hesitant to think the $900 Symphony could compete. Compete? No, it doesn't. It dominates. In ease of use, flexibility, and overall performance, it is a least as good if not better than anything else we've tested at any cost. It stores music in the form you want, it plays it back in the way you desire, and it makes itself available to every other device in your home. No worries about loss or compression, the Olive Symphony gives you your music back the exact same way it was recorded, bit for bit. Best of all, it looks as good as it works!
MSRP: $899
Award: A/V Cable Innovation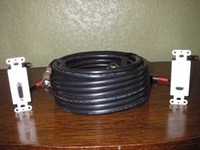 Impact Acoustics Rapid Run Digital Modular Cabling System
We all know that Leonardo Da Vinci's inventions were innovative and far ahead of their time. This is the type of work we look for when considering products for our Innovation award. Our friends at Impact Acoustics must have taken a page out of Leonardo's writings when they thought up their new Rapid Run Digital modular cabling system. Planning, wiring, pre-wiring and trying to provide wiring flexibility that is ready for the future can be a real pain for complex home theater systems. Impact Acoustics just took the guessing game out of the process with the Rapid Run Digital modular cabling system. The new system is designed to evolve as your system changes and is available in many different configurations and lengths. We tested the 65ft Digital Runner Base Cable, Passive DVI Wall Plate, Passive HDMI Wall Plate and Active HDMI Wall plate at resolutions up to 720p. Our evaluation and testing confirmed that we could detect no video transmission differences between a 6ft HDMI cable and the 65ft Rapid Run Digital System, resolution, detail and noise were identical. The new Rapid Run Digital modular cabling system is truly innovative and ahead of its time. Congratulations Impact Acoustics.
MSRP: $99.99 / 25ft | Buy it Now
Award: High Performance Speaker Cables
Impact Acoustics SonicWave Speaker Cables
Does your speaker wire suffer from gauge envy? If so, you need a good dose of 10AWG quality cable from Impact Acoustics. The SonicWave speaker cable is good old-fashioned twin feeder (10 AWG oxygen-free copper cable that, according to Impact Acoustics, is constructed from seven bundles of 18AWG conductors for maximum flexibility. If you're after a true high performance cable that measures better than most of the costlier esoteric designs, but don't want to break the bank, the SonicWave cable should be on your short list. It scores high on performance, and value and best of all it is snake oil free.
MSRP: $77.19/ 12ft pair | Buy it Now
We hope you enjoyed our tribute to the outstanding products we reviewed and covered on Audioholics in 2006. We look forward to all of the new and exciting products 2007 has in store for us. Happy Holidays!
Confused about what AV Gear to buy or how to set it up? Join our Exclusive Audioholics E-Book Membership Program!