2004 Audioholics Product of the Year Awards
2004 Audioholics Product of the Year Awards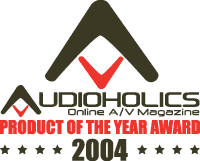 2004 Product of the Year Awards
We wanted to lead off 2005 with a nod to the products we felt deserved mention in the world of consumer electronics. Having performed numerous reviews and attended bith CEDIA and CES - the two largest trade shows for this assortment of products, we felt it necessary to promote the manufacturers whose products really excelled. With home theater electronics progressing about as rapidly as the computer industry (if not more so), it's hard to keep track and stay ahead of the game. Choosing class-leading products proves to be challenging since there are so many good solutions out there, all suited to specific market demands and consumer needs. With that in mind, we selected gear in each category that really made a statement. We chose our selections from equipment we reviewed and demoed as well as those products that simply set market trends based on performance, features, and value.
Award: Flagship A/V Receiver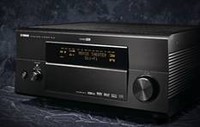 Yamaha RX-Z9 A/V Receiver
The scorecard from the A/V Receiver Checklist proved to be a chartbuster in terms of its Critical Features rating as well as its overall score for a receiver/processor in this price class. Even more impressive was the massive power reserves of this receiver and its ability to drive low efficiency 4-ohm speakers with relative ease. Most importantly, the RX-Z9 sounded pristine in all modes of operation, was relatively easy to operate for such a sophisticated piece of hardware, thanks to its excellent GUI user display interface and one button mini remote. It took a respectable stab at auto setup and room correction, though the experiences user/installer may opt for old fashion manual set-up. It also incorporated THX Ultra2 ( A Yamaha first), useful digital video processing to enhance standard picture sources, and as all Yamaha flagship predecessors, featured their signature DSP and front effects speakers to provide an even more expansive surround field.
MSRP: $4500
Award: A/V Receiver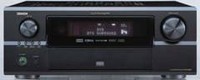 Denon AVR-3805 A/V Receiver
We could not get away from the advances made this year in A/V receivers, and Denon didn't hold back as it upgraded its line and introduced its newest mid-fi receiver earlier this year. If the A/V Receiver Checklist was a good indicator of just how impressive this unit would be, its amp section and overall sound tipped the scales and landed Denon the award.
MSRP: $1200
Award: Multi-Channel Power Amplifier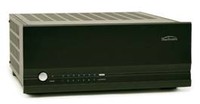 Sherbourn 7/2100A Amplifier
Sherbourn has proven to us time and time again that great-sounding solid amplifiers can be built without busting the bank. This seven channel amp has a modular design that encompasses a separate toroidal transformer for each of its 7 channels. It is the custom installer's dream amp and has endless dynamics and power reserves (it even comes with two power cables to enable the amplifier to pull the maximum potential from two separate wall outlets.) For excellence in developing a value product that performs at levels far exceeding its MSRP, the Sherbourn 7/2100A 7-channel amplifier wins our award for 2004 Product of the Year multi-channel amplifier.
MSRP: $3000

Award: Two-Channel Power Amplifier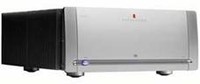 Parasound Halo A 21
For those who desire the power of a Mack truck with the finesse of a Mercedes Benz in a two-channel amplifier, look no further than Parasound. The A 21 has a solid foundation with a power supply consisting of a 1.2 kVa transformer and 100,000uf filter banks, pelting out 250wpc into 8 ohms and 400wpc into 4 ohms for both channels. Our bench tests confirmed that this is one solid contender. This is no surprise considering its THX Ultra2 certification. With the assortment of unbalanced and balanced inputs, triggered output, and ground lift option no stones were left unturned with this well built, attractive design.
MSRP: $2000
Award: Universal DVD Player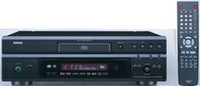 Denon DVD-3910
Last year Denon dazzled us with their DVD-5900 universal DVD player. This year they crammed just about all of the performance of that player, and then some, into the new DVD-3910. With 12-bit 216 MHz video DACs, IEEE 1394 and Denon's own DLink support for multi-channel DVD-Audio and SACD, and onboard 720p/1080i scaling with both HDMI and DVI output – the DVD-3910 is an amazing player with a retail price point that practically launched it into our Product of the Year awards.
MSRP: $1499

Award: Full Range Loudspeakers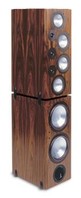 RBH Sound Signature T-2 System
RBH Sound really dazzled us this year with their massive new speaker system. At first we were skeptical (and downright afraid to review them due to their sheer size / weight and relatively low WAF factor) but our concerns quickly dissolved after a short listening session. The T System revealed almost limitless dynamics, the BIGGEST soundstage we've ever heard in a speaker system, and an enthralling, enveloping experience. It's no surprise these speakers quickly became the mainstay of two of our Reference Systems and was awarded Best Of Show (BOS) at the 2004 CES Show. They measured as impressively as they sounded and even proved to be an easy enough load to be powered by a quality receiver. With the satellite sections crossed over to their subwoofer modules and dedicated power amplifiers, the effects were simply bone crushing. For more product information visit: RBH Sound
MSRP: $7999 (black) / $10,499 (premium finishes)
Award: Budget Multi-Channel Loudspeakers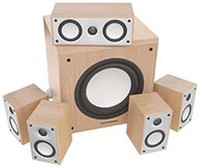 Mordaunt Short Avant Premiere Loudspeakers
Earlier this year when we performed a shootout of four separate home theater systems priced under $1600 we were pleasantly surprised to be presented with the great sound of Mordaunt-Short's entry level Avant series. Ranging in price from $1100-$1600, these speakers produce big sound on a low budget. With a stylish look, beautiful aluminum drivers and a proclivity to provide excellent imaging, it's hard to beat the value of this system.
MSRP: $1600
Award: Subwoofer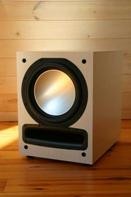 Axiom Audio Epicenter EP500 Subwoofer
Axiom unveiled their newest DSP powered subwoofers the EP500 and EP600. These subs push the envelop of performance via DSP processing to linearize the response of the driver below its resonant frequency, ensuring flat frequency response at all listening levels. Powered with a 500 watt high efficiency digital amp with an analog power supply, the EP500 will deliver the head shaking heart throbbing bass in any home theater environment. Large rooms may benefit from the EP600 with its larger box volume and slightly more powerful amp to yield about 3db more SPL and 4 Hz lower bass extension.
MSRP: $1150

Award: Component Video Cables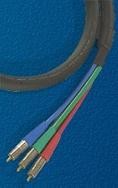 Blue Jeans Belden 7710A Component Cables
With all of the bogus marketing and snake oil surrounding cables, it's often hard to differentiate reality from fantasy. We consistently find Blue Jeans cables to be among the best value and best kept secret in the industry satisfying all of our Cable Budget Guidelines and avoiding all of our Top 10 Snake Oil Gimmicks . Blue Jeans uses Belden 7710A 75 ohm shielded cables which are tested out to 3 GHz, utilize some of the best shielding techniques (combo braid/foil) and are terminated with superb Canare BNC or RCA plugs. They also offer a single cable version of this called the 1694A which can be used as an analog interconnect or subwoofer cable. There simply isn't a better value on the market. Highly recommended!
MSRP: $43 per 3ft set

Award: Loudspeaker Cables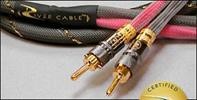 River Cable StarFlex SPX
For a beautifully crafted speaker cable that measures as well as it looks and offers superb banana compression terminations check out River Cables StarFlex SPX speaker cables. It's about 35% cheaper than their Flexygy 6 speaker cable and actually measures lower in inductance and resistance making it their best value and performing speaker cable in their product line up. I really like this cable's performance, appearance and build quality.
MSRP: $195 for a 3 meter pair (terminated)
Custom Installation Alternative Canare 4S11
Alternatively if you are running cables behind sheetrock or don't concern yourself with appearances, Blue Jeans Cable offers the virtually identical cable known as Canare 4S11 with a compression plug termination for about 60% cheaper.
MSRP: $117 for a 3 meter pair (terminated)

Award: Remote Control

Logitech Harmony 676 Remote Control
With their activity-based layout, well-updated database, and internet programming feature set, Logitech's Harmony line of remote controls were a shoe-in for this year's award. We did a comprehensive review of the Harmony H688 and a subsequent review of the Harmony 676 and felt that the 676 edged out the former remote slightly in terms of ergonomics (though they share 99% of the same features and programmability.) If you want a true one-button solution for your home theater, or need something your grandmother and babysitter can understand, this is the remote control to get.
MSRP: $230
Confused about what AV Gear to buy or how to set it up? Join our Exclusive Audioholics E-Book Membership Program!