OCV 6 Design, Build Quality and Installation
OCV 6 Design, Build Quality and Installation
Last year, Tannoy debuted a new speaker that was developed for commercial environments that had open ceilings. Dubbed the OCV Series (Open Ceiling... um, Vaulted?), the new loudspeaker was designed specifically to deliver a lot of quality - in particular, the quality of their CVS Series in-ceiling speakers - to a pendent style of architectural speaker. Tannoy is really riding the new wave of architectural design that is sweeping our airports, churches, malls and other social, transportation and retail gathering areas. The OCV Series of speakers are designed to look like a pendent that is suspended, near-invisibly, from the ceiling in order to cast sound down from above without requiring a flat or recessed installation. It's this cylindrical shape that really defines the OCV. And it's not a small speaker, which accomplishes two things. First, it has the internal volume to provide a truly remarkable frequency range. Second, it looks substantial (in an artsy and attractive way), even when hung from a 20 foot ceiling.
So where does the OCV Architectural Pendant speaker make sense? It's perfect for where you need complete coverage that is predictable and configurable. With the OCV 6's 90 degree dispersion (the OCV 8 has an 80 degree dispersion) you can really position the speakers to maximize even audio reproduction within a large space. In fact, it's so predictable that you can configure the speakers well for even narrow spaces. This makes it great for airports, churches, public recreation facilities, malls and also commercial environments where ceilings might be double or triple height. The sensitivity and SPL output of the speaker is also high enough to ensure that you can cover large areas with a minimal amount of speakers and amplifier power.
Design and Build Quality
As we indicated, the OCV Series of speakers form Tannoy are cylinders, or pendants if you will, which hang down and blanket the area below with music. The speakers come in black or white and have powder coated steel grills that protect the coaxial speakers from impacts and other potential harm. The OCV 6 we reviewed comes with a 6" mid-bass woofer that uses mineral-loaded cone material and a 20mm tweeter.  The frequency response is 80Hz to 20kHz (-3dB) and the OCV 6 speakers can handle up to 240 watts of peak power, though average handling is rated to 60 watts. The ideal load for these pendants is 16-ohms fed by a 120W amplifier. For most installations you're going to see a multi-channel amp that feeds the speakers wired for different zones of audio.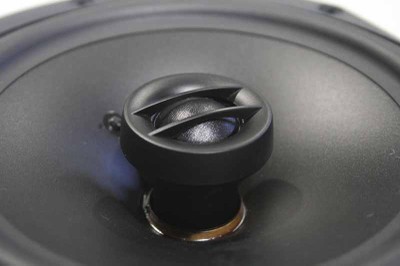 What makes the OCV Series Pendent Speakers even more flexible is their use of a low insertion loss 60W line transformer. This is almost ridiculously convenient in that it allows you to set up the OCV speakers for either 100V or 70V systems. All you do to adjust the configuration is dial in the top mounted rotary tapping switch. For 70V systems you can set the OCV to 60W, 30W, 15W, 7.5W (70.7V systems), Off and Low Impedance (z) operation. For 100V systems you can set the transformer tapping switch to 60W, 30W, 15W, Off and Low Impedance.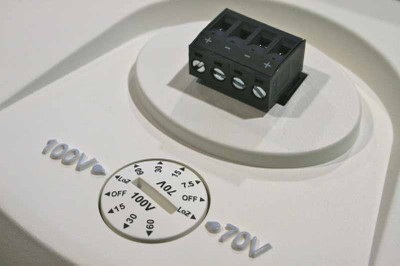 For connectivity, the top of the speaker uses a euroblock connector that allows you to connect an amp to the OCV 6 (or OCV 8) with standard plenum speaker wire while also letting you daisy chain the output to another OCV speaker. In this way you can run multiple speakers off each amplifier channel.
Installation
Tannoy donated a set of six OCV 6 speakers and allowed us to install them in the gymnasium/recreational facility of a local non-profit organization. Parker Street Ministries is a nonprofit organization committed to individual, family and community restoration, reconciliation and revitalization. It's based in Lakeland, Florida and serves the downtown Parker Street community. This campus just underwent a $1.4 million renovation, having been built in the 1940's. In its 70+ years of existence, the facility has never had a sound system in the recreational center, so the folks at Parker Street Ministries were extremely excited that we were able to use the facility to install and review these Tannoy pendant-style loudspeakers. The room is rather large, measuring 85 feet long and 52 feet wide, so there was a good amount of space that needed to be covered. The Tannoy OCV 6 speakers were suspended about 18 feet off the ground. Given the 90 degree dispersion pattern, the six speakers recommended by Tannoy's engineers were designed to provide the entire room with a uniform amount of sound coverage.

Hanging the speakers in the air was actually a very simple process, though we made it more complex by mounting them as high as possible between the roof supports  of the recreational facility. Since the ceiling was made of rebar-reinforced concrete beams, the desire was to mount brackets on the beams located to each side of the speaker and suspend the OCV 6 in-between. A hammer drill and Tapcons made simple work of this and the included safety wires and Gripple Speed Clamps worked very well to secure our OCV speakers where we wanted them. The dual mounting points accomplished two things. First, it allowed us to pull the OCV 6 up into the space between the beams, and second, it automatically gave us two mounting positions for safety in the unlikely event one would fail.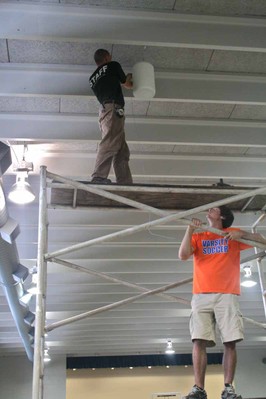 We wired up the OCV 6 speakers with 18 gauge plenum cable which we home ran back to a sound system that was housed on a stage at one end of the recreation center. While the speakers could be daisy chained, we opted to wire each individually so that we had the flexibility to assign zone amplification to each speaker as desired. In this way we could even reconfigure the rear speakers for surround sound. Amplification was provided by a Sherbourn LDS 16-45 8-zone, 16-channel amplifier. This amp is a monster, weighing over 65 pounds and featuring two giant 775VA toroidal transformers and eight individual stereo amplifiers all heat-sinked with no fan or noise created during use. And the power? The LDS 16-45 pumps out 45 watts per channel @ 8 ohms and 65 watts per channel @ 4 ohms with no more than 0.1% THD from 20 Hz–20KHz. And it does that with all 16 channels driven. That was plenty of power for our needs. The other thing we loved about this amp is that it could take the first stereo input and automatically bus it to each of the 8 zones. That allowed us to simplify the installation significantly and merely feed the amp the output of whatever source we wanted in the room.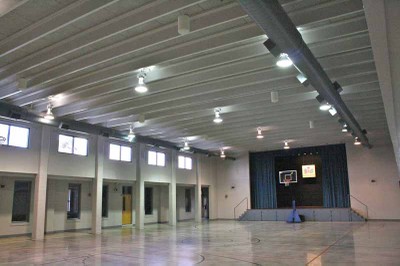 Confused about what AV Gear to buy or how to set it up? Join our Exclusive Audioholics E-Book Membership Program!
Recent Forum Posts: