Triad Distributed Audio Series In-Ceiling And In-Wall Speakers Overview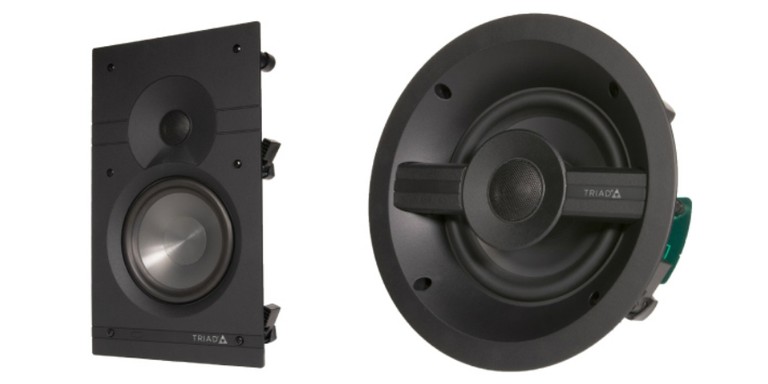 Triad Distributed Audio Series Speakers
Summary
Executive Overview
Just days before launching a slick new operating system with an improved user interface and built-in MQA processing, the smart home solutions company Control4 announced an impressive lineup of new in-wall and in-ceiling speakers for whole-home audio installations, under the company's trusted Triad speakers brand. The Triad Distributed Audio Series comprises 14 models in total, with different components, sizes, and configurations to fit a variety of multi-room audio applications. Like Triad's other offerings, the Distributed Audio Series speakers were designed for installation flexibility and excellent audio performance. The speakers are being marketed to builders and contractors for inclusion in new construction, as well as to homeowners looking to retrofit whole-home audio systems into their existing homes. All of the speakers ship with a low-profile white grill which attaches via hidden neodymium magnets embedded in the speaker's baffle, allowing for quick installation and a discreet look. For a more customized appearance, Triad also offers paint-matched round or square grills, which are painted at the factory to match the customer's interior decor. The speakers feature pivoting tweeters with up to 10 degrees of movement in order to deliver the best possible audio quality to the listening position. The tweeter bridge also doubles as a handle, which — along with the traditional dogleg mounting screw system — allows for fast and easy installation. The speakers range in price from $125 to $385 each, and are divided into three performance categories in order to "satisfy a wide spectrum of consumers, from the discerning audio enthusiast to casual listener," according to Control4.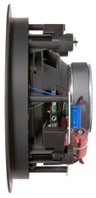 The Distributed Audio Series 1 speakers are the most affordable in the new lineup, and are intended for anyone seeking a low-cost, high-quality whole-home audio option for background music. Both the in-ceiling TS-IC61 ($125 each) and the in-wall TS-IW61 ($160 each) utilize a 6.5" polypropylene woofer and 0.75" cloth dome tweeter.

Moving up to Triad's Distributed Audio Series 2 models delivers a more acoustically-refined musical experience, according to the company. There are four in-ceiling models and two in-wall models in Series 2, all of which include reinforced "poly-mica" woofers. Triad calls this mica-infused polypropylene a "next-level" cone material because it offers "increased rigidity and a high stiffness-to-weight ratio, while still maintaining the dampening properties of a traditional polypropylene woofer." The positionable tweeters in the Series 2 speakers are made from a durable synthetic material called Teteron. The in-ceiling TS-IC52 ($130 each) utilizes a 5" woofer and a 0.75" tweeter, while the larger TS-IC62 ($150 each) uses a 6.5" woofer. The range-topping in-ceiling model is the TS-IC82 ($180 each), which combines an 8" woofer with a larger 1" tweeter. In some small spaces, such as a powder room for example, there may be space for only one speaker. In these applications, a single IC82DT ($300 each) can be deployed. Its 8" woofer is driven by a dual voice coil, and is matched with a pair of 1" tweeters to reproduce a stereo signal from just one unit. The in-wall TS-IW62 ($215 each) uses a 6.5" woofer and a 0.75" tweeter, while the larger TS-IW82 ($260 each) uses an 8" woofer and a 1" tweeter. All of the Series 2 speakers have been voice-matched to provide consistent timbre throughout a large listening space, and from one room to the next.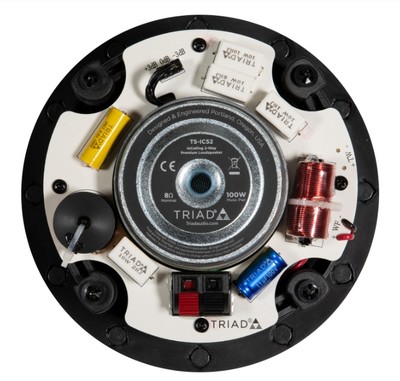 The Series 3 loudspeakers are the flagships in the new Triad Distributed Audio Series, delivering what the company simply describes as "exceptional sound in every room" for the most demanding customers. The Series 3 speakers follow the same general form factors as their Series 2 siblings; there are four in-ceiling models in various sizes — including one with a dual tweeter design — and two in-wall models. The Series 3 designs all utilize carbon-fiber woofers for superior durability and "true pistonic action with outstanding bass and mid-bass response." These woofers are paired with silk dome tweeters for smooth high-frequency sound. The in-ceiling models include the 5" TS-IC53 ($175 each), the 6.5" TS-IC63 ($200), the 8" TS-IC83 ($230 each), and the dual-tweeter 8" TS-IC83DT ($375 each). The Series 3 in-wall models are the only speakers in the Distributed Audio Series to include an integrated backbox for superior sound isolation to adjacent rooms (-26 dB), and a more repeatable sound reproduction compared to open-back speaker designs, which can be affected by differences in interior wall spaces and building materials. Both the 6.5" TS-IW63 ($330 each) and 8" TS-IW83 ($385 each) use the same 1" silk dome tweeter found in the Series 3 in-ceiling models, allowing the customer to mix and match as needed while maintaining a uniform tonal quality to the sound.
"Our new Triad Distributed Audio Series speakers were thoughtfully designed to satisfy a wide range of listeners, as the demand for multi-room audio solutions for any budget is requested by builders, contractors, dealers, and homeowners. The 14 in-wall and in-ceiling models sport features Triad is known for to suit every installation application, from beautifully subtle, low-profile, customizable, and frameless grills, to consistent voice-matching. There's a Triad DA Series speaker for everyone."
— Charlie Kindel, Senior Vice President of Products and Services for Control4
 
The Triad Distributed Audio Series speakers are available now from Control4 and Triad dealers, and include an unusual level of peace of mind in the form of a limited lifetime warranty. Will Triad's new speakers deliver the company's signature sound to every room in your home? Share your thoughts in the related forum thread below.

Confused about what AV Gear to buy or how to set it up? Join our Exclusive Audioholics E-Book Membership Program!
Recent Forum Posts:
James_Stewart posts on June 02, 2005 02:31
I purchased this unit 1 1/2 months ago. I decided to upgrade but not soon enough to trade it in. $360 you pay shipping. Remote, mic, manual. THIS IS NOT REFURBISHED. It was brand new 40 days ago, it's black, no scratches, and lightly used.
~james
[email protected]
Will help make a safe transaction
Post Reply