ZVOX Z-Base 220, 320, and 420 Sound Bars Preview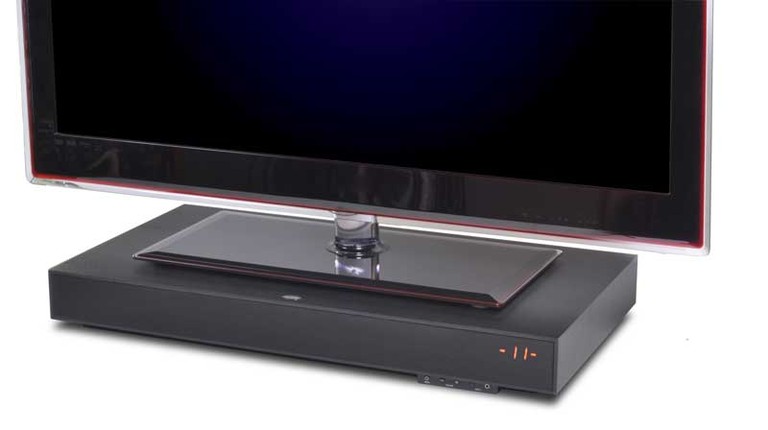 ZVOX Z-Base 220 320 and 420 Sound Bars
ZVOX has been an enigma to us. While their original boxy under-TV speakers may not appeal to the aesthetically-minded, their newer models seem to be taking a slightly more streamlined approach. On top of that, there is a clear downward spiral to the quality of audio that is emanating from flat panel TVs these days, with most speakers firing out the back and producing very limited output. This week, ZVOX announced three new models that take into account a smaller footprint and do a better job at blending in with smaller, tabletop-mounted flat panel televisions.
The new models are the Z-Base 220 ($199.99), Z-Base 320 ($249.99) and the Z-Base 420 ($299.99). Each system is smaller than its predecessors and uses high quality speakers and amplifiers. They also have MDF cabinets and use ZVOX's proprietary PhaseCue II virtual surround sound system. Here is a breakdown of the models and their differences:
Z-Base 220
Retailing for $199.99, the Z-Base 220 is about the size of a small DVD player, which is about 100x larger than the space allocated for your average TV speakers these days. It's designed to be placed on a shelf below your flat panel TV, from 22" to 32" in size. The sound is produced by three speakers and an integrated 5.25" powered subwoofer with a 35-watt amplifier and PhaseCue II virtual surround sound. The cabinet measures 17" x 14.5" x 3.4".

Z-Base 320
The Z-Base 320 is slightlylarger than the 220, by about 7" in length, but it trims the depth by 3" to produce a product that is wider and thinner and actually looks quite good with most flat panel TVs from 27" to 46" in size. Like the Z-Base 220, the 320 sports 3 speakers in addition to the 5.25" powered subwoofer and a 40-watt amplifier. It also features PhaseCue II virtual surround sound and retails for $249.99.

Z-Base 420
The Z-Base 420 is the largest in the line and can support the size and weight of most TVs up to 55" in size. This time around, ZVOX imbued the 420 with 5 full-range speakers, a 45-watt amplifier, and a 5.25" powered subwoofer. Like all ZVOX Z-Base products, the Z-Base 420 uses PhaseCue II virtual surround sound. Larger than the others, the Z-Base 420 measures 28" x 14.5" x 3.4" and retails for $299.99.
Features of ZVOX's New Z-Base Systems

All of ZVOX's products have similar features shared across the line. First, they come with a Dialog Emphasis feature that uses hearing aid technology to help lend clarity to voices and dialogue for both movies and music. They also automatically balance the audio between program sources and even TV commercials with Output Leveling that both clamps down on excessive volume and also quiet dialog. The Z-Base systems can also be programmed to respond to most remote controls, so you can control the volume, mute, power and sourcing of a Z-Base system with most TV, cable box, or satellite receiver remotes.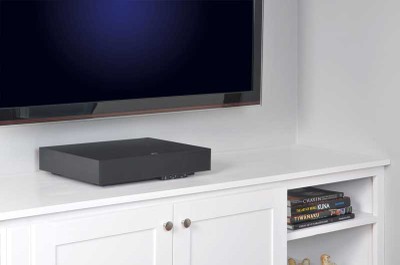 The Z-Base boxes also have multiple inputs, including a front-panel connection for iPods and other portable devices. There are two analog audio inputs, one optical (toslink) digital input, one coaxial digital input, and the aforementioned front panel 3.5mm analog stereo input for portable audio devices. Also, when you plug in an iPod or other device to the front input, the Z-Base automatically switches to that input. When you unplug it, the Z-Base will automatically return back to TV sound. You can also directly select any input using either the remote control or the physical controls below the speaker grille.
We're keeping our eyes on these products as they are, at the very least, indicative of the fact that, more and more, the audio coming out of TVs is substandard and driving more and more people to move towards external sound solutions.