ZOTAC ZBOX Media PC with Blu-ray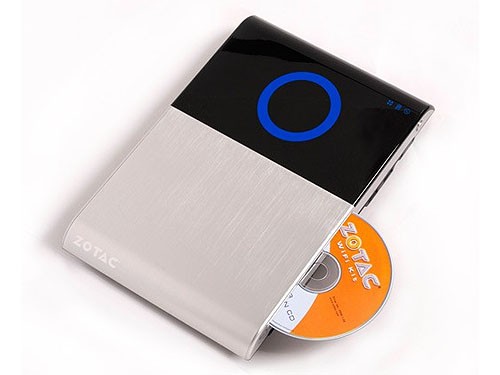 ZOTAC ZBOX Media PC
Summary
Model

ZBOXHD-ID33BR-U

Chipset

Intel NM10 Express

CPU Socket

NA (integrated CPU)

Dimensions

7.36in x 11.02in x 1.5in - 187mm x 280mm x 40mm

FSB

800 MHz

Memory Size

Up to 4GB RAM

Memory Slots

2 x 200-pin

Memory Type

DDR2-800 SODIMM

Onboard Audio

Onboard analog stereo high-definition audio/ 7.1-Channel LPCM digital audio (HDMI)/ Optical Digital S/PDIF audio output

Onboard LAN

10/100/1000Mbps, WiFi 802.11n/g/b

Onboard Video

NVIDIA ION graphics processor

Package Contents

1 x ZOTAC ZBOX Blu-ray HD-ID33
1 x VESA mount
1 x DVI-to-VGA adapter
1 x AC adapter
1 x Power cord
1 x Warranty card
1 x User manual
1 x Driver CD
1 x Cyberlink PowerDVD w/Blu-ray playback

Power Connector

DC19V

SATA

1 SATA (3.0 Gbps), 1 Combo eSATA / USB 2.0 port

USB

2 Front (1x USB 2.0, 1x USB 3.0) 1 Back (1x USB 3.0)

Video Ports

HDMI + DVI-I
Executive Overview
Most HTPCs have the esthetic appeal of a Soviet-era sewing machine. With their painfully slow load times, boxy looks and noisy fans, HTPC is generally about as unobtrusive to your media system as a serious migraine. Zotac feels your pain. This computer hardware company has set up shop inside that wide gap between Home Theater PC and tasteful form factor.
Zotac has just introduced its ZBOX Blu-ray mini-PC, featuring a front-slot loaded Blu-ray player. The Blu-ray player is a 4X Blu-ray reader only, with 8x DVD and 24x CD read speeds. But it can write DVD DVD±R/RW and CD±R/RW discs. You'll watch movies using the included software Cyberlink PowerDVD.
Marketing ZOTAC ZBOX Hype
"The ZOTAC ZBOX Blu-ray series is more than just a system for playing games and watching movies. The ZOTAC ZBOX Blu-ray series is the ultimate multimedia hub for all your entertainment needs and replaces the function of multiple electronics devices. With the ZOTAC ZBOX Blu-ray series, we are bringing the ability to view Blu-ray movies, streaming Internet video, downloaded videos, store and access your music collection, listen to Internet radio, browse the web, play games and even manage your social networking profiles into a single device," said Carsten Berger, marketing director, ZOTAC International.
Okay, so that was the word direct-from-marketing, but despite the platitudes, Zotac is on to something with this mini-PC design. The company has plenty of experience as a top computer hardware manufacturer of mother boards and video cards as well as mini-PCs. Included in its hardware specs are various netbook parts, so it's designed for efficiency but not so much for pure horsepower. If you're a hardcore PC gamer this isn't trying to replace your desktop.
The combination dual-core Intel Atom D525 central processor, 2GB of DDR2-800 RAM and an NVIDIA ION graphics processor with built-in 512MB of DDR3 memory, this machine is perfectly capable of pushing pixels across your 1080P display device. One advantage to going with high efficiency at the expense of power is less heat generation, which means less fan noise to spoil those intimate moments in your favorite Julia Roberts film.
To communicate with the outside world this ZBOX has an Ethernet connection capable of transfer speeds of up to 1000Mb/s. It's also got integrated dual-stream 802.11n Wi-Fi that enables transfer rates up to 300Mb/s through thin air. USB 3.0 provides additional connection options for external storage and a 6-in-1 memory card reader will accept SD/SDHC/MMC/MS/MS Pro and xD.
ZOTAC ZBOX will pump audio through its HDMI port, capable of 7.1 channel LPCM digital audio, Optical Digital S/PDIF or on-board analog stereo outputs. For video you've got HDMI, DVI-I and VGA.
The Achilles heel any stylized media PC made from netbook parts is upgradability. But ZOTAC ZBOX overcomes this with key expansion slots – including a mini-PCI Express port the aforementioned USB 3.0 and eSATA. The system already comes packed with a 250GB, 5400RPM (internal and upgradable) HDD, and 2x DDR2-800 SO-DIMM slots pre-loaded with 2GB.
Although the system is compatible with Windows 7 or Windows Vista, you'll have to choose one and install the Operating System yourself.
Over-the-phone sales contact at ZOTAC, which was very quick and responsive, told me the ZBOX Blu-ray model will be available in North America by the end of this month. There will be two retail prices one will be a bare bones model that includes no memory or hard drive with an MSRP of $399, but the that includes 2GB of Ram and a 250GB HDD MSRP at $499.
Conclusion
Today's home theaters are becoming increasingly computer-centric. For better or worse we're using more media streamers and extenders while even our TVs want to shake hands with your wireless router. I hate the idea that some of us are sacrificing high-quality, lossless audio and high def video for streaming Netflix and YouTube directly from the Internet. But since the genie of Internet streaming has already left the bottle, it's nice to see ZOTAC has added the Blu-ray option to its line of stylized HTPCs.
When it comes to HTPC, noise is a factor you'll have to judge for yourself by deciding if you can tolerate the unit's operational background noise while watching a movie. An operating system is not included with the unit, the only software is a copy of PowerDVD, a standard offering with most PC Blu-ray upgrades. No remote control, no high-res audio formats such as DVD-Audio or SACD. But if you've got room for a multi-purpose PC media machine, ZBOX looks like a welcome addition that should look at home in any component audio/video system.

Like This? Check out our other
AV News
!
Confused about what AV Gear to buy or how to set it up? Join our Exclusive Audioholics E-Book Membership Program!
Recent Forum Posts: