Yamaha Debuts TSX-140 Desktop Audio System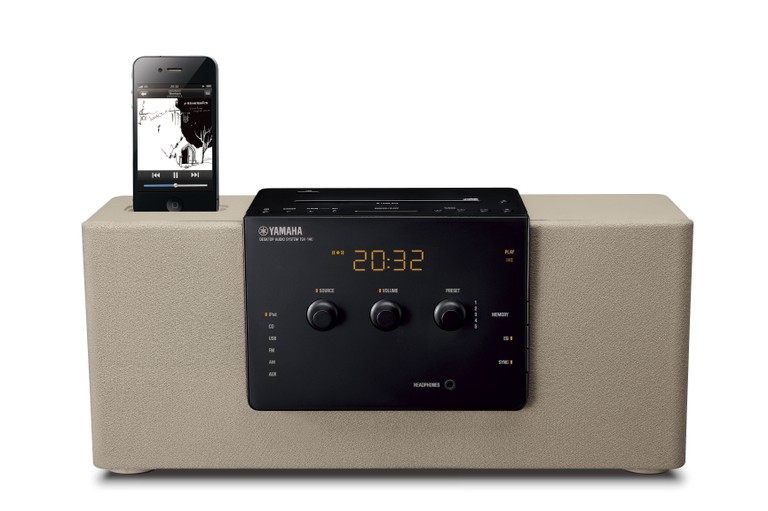 Yamaha TSX-140 Desktop Audio System
Yamaha Electronics Corporation today introduced the TSX-140 Desktop Audio System that features an alarm that wakes you gradually and gently. With earth-inspired color choices, the TSX-140 is beautiful to the eye and ear, offering compact, elegant design. It represents the latest addition to Yamaha's TSX family of docks compatible with Apple's iPod Touch and iPhone (3G/3GS/4). Moreover, the Yamaha TSX-140 is capable of playing MP3 and WMA files stored on a USB stick, as well as FM/AM radio programming.
With its twin 3-1/2 inch ported bass reflex speakers and Yamaha digital amplifiers, the TSX-140 delivers its superlative performance through Concert Quality Sound, a proprietary Yamaha concept that virtually eliminates all unnecessary noise and distortion, and Extended Stereo, which creates a perceptually larger stereo sound field through Yamaha DSP.   
Unique to Yamaha, the TSX-140's IntelliAlarm wakes you gently with the audio source of your choosing, first filtering out uncomfortable high frequencies, then gradually restoring the full audio spectrum before beeping to ensure you are awake. The IntelliAlarm provides a gentle, stress-free feeling that makes waking up a pleasure.
For added convenience, the TSX-140 offers a USB mini-B connector that facilitates iPod/iPhone syncing to a computer while charging in the dock. In addition to the illuminated buttons on the top panel, three front panel controls give access to source, volume, radio presets, alarm clock and equalizer functions. LED indicators show which function has been selected for simple, fast tuning. A brightness sensor automatically adjusts all display LEDs to suit the ambient light level.
"The Yamaha TSX-140 is designed for the consumer who wants a no-compromise sound experience, even on a nightstand," said Tom Sumner, President, Yamaha Electronics Corporation. "IntelliAlarm offers consumers a gentler, more natural way to get going in the morning, instead of being jolted out of a sound sleep."
Inspired by natural colors and echoing ceramic art, the TSX-140 is available in three finishes: black, brick and gray.
The Yamaha TSX-140 carries an MSRP of $399.95.
For more information email [email protected]; or visit www.yamaha.com/hometheater.
About Yamaha
Yamaha Electronics Corporation (YEC), USA, based in Buena Park, California, is a wholly owned subsidiary of Yamaha Corporation of America. YEC offers industry-leading home theater components and systems, featuring A/V receivers, neoHD Media Controllers, the MusicCAST2 Wireless Music Distribution System, amplifiers, Blu-ray/DVD/CD players, speakers, mini-systems, home-theater-in-a-box (HTiB) pre-matched systems and the company's exclusive Digital Sound Projectors (single component surround sound solutions), as well as A/V & IT convergence products.
haraldo posts on November 30, 2010 06:20
Oh, I always wanted to be woken up in the morning…. when it's dark… by something that has earth colors
I wonder how the natural eartch colors is nice to the ear and how this helps me wake up gently……

Is there a scientific evidence by Yamaha that earth colors is easier on the ear
Post Reply