Yamaha PDX-31 Portable iPhone Dock Preview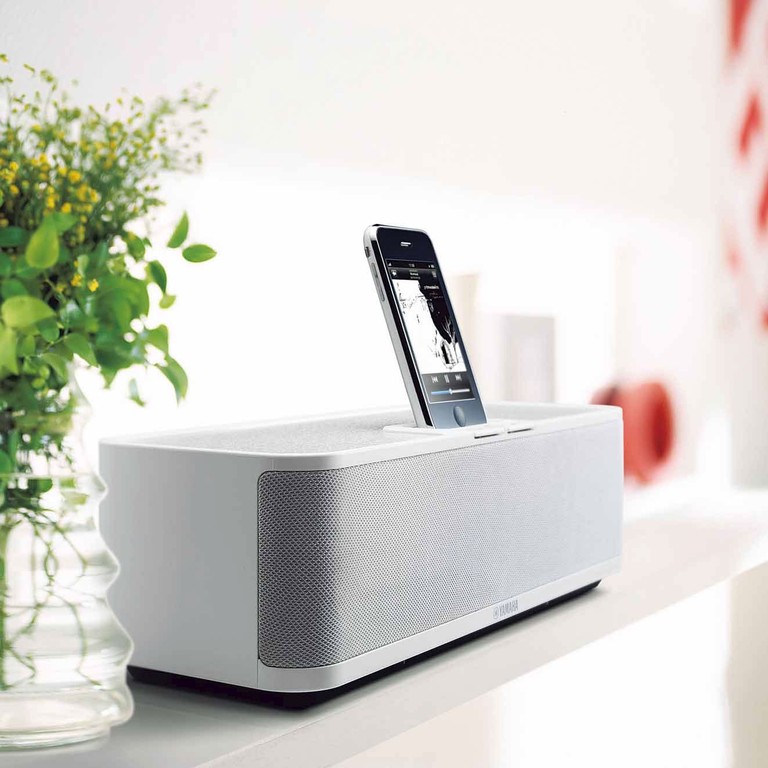 Yamaha PDX-31 Portable Dock for iPhone
Yamaha Electronics Corporation introduced the PDX-31 portable player dock for iPhones and iPods, featuring an AUX-in (stereo mini jack) for use with any MP3 player or other audio devices. Available in three dramatic, yet versatile colors (dark red, black and light gray), the PDX-31's superior sound quality is delivered by a Yamaha digital amplifier with extremely low noise distortion. The PDX-31 offers reinforced, dual wall "box-within-a-box" construction with twin 3 1/4 -inch speakers to provide rich dynamic bass response for powerful, clean sound from any music library.
The PDX-31 is compact, light enough and cosmetically versatile to be placed anywhere in the home. The flat-top design provides an attractive and sophisticated touch to any home interior. The supplied small, handy remote control works like your iPod controls, making it easy to browse menus and select songs. Embodying Yamaha's continued drive toward environmentally sound products, the PDX-31 incorporates the advanced power management feature Auto Power Off which automatically powers the unit off after a certain amount of time to conserve energy.
The PDX-31 remembers the volume level when you remove your portable device so the next time you dock it, the volume is set to that level. 
"Yamaha places a high premium on versatility in designing its products. The PDX-31 allows you to enjoy song files in several different ways, while offering great sound, effortless operation and sleek styling."
- Tom Sumner, President, Yamaha Electronics Corporation
The Yamaha PDX-31 carries an MSRP of $169.95.
For more information visit www.yamaha.com/hometheater.
About Yamaha
Yamaha Electronics Corporation (YEC), USA, based in Buena Park, California, is a wholly owned subsidiary of Yamaha Corporation of America. YEC offers industry-leading home theater components and systems, featuring A/V receivers, neoHD Media Controllers, the MusicCAST2 Wireless Music Distribution System, amplifiers, Blu-ray/DVD/CD players, speakers, mini-systems, home-theater-in-a-box (HTiB) pre-matched systems and the company's exclusive Digital Sound Projectors (single component surround sound solutions), as well as A/V & IT convergence products.