Yamaha Drops Price on NeoHD Receivers, Adds Pandora and iPhone App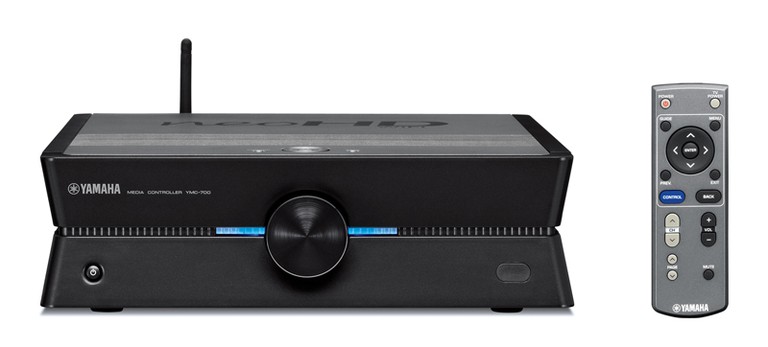 Yamaha NeoHD YMC-700 Receiver
Yamaha announced today price reductions, along with increased network and control capabilities for the company's advanced neoHD Media Control AV receivers. The YMC-700 network A/V receiver is now priced at $499.95, while the YMC-500 now carries an MSRP of $299.95.
Yamaha neoHD is a new design concept in AV receivers that enables a user to easily control all of their sources with a simple graphical user interface and simplified remote control. In addition to the price reduction, the YMC-700 Wi-Fi version is now able to stream music from Pandora, the leading personalized internet radio service designed to help listeners discover new music as well as enjoy the music they already know. In addition to these new improvements, Yamaha will be releasing later this month a new App for the neoHD YMC-700 that will allow users to control all their connected devices via IR Control from an iPhone or iPad for greater control flexibility and ease of use.
"This significant price reduction combined with added network and control capabilities makes neoHD the only Wi-Fi Enabled A/V Receiver with Full Control via iPhone and iPad on the Market for under $500. We believe this news will appeal greatly to consumers who are looking to greatly simplify their home entertainment experience, while spending more time enjoying thrilling HD video and vibrant sound."
- Tom Sumner, president of Yamaha Corporation of America
Both neoHD Media Controller models eliminate the need for multi remote controls and act as a one-point control and command of all home and Internet components connected to a home A/V system.
The hallmark of neoHD is a clean, intuitive menu-driven on-screen display that makes it easier than ever before to navigate and access all audio and video content in the home, regardless of where it is stored.
In addition to new Pandora streaming capabilities, neoHD Wi-Fi can play online content from Rhapsody and Internet radio providing endless hours of enjoyment. All models support playback from FM radio and music stored on an external USB drive.
Check out more information on the Yamaha YMC-500 and YMC-700 receivers.
About Yamaha A/V Receivers
Exceptional sound quality, superior reliability and easy to use features are the hallmarks of the Yamaha home theater experience. With each Yamaha A/V receiver, users enjoy extraordinary audio quality and advanced video features that allow these products to become the centerpiece of the home entertainment system. Offering flexible installation configurations, automatic system calibration, advanced video capabilities, 3D, and satellite radio as well as iPod capabilities, Yamaha receivers provide consumers with a complete home theater experience.
Recent Forum Posts:
3db posts on November 12, 2010 06:56
I guess Yamaha is making easier to access one's compressed music library.
weejimmee posts on November 11, 2010 20:08
Airplay support

Any thoughts on whether Apple's Airplay support will added via a firmware update ala Denon/Marantz networked receivers? We from the Apple ecosystem may enjoy a simple streaming option from our i-world.
Post Reply