Yamaha Launches 8 New XM-Ready Receivers
BUENA PARK, CA - Yamaha Electronics Corporation today introduced four new affordable A/V digital home theater receivers equipped with XM Satellite Radio capability (XM-Ready) that will enhance and diversify the overall home entertainment experience at a variety of reasonable price points, beginning as low as $349.95 MRSP.
Yamaha will be first to market with its new line of XM-Ready A/V receivers. The RX-V757, RX-V657, RX-V557 and RX-V457 will allows users to plug an XM Connect-and-Play home antenna into the Yamaha XM-Ready A/V receiver and activate the XM service to receive 150-plus digital radio channels. No additional accessories or installation are required. Using XM's industry-leading chipset technology, as well as a new proprietary chip and signaling protocol, the XM Connect-and-Play home antenna is capable of receiving XM's satellite and terrestrial signals as well as channel tuning, decoding and audio transmission. It will be the only accessory needed to get XM through an XM-Ready Yamaha component.
The RX-V757 and RX-V657 include an essential feature called YPAO (Yamaha Parametric Room Acoustic Optimizer), which is a technology that completely simplifies the home theater set-up process by automatically optimizing room acoustics via a parametric equalizer. YPAO will then sets parameters for optimum sound quality at the listening position at the touch of a button.

The 7.1 channel RX-V757 and RX-V657, and the 6.1 channel RX-V557 and RX-V447 receivers all feature Quad-Field Cinema DSP, Dolby Pro Logic IIx, Dolby Digital , Dolby Digital-EX, DTS Digital Surround, DTS-ES Discrete 6.1, DTS-ES Matrix 6.1, DTS Neo:6 and DTS96/24 decoding with extreme accuracy. All models have high-current discrete amplification for the highest quality sound reproduction, and easy-to-use setup menu with 5-band center channel EQ and night listening modes. In addition, all of the new receivers use Yamaha's Digital ToP-ART technology, which maximizes digital quality while minimizing analog circuitry by bringing together several key elements to create the best-sounding, user friendly A/V components available.
Yamaha's advanced Quad-Field CINEMA DSP system provides a choice of 14 realistic-sounding surround programs. It is capable of delivering 6.1 or 7.1 channels of sound that is compatible with all the latest surround sound formats. When used with front presence speakers, the Dialogue Lift function ensures correct sound imaging when the center speaker is placed below a large screen and enables users to make extensive adjustments to achieve optimum sound quality. It offers a Direct Stereo mode for high quality two-channel sound reproduction. The receivers also offer a SILENT CINEMA mode for enjoying surround-like sound through headphones.
The RX-V757, with a suggested retail price of $649.95, is a highly sophisticated 7.1 channel A/V receiver that is rated at 100W x 7 high discrete power (20Hz-20 kHz) and features an on-screen display and a preset remote control with an LCD display. XM channel information is displayed on the front panel and can also be viewed on the on-screen display. XM programming can also be enjoyed via the Zone 2 output.
For true audiophiles, the Pure Direct feature ensures highest-quality sound reproduction with both analog and digital sources. A Night Listening Enhancer ensures that all programs (including Dolby Pro Logic IIx) sound natural at lower volume levels.
Other features include eight-channel analog inputs for external decoders to accommodate high-resolution audio formats like DVD-Audio, SACD (or other future formats); four optical and two coaxial input terminals; one optical output terminal; front-panel A/V inputs with a digital input; two component video inputs and one output with HDTV 720p/1080i compatibility; five total video inputs and two outputs; S-video connections for all inputs and outputs; and a phono input. The receiver does full component video-up conversion from composite and S-video, to provide high-quality picture from all video components connected to the receiver for optimal viewing. In addition, the 96 kHz/24-bit digital-to-analog converters are used for all seven channels.
Next in the series is the RX-V657 (95W x 7) discrete A/V receiver (20Hz-20kHz), which replaces the RX-V650 and is priced at $549.95. This new model has all of the features of the RX-V757 except for the LCD on the remote control and phono input connection.
The RX-V557, priced at $449.95, replaces the RX-V550 and is a 6.1-channel home theater receiver that is rated at discrete 90W x 6 channels (20Hz-20kHz). Other important features include component video-up conversion from composite and S-video at a low price point; two component video inputs and one output for HDTV 720p/1080i compatibility; four total video inputs and one outputs S-video connections for all inputs and outputs; six-channel external decoders to accommodate future formats; three optical and one coaxial input terminal, one optical output terminal; a front panel A/V input; A/B speaker switching; and a preset remote control.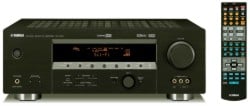 The most affordable receiver in the new series is the (85W x 6) RX-V457, which replaces the RX-V450 and is priced at $349.95. This unit has all of the features of the RX-V557, but only has two optical and one coaxial digital input terminal, one optical digital output terminal, and is without video conversion and has S-video connections. All of the RX-V457's many capabilities are easily controlled via a luminescent preset remote control with colored buttons.
In addition, Yamaha will release four XM-Ready receivers from their HTR-series, which will be available in April for mass-channel distribution from $229.95 to $849.95 MSRP. Yamaha will also introduce several XM-Ready home-theater-in-a-box-solutions from its YHT line of products for mass-channel distribution.
For more information, write Yamaha Electronics Corporation, P.O. Box 6660, Buena Park, CA 90622; telephone (714) 522-9105; email [email protected] ; or visit www.yamaha.com/home .
About Yamaha
Yamaha Electronics Corporation (YEC), USA, based in Buena Park, California, is a wholly owned subsidiary of Yamaha. YEC offers Home Theater components and systems, featuring A/V Receivers, Amplifiers, DVD/CD, Speakers, Mini-Systems, Video Projection, as well as A/V & IT Convergence Products.
About XM Satellite Radio
XM (NASDAQ: XMSR) is America's number one satellite radio service with more than 3.2 million subscribers. Broadcasting live daily from studios in Washington, DC, New York City and Nashville at the Country Music Hall of Fame, XM's 2005 lineup includes 152 digital channels of choice from coast to coast: 67 commercial-free music channels, featuring hip hop to opera, classical to country, bluegrass to blues; 64 channels of premier sports, talk, comedy, children's and entertainment programming; and 21 channels of the most advanced traffic and weather information for major metropolitan areas nationwide. XM was named Best Radio Service at the 2004 Billboard Digital Entertainment Awards. XM Satellite Radio is the industry leader in sports radio programming, offering thousands of live sporting events each year. XM is the Official Satellite Radio Network for Major League Baseball (MLB) and the PGA TOUR, the Exclusive Satellite Radio Service for NASCAR and the Indy Racing League, as well as the Official Satellite Radio Service for ACC, PAC-10 and Big-10 collegiate football and basketball.
XM, the leader in satellite-delivered entertainment and data services for the automobile market through partnerships with General Motors, Honda, Toyota, Nissan and Volkswagen/Audi, is available in more than 120 different vehicle models for 2005. XM also is available in Avis, National, and Alamo rental cars. XM is the exclusive in-flight entertainment service for AirTran Airways, and will soon be available on JetBlue flights. Consumers can experience XM over the Internet through XM Radio Online at http://listen.xmradio.com. For more information about XM hardware, programming and partnerships, please visit http://www.xmradio.com .