Yamaha Aventage AV Receivers Receive Control4 Certification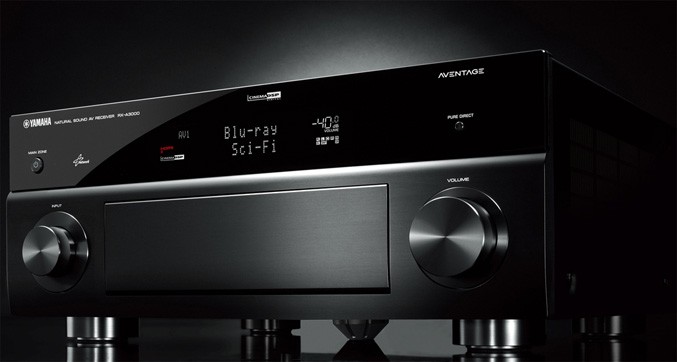 Yamaha Aventage Receivers Receive Control4 Certification
Yamaha Electronics Corporation today announced that its newly released AVENTAGE series has earned Control4 Certification, which ensures integration and compatibility with Control4 home automation systems. Each model in Yamaha's new AVENTAGE series of versatile, high-performance 3D A/V receivers has earned Control4 Certification. This includes the RX-A700 (MSRP: $649.95), RX-A800 ($799.95), RX-A1000 ($1099.95), RX-A2000 ($1499.95) and the RX-A3000 ($1899.95). The receivers were subjected to many stringent interoperability tests pertaining to speed, protocols and hardware/software in the labs at Control4.
"Custom integrators and installers need to feel highly confident that our A/V components integrate seamlessly with leading whole home automation providers. Control4 is the platform of choice for major consumer electronics companies, hotels and businesses. Earning this important certification enables Yamaha to take things up a notch, and ensures our dealers and installers that our products are easier to install."
- Tom Sumner, President of Yamaha Electronics Corporation
In addition to earning the recent Control4 Certification, Yamaha's AVENTAGE series is compatible with other whole-home automation systems. Each model in this series features RS-232C control ports and has over 800 combined extended and standard IR codes, while other network receivers (RX-V1000/2000/3000) support IP, Web-based and iPhone/iPad app control. All of these control options offer more control flexibility, depending on the control device or use case, and is ideal for custom installation specialists.
Control4 Certified drivers for the AVENTAGE series are now available to authorized Control4 dealers through Control4 Composer Software. For more information on Control4 Certified drivers, please visit www.control4.com/partner.
For more information, write Yamaha Electronics Corporation, P.O. Box 6660, Buena Park, CA 90620; telephone (714) 522-9105; email [email protected]; or visit www.yamaha.com/hometheater.
About Control4
Control4, a leading provider of the operating system for the smart home, delivers intelligent control of consumer electronics products, appliances and networking systems through an easy-to-use and intuitive software interface. Founded in 2003, the company delivers affordable automation and control of lighting, music, video, HVAC, security, and energy management systems to the broad market through more than 1,900 custom integrators, retail outlets, and distributors in over 70 countries. Control4 is the platform of choice for major consumer electronics companies, hotels, businesses and utilities that require an intelligent, open and affordable control solution.
About Yamaha A/V Receivers
Exceptional sound quality, superior reliability and easy to use features are the hallmarks of the Yamaha home theater experience. With each Yamaha A/V receiver, users enjoy extraordinary audio quality and advanced video features that allow these products to become the centerpiece of the home entertainment system. Offering flexible installation configurations, automatic system calibration, advanced video capabilities, 3D, and satellite radio as well as iPod capabilities, Yamaha receivers provide consumers with a complete home theater experience.
3db posts on October 08, 2010 10:53
3db posts on October 07, 2010 19:35
I've not heard of this "Control4 " specification. Is this a good/bad thing? Will it cost the consumer more money? How many other companies have this?
Post Reply