X2 MEGA View Digital Video Multimedia Player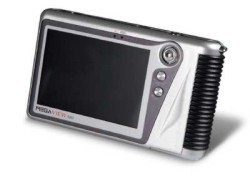 (IRVINE, CA) - X2 Corporation, a global manufacturer and direct marketer of digital convergence products, announced the debut of its first portable digital multimedia player, the 20GB MEGA View. Unlike the first wave of bulky and less functional video media players, the MEGA View combines seven digital media devices into a sleek, attractive half-pound package.
The MEGA View is a 7-in-1 device that functions as a video player, personal video recorder, photo viewer, MP3/media player, portable storage device, FM radio and voice recorder. With all these features in one device for under $400, X2's MEGA View aims to become the premier choice in ultimate portable media tools for business professionals and the gadget-savvy consumer alike.
"At under $400, the MEGA View delivers the music and storage of an iPod plus video playback and recording, photo viewing, a radio and voice recording, all for $50 more than the iPod," said Rex Wong, President of X2.
The MEGA View has an integrated 20GB hard drive, which provides a combination of up to 80 hours of video, 5,000 songs, 100,000 digital photos, 640 hours of digital voice and FM radio recording and/or 20GB of portable PC data storage. The 3.5-inch, backlit TFT display screen offers a clear picture and includes an interactive video menu. The viewer also features MPEG-4/ DivX video playback, while the MP3/media player is also compatible with WMA audio files. The MEGA View can also view photo and graphic files in JPEG, GIF, BMP or TIFF formats.
"The MEGA View is an all-in-one portable media device, literally being able to replace seven stand-alone units," said Wong. "We wanted to create a device that was functional, yet simple and lightweight. The MEGA View embodies the philosophy of our entire digital convergence line, which aims to provide quality digital media products with superior features at affordable prices."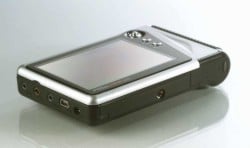 X2 offers an array of popular digital media products ranging from Media PC Centers to hybrid MP3 players and pocket video recorder/viewers with innovative features such as Bluetooth and removable SD memory storage. In addition, X2 offers a variety of LCD televisions, super-thin notebook computers with auto-on playback of DVDs, and PC products for gamers.
X2's products will be available at leading retailers and e-tailers, which will be announced shortly. In addition, X2 will allow select retailers to offer its products through a customized, etailer-like model where the retailer carries no inventory risk and gets a customized product delivered within days. Some of the lower-end, standard-feature MP3 players will also be carried by traditional mass merchandisers.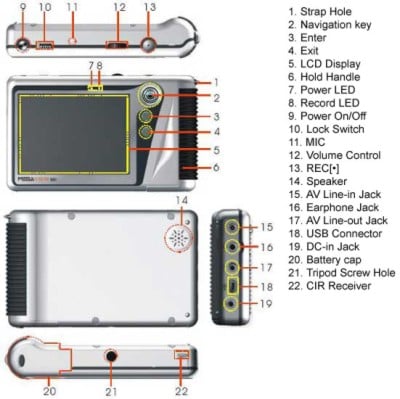 About X2
X2's mission is to become the premier brand for digital convergence products. The X2 management team includes seasoned executives from Cisco, General Electric, Google, Vivendi, D-Link and Netgear with over 100 years of combined experience in the IT industry, including extensive relationships with the leading retailers, e-tailers, catalogers and distributors as well as strong partnerships with Asian manufacturers and factories. X2 is located at 8001 Irvine Center Dr., Suite 462, Irvine, CA 92618. For more information, please contact [email protected] .
The iPod is a trademark of the Apple Corporation. All other brand or product names are trademarks or registered trademarks of their respective holder(s).