Check Out the World's Largest HD Video Display at Charlotte Motor Speedway!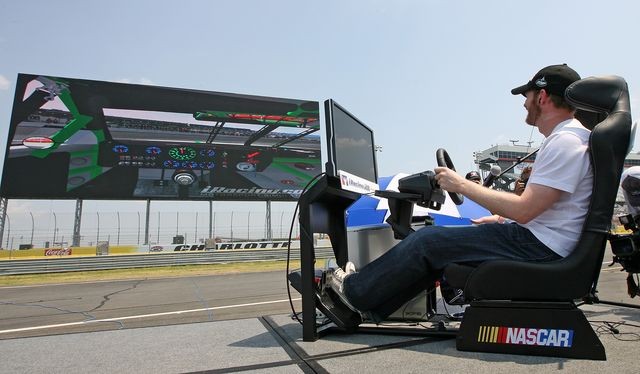 Dale Earnhardt tests out new Panasonic diplay
Last week Panasonic debuted its latest "we're bigger than you are" device: a 200 foot-wide, 80 foot-tall HD video board that is positioned at Charlotte Motor Speedway. To the glee of gaming nerds everywhere, the ginormous display was broken in by Dale Earnhardt, Jr - but not in the way you'd think. Instead of filming him in his car, the professional NASCAR driver drove around the track in a simulated car using an iRacing simulation - which was transmitted in all its glory onto the screen for everyone to see.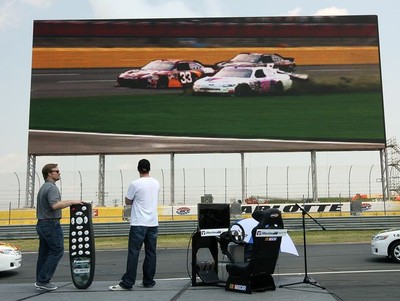 As it turns out, Marcus Smith, the president and general manager of Charlotte Motor Speedway, had invited Earnhardt Jr., who is an avid video gamer, to show off his skills on the giant HD video board. For the system's premier showing, both Smith and Earnhardt Jr. utilized an oversized remote (like those big fake checks you see on contest and awards shows) to turn on the Panasonic display. It's first video? Why, highlights of past racing action at Charlotte Motor Speedway, of course.
Audioholics (OK, just me, actually) is going to be at the Coca-Cola 600 on Sunday when the screen gets its racing debut. The Coca-Cola 600 is one of the most famous NASCAR events next to Daytona, so this is a grand entrance for Panasonic's new technology. I can't wait to see it.
UPDATE: Check out Pics of the Panasonic Video Display in Action on Race Day!!!!
The Panasonic HD video board took an average of 57 workers per day, working more than 11,000 man hours, more than 4 months to build. The HD display weighs 332.5 tons and is the largest HD video board in the world - at least until some rich Sheik in the United Arab Emirates decides to upgrade his son's TV next week. The display is made up of 158 individual panels which are lit up by 9 million LED lamps. I don't know how many watts it pulls, but I have a sneaking suspicion it won't be Energy Star rated anytime soon!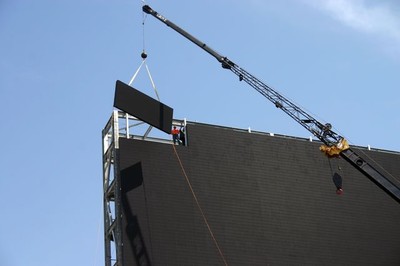 We'll add more pics after the race - stay tuned!
tcarcio posts on May 30, 2011 14:31
A little mod to my HTR and I could fit that baby right in…..
just-some-guy posts on May 29, 2011 20:45
the race is on right now, til about 10pm. but they are not showing much of this display.
i did catch a glimps of it, pretty darned impressive.
GlocksRock posts on May 24, 2011 12:28
Had I known Clint was in town, I would have bought him a beer or two.
GlocksRock posts on May 24, 2011 09:39
I should go by and check it out sometime, the track is only about 15 mins. from where I live, I'd love to play video games on it, that would be sweet. I wonder if you can see it from the road.
just-some-guy posts on May 23, 2011 20:50
my boss is a nascar FAN -ATIC. he saw the it and thought it to be pretty cool.

i don't watch every race. and sat night is movie night, so i didn't see it.
Post Reply