Wolfson Intros Programmable Standalone Audio DSP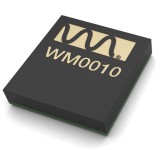 Wolfson Intros Programmable Standalone Audio DSP
Wolfson Microelectronics plc has today announced the next step in its journey towards delivering a complete high definition (HD) audio solution by unveiling the WM0010, Wolfson's first ever fully programmable standalone audio digital signal processor (DSP) with a selection of sound enhancement software.
The WM0010 is one of the first products of its type on the market to incorporate a low power, high performance Tensilica HiFi DSP core. Working in tandem with the application processor, it combines Wolfson's low power audio co-processor with embedded system software, algorithms and software support, allowing manufacturers of smartphones, tablet PCs and televisions to integrate their own software components and build an individual HD audio solution that supports an extensive range of key use cases. With audio increasingly being dis-integrated into separate audio devices, and audio processing demands growing, the WM0010 allows customers to differentiate their products in the market place.
As well as being fully programmable, the WM0010 also delivers 'off-the-shelf' solutions including Wolfson's unique range of SoundStage™ products, enabling dramatically enhanced 3D immersive sound for movie and music playback. Additionally, it allows customers to integrate their own software components. The WM0010 significantly improves audio playback time by allowing the host processor to 'sleep' for up to seven out of eight seconds of audio; while the use of complex algorithms, including Wolfson's class-leading transmit noise cancellation (Tx), acoustic echo cancellation (AEC) - which both deliver up to 32 dB of noise cancellation capability - and beam-forming solutions for VoIP applications, dramatically enhance the audio call experience.
Providing a flexible architecture to allow easy integration into different architectures and system software, the WM0010 centralizes all audio processing into one low power signal processing package, reducing development costs and providing a modular signal processing system that maintains audio performance across platforms. Extensive memory resources and core optimization allow the WM0010 to manage all audio processing algorithms efficiently and autonomously through use of the sophisticated system software and easy-to-integrate host CPU Linux drivers.
The WM0010 benefits from access to Wolfson's SoundStage™ codecs, existing third-party codecs as well as those from Tensilica. This allows consumer electronics manufacturers to deploy their existing IP along with new IP across a whole range of application use cases and multiple architectures, allowing them to differentiate their product range. 
Commenting on this announcement, Rob Dobson, Product Line Manager, DSP and Software at Wolfson Microelectronics, said, "With the WM0010, Wolfson is taking HD audio to a new level: providing the lowest power, best feature set, programmable audio DSP product in the market today.  The WM0010 combines both high performance and low power DSP system capabilities. As well as being fully programmable, which allows manufacturers to integrate their own audio algorithms and create a unique HD audio solution, the WM0010 also offers fully-integrated 'off-the-shelf' solutions to allow manufacturers to further differentiate their applications in the highly competitive consumer electronics market."
Availability
The WM0010 is available for sampling now in limited quantities in a 4.01 mm x 3.436 mm W-CSP package, priced at $4.98 in 1K volume.
For more information about Wolfson Microelectronics, please visit: http://www.wolfsonmicro.com
About Wolfson Microelectronics
Wolfson Microelectronics is a global leader in the supply of high performance, mixed-signal semiconductor solutions to the consumer electronics market. In the home, in the office and on the move, Wolfson's innovative technology can be found at the heart of many of the world's leading digital consumer goods, including premier hi-fi equipment, mobile phones, MP3 players, flat panel TVs, digital still cameras and portable navigation devices.