Wireless Projector Introduced by Toshiba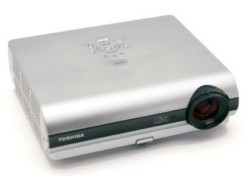 IRVINE, Calif. - May 17, 2005 - Toshiba's Digital Products Division, a division of Toshiba America Information Systems Inc. today introduced the TDP-SW25U wireless DLP projector, a high-performance, portable presentation tool for mobile professionals, educators, corporate customers and small-to-medium-sized businesses priced at $1,299. Toshiba will be offering a 10 percent instant rebate for the TDP-SW25U when pre-ordered or purchased now until June 15 [Note: website shows $100 instant rebate - Editor].
The TDP-SW25U features a lightweight design and is ideal for use in almost any room size. Its DLP technology enables bright, high-quality images with 1,800 ANSI lumens, a 2000:1 contrast ratio and native SVGA 800 x 600 resolution.
Toshiba's TDP-SW25U comes with integrated IEEE 802.11b/g wireless(2) functionality that delivers fast set-up time and enables presenters to connect to the projector from anywhere in the room and deliver sequential presentations without the need for cables. The wireless projector's PC card slot allows users to store presentations on a PCMCIA type II storage card, enabling "PC free" presentations.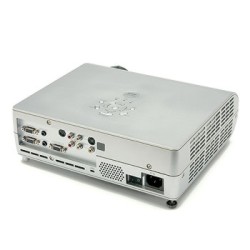 "The TDP-SW25U's wireless capabilities work especially well in educational settings when paired with Toshiba's Tablet PC," said Alex Ijuin, assistant general manager for Toshiba DPD's Projector Business Unit of Toshiba America Information Systems Inc. "Presenters can make notes and edits directly to the presentation from anywhere in the room, providing for a more interactive classroom or training experience."
The TDP-SW25U includes a range of multimedia capabilities and connectivity options such as composite, component and S-video inputs and audio in/out capabilities. A monitor output connector allows users to view presentations from an external display, in addition to what is projected on the screen. This feature allows presenters to face their audience directly, rather than turning around to read slides as they appear on the screen.
Weighing only 6.8 pounds(3), users can easily transport the projector in between classrooms, offices or when traveling. The TDP-SW25U sports a sleek, eye-catching exterior that is constructed of a metallic silver casing for a professional look and feel.
The TDP-SW25U incorporates user-friendly features, including one-touch auto set-up, keystone correction and a fully loaded remote control for seamless, professional presentations. Users simply plug the projector in and can begin making presentations.
With a whisper-quiet fan that runs at approximately 33 dBA (decibel adjusted) in low mode, the projector is designed to not distract the audience.
The Toshiba TDP-SW25U is available for pre-order immediately and shipments are scheduled to begin June 1 through ToshibaDirect at www.toshibadirect.com .
About Toshiba America Information Systems Inc. (TAIS)
With headquarters in Irvine, TAIS is comprised of three divisions: Digital Products, Digital Solutions and Storage Device. Together, the three divisions provide mobile products and solutions, Internet access plans, communications, storage and imaging products and services. Products include industry-leading portable computers, projectors, telephony products, digital imaging systems, wireless solutions and services, and DVD/CD recordable products and hard disk drives for computers.
TAIS provides sales, marketing and services for its wide range of information products in the United States and Latin America. TAIS is an independently operated company owned by Toshiba America Inc., a subsidiary of Toshiba Corp., a world leader in high technology and integrated manufacturing of electrical and electronic components, products and systems. Toshiba has global sales of over $52 billion and more than 300 subsidiaries and affiliates worldwide. For more information, visit the company's Web site at www.toshiba.com .