Wireless POWER for Mobile Devices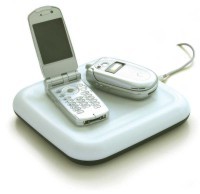 TOKYO & CAMBRIDGE, United Kingdom - Sept. 30, 2005 - Splashpower Ltd, the world leaders in wireless power for portable devices, today announced 2 new product lines, the Multi SplashPad and the Single SplashPad. Demonstrating the scalability of Splashpower's patented Paraflux(TM) technology, this product range opens up the promise of wireless power to an ever greater range of applications. Splashpower has the only technology platform to deliver interoperable and universal wireless charging, and is focused on solving the power dilemma for the latest power-hungry mobile devices.
The following products will be shown to the public in a world premiere at the CEATEC consumer electronics show in Tokyo, Japan from 4-8 October, 2005.
Multi SplashPad: This flagship product lets users power multiple devices simultaneously simply by placing them on the pad surface. Mobile phones, PDAs, MP3 players and digital cameras can all be powered without the need to plug in to a charger, and in no extra time.
Single SplashPad: This product will power one device at a time and is universal so will work with a range of different devices. It is slim, light and portable, and serves as a perfect entry point for OEMs who want to provide a complete solution right out of the box to consumers.
Receiver modules: Receiver modules enable manufacturers to integrate wireless power capability directly into their mobile products.
Mobile Accessories: These add-on accessories enable existing mobile devices to be powered by a SplashPad. A range of accessories for popular devices such as NTT DoCoMo's FOMA 3G phones and the Apple iPod will be demonstrated at the show.
Lily Cheng, Co-Founder and CEO, said, "Our focus is on humanizing technology. The new generation of consumers are looking for a richer experience but with less complexity. They care about design and lifestyle. Technology is like cosmetics -- the less visible, the better. This product debut at CEATEC is our first step towards delivering this promise.
"Currently the industry is focusing on improving battery chemistries and device power consumption to combat decreasing battery life, but charging is an essential part of the power equation and needs to be considered as part of the solution."
Already Splashpower has signed a number of leading mobile phone and camera companies in early access agreements. Working with these manufacturers, Splashpower will remove the last wire in mobile devices -- the power cord -- enabling truly wireless devices.
Images of the products and further information are available at www.splashpower.com .