Westinghouse Digital Ships New 1080p 37-Inch LCD Display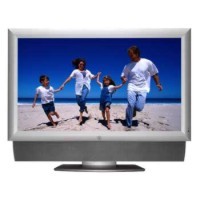 SANTA FE SPRINGS, CA - June 28, 2005 - Westinghouse Digital Electronics, a leading North American LCD TV and monitor provider, today announced the availability of its 37-inch LCD HD Video monitor, the largest monitor to date in the line. The new monitor is part of the Westinghouse Digital 1080p resolution line, which offers the highest standard available to consumers for HD digital video display, leading the industry in picture clarity and vividness with more than two million pixels to dramatically enhance the digital entertainment experience.
"Connect the Westinghouse 1080p 37-inch monitor to any HD cable or satellite box or PC and the picture quality is stunning," said Douglas Woo, president of Westinghouse Digital. "Until now, the 1080p technology was available only for advanced commercial applications such as high-resolution medical imaging and studio monitors for high-definition video editing. Now consumers can choose from the first line of LCD displays for the mass market to offer a 'true' high-definition digital viewing experience."
The new 37-inch 1080p LCD video monitor provides consumers the ultimate viewing experience of HDTV programming and other high-resolution video content. The monitor features a 1920x1080 progressive scan (1080p) resolution, delivering unparalleled clear images and vivid color in a convenient and attractive thin, flat-panel design that can be easily mounted on a wall. With two DVI inputs with HDCP, two component video inputs and standard VGA and RCA, the monitor allows users to connect to PCs, satellite and cable boxes, game consoles, DVD players and the latest multimedia video source to experience the stunning picture quality of 1080p. The detachable 20-watt speakers and a classic clean, contemporary style complete a beautiful display for the home, boardroom or commercial applications.
"Westinghouse Digital has taken its LCD TV expertise and created a premium monitor that produces crisp images for digital entertainment, home office tasks and the Internet," said Woo. "Consumers can expect to see additions to our growing monitor line that are HD-Grade(a) and feature 1080p resolution."
Westinghouse Digital is one of few LCD providers offering a 37-inch HD-Grade monitor with over two million pixels. The 37-inch LCD monitor offers faster response times, better brightness, wider viewing angles and higher contrast ratios than older LCD panel technology. The LCD, flat-panel feature saves valuable space and provides the clearest and truest picture. The 37-inch monitor's estimated retail price is $2,299.
Product specifications include:

LCM-37w1
Screen size: 37-inch
Native resolution: 1920x1080
Aspect ratio: 16:9
Brightness: 550 cd/m2
Contrast ratio: 1000:1
Viewing angle: 176-degree (horizontal)
176-degree (vertical)
Response time: 12 ms
Display Colors: 16.7 million true color
Westinghouse Digital Electronics' LCD TVs and monitors are sold at retailers nationwide. To locate a specific retailer, or for more information, please visit http://www.westinghousedigital.com .
About Westinghouse Digital Electronics
In continuing the 100-year-old Westinghouse tradition of producing quality products, Westinghouse Digital Electronics is bringing the venerable American brand to consumers of all ages with new technology products, making it easier for mainstream consumers to experience the latest in digital entertainment. Through superior technology, dependability, performance and design, the company offers consumers LCD TVs and monitors that are reliable, easy-to-use and deliver the best value in digital entertainment devices. Westinghouse LCD TVs and monitors are available nationwide at more than 2,000 consumer electronics retail stores and other resellers. For additional information, or to purchase accessories such as Westinghouse Decor(TM) frames and mounts, please visit http://www.westinghousedigital.com .