Warner Home Video Announces Blu-ray 3D Bundles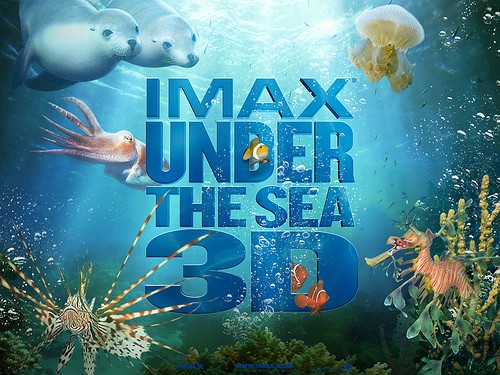 IMAX Under the Sea 3D
Warner Home Video announced today that it has partnered with two major CE manufacturers, LG Electronics, Inc. and Sony Electronics Inc., to offer new Blu-ray 3D versions of IMAX Under the Sea 3D, IMAX Space Station 3D and IMAX Deep Sea 3D with the purchase of select Blu-ray 3D players, 3D TVs and 3D projectors.
Consumers in the U.S. and Canada who purchase an LG BX580 or BX585 3D Network Blu-ray Disc Player now through December 31, 2010 will be eligible to receive IMAX Under the Sea 3D via mail-in coupon. Complete details on the offer are available on LG's website at LGusa.com/3Dpromo. Consumers in various territories in Europe, Asia, South America and Central America who purchase any LG Blu-ray 3D Player, Blu-ray 3D Home Theater, 3D Projector or 3D TV will be able to receive IMAX Space Station 3D via mail-in coupon or inside the player box.
Also beginning in July, consumers in North America and various territories in Europe, Asia, South America and Central America who purchase any Sony Blu-ray 3D player, 3D TV or set of 3D glasses will be eligible to receive IMAX® Deep Sea 3D via mail-in coupon.
"We are thrilled to collaborate with LG and Sony in support of their Blu-ray 3D hardware launches while also seeding the market with a more diverse selection of Blu-ray 3D titles for consumers to enjoy," said Dorinda Marticorena, Senior Vice President, Worldwide Marketing and High Definition. "IMAX is simply the best in 3D and these visually stunning titles are perfect for consumers who want to take full advantage of and show off their new Blu-ray 3D home theater systems."
Blu-ray 3D is an extension of the Blu-ray Disc format that enables the home entertainment industry to bring the full high-definition 3D experience into the living room. Old anaglyph 3D technology used paper glasses with red and blue lenses which filtered out light to produce a low-quality 3D experience. New stereoscopic 3D uses "active" technology, allowing every Blu-ray 3D player and movie to deliver full high-definition 1080p resolution to each eye. "Active shutter" 3D glasses (battery powered and either bundled with the 3D TV or sold separately) quickly block each eye in sequence to ensure that each eye only sees the corresponding image being displayed on the 3D TV set. This technology allows for a fully immersive, theater-quality 3D experience at home. What's more, Blu-ray 3D players are backwards compatible, so viewers can still watch standard definition DVDs and 2D Blu-ray Discs without needing a separate player.
About IMAX Under the Sea 3D
Imagine a world of incredible color and beauty. Of crabs wearing jellyfish for hats. Of fish disguised as frogs, stones and shag carpets. Of a kaleidoscope of underwater life. Now, go explore it! The makers of Deep Sea and Into the Deep take you into tropical waters alive with adventure: the Great Barrier Reef and other South Pacific realms. Narrated by Jim Carrey and featuring astonishing camerawork, this amazing film brings you face to fin with Nature's marvels, from the terrible grandeur (and terrible teeth) of a Great White to the comic antics of a lovestruck cuttlefish. This Blu-ray 3D disc will have both 3D and 2D playback capabilities.
IMAX Space Station 3D
The first cinematic journey to the International Space Station (ISS), where audiences can experience for themselves life in zero gravity aboard the new station. The audience blasts off into space with the astronauts and cosmonauts from Florida's Kennedy Space Center and Russia's Baikonur Cosmodrome to rendezvous with their new home in orbit 220 miles above Earth. Space Station is a story of challenges, setbacks and triumphs and ultimately, the shared international victory of men and women whose dreams exceed the limits of life on this Earth. This Blu-ray 3D disc will have both 3D and 2D playback capabilities.   
IMAX Deep Sea 3D
Dive in! A sea full of wonders awaits. Famed oceanic filmmaker Howard Hall (Into the Deep) guides this immersive adventure that lets you swim alongside some of the most exotic creatures of the planet. Johnny Depp and Kate Winslet provide the narration. And an unusual array of finned and scaled stars are ready to steal every scene. Among them: Green Sea Turtles who gather off Kona so that Surgeonfish can strip harmful algae from their shells...an ominous, predatory Humboldt Squid that changes color four times per second like a flashing strobe light...an underdog Mantis Shrimp, whose claws have the speed of a 22-caliber bullet, in battle against a hungry octopus (the shrimp wins!). So many creatures. So many amazing stories. Sea them all. This Blu-ray 3D disc will allow 3D playback only.
About Warner Home Video
With operations in 90 international territories, Warner Home Video, a Warner Bros. Entertainment Company, a division of the Warner Bros. Home Entertainment Group, commands the largest distribution infrastructure in the global video marketplace. Warner Home Video's film library is the largest of any studio, offering top quality new and vintage titles from the repertoires of Warner Bros. Pictures, Turner Entertainment, Castle Rock Entertainment, HBO Home Video and New Line Home Entertainment.
About IMAX Corporation
IMAX Corporation is one of the world's leading entertainment technology companies, specializing in immersive motion picture technologies. The worldwide IMAX network is among the most important and successful theatrical distribution platforms for major event Hollywood films around the globe, with IMAX theatres delivering the world's best cinematic presentations using proprietary IMAX, IMAX 3D, and IMAX DMR® technology. IMAX DMR is the Company's groundbreaking digital re-mastering technology that allows it to digitally transform virtually any conventional motion picture into the unparalleled image and sound quality of The IMAX Experience. The IMAX brand is recognized throughout the world for extraordinary and immersive entertainment experiences for consumers. As of March 31, 2010, there were 438 IMAX theatres (316 commercial, 122 institutional) operating in 47 countries.