Vutec Introduces Retracta-Vu Theater System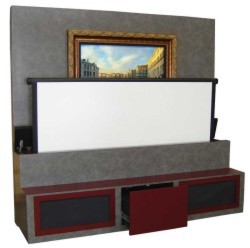 POMPANO BEACH, Fla - Vutec Corporation has just launched Retracta-Vu Theater, a motorized, completely retractable and disappearing home theater that houses a screen, an NEC WT610 projector, audio equipment and accessories.
The projection screen includes Vutec's VuFlex Pro material, and features patented Retracta-Vu technology that causes the screen to ascend and descend into a cabinet eight feet long, 32 inches high and 25 inches wide. The system can interface with most standard IR or RF controls.
The display uses NEC's patented lensless mirror design to attain the shortest throw distance of any front projector. The WT610 features a 3500:1 contrast ratio for outstanding image quality with deep black detail and produces 2000 ANSI lumens.
"The Vutec cabinet theater provides an excellent venue for the WT610 projector," said Keith Yanke, product manager, NEC Visual Systems Division. "This unique home entertainment unit combines the newest technologies of each company to bring both convenience and viewing excellence to the home theater enthusiast."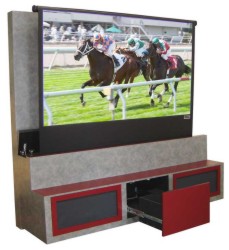 The NEC WT610 display mounts into a projector drawer in the Retracta-Vu Theater below the 92 diagonal inches screen that automatically opens and closes as the screen ascends and descends.
"All components completely disappear into beautiful cabinetry," said Howard L. Sinkoff, president of Vutec Corporation. "This is a designer or homeowners' dream. The theater will retract into a visually appealing cabinet that will be offered in a selection of finishes."
Vutec Corporation and NEC will jointly market the custom made Retracta-Vu Theater through their networks of authorized dealers. The dealers will package the components, including audio, video and electronic accessories that all fit into the cabinet compartments.
"This theater setup meets the needs of those who wish to have a home theater, don't have a dedicated room but want the theater atmosphere," added Sinkoff.
About Vutec Corporation
Vutec Corporation is a Florida company and world leader in video projection screen technology. Video projection screens and accessories are designed for home, commercial, industrial and institutional markets worldwide. Vutec holds patents and patents pending on several products and provides its services through a rapidly expanding global network of authorized dealers and distributors. For more information, please contact Vutec at (800) 770-4700, e-mail at [email protected] or visit Vutec online at http://www.vutec.com .
About NEC Solutions America, Visual Systems Division
NEC Solutions America, Visual Systems Division markets, sells and supports unlimited visual display solutions that enable users to live up to the power of their ideas. Technologies include DLP- and LCD-based mobile, installed and large venue projection systems, as well as PlasmaSync® plasma displays designed specifically for the unique needs of the public display and multimedia presentation environments. The Visual Systems Division is a business group of NEC Solutions America, Inc. To learn more about NEC Solutions, go to http://www.necsolutions-am.com .