VUDU Scoops Avatar HD Streaming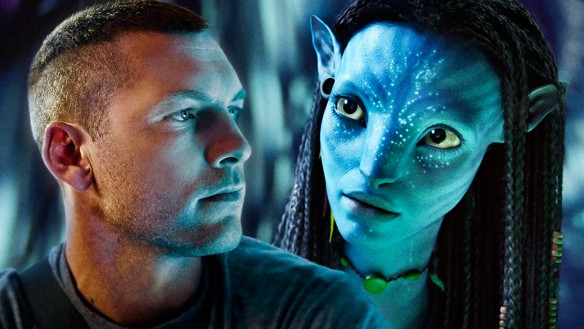 VUDU streams Avatar
VUDU, who was officially acquired by Walmart in March of this year, announced this morning that they are the only streaming media service provider that will offer Avatar in HD on April 22nd at 12:01 am EST, Earth Day, in a rare day-and-date release. While other streaming services will have Avatar in SD, they won't be able to deliver it in high definition format like VUDU. For example:
Sony's Playstation 3 will have Avatar in HD, but it is only available as a full priced download 
No other streaming services (CinemaNow, Netflix, etc) will have Avatar in HD on Thursday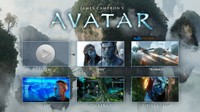 Presumably, Avatar will be priced in accordance with other new release titles. In addition to making Avatar available in HD, VUDU is also offering a suite of "special features" for the first time, which the company intends to use as a completely new level of promotional content. Some of this content, such as the extra featurette entitled "Hardware" is going to be exclusive to VUDU at this time. These extra features will be free on the VUDU service for this release, as part of a promotional effort behind the release of Avatar.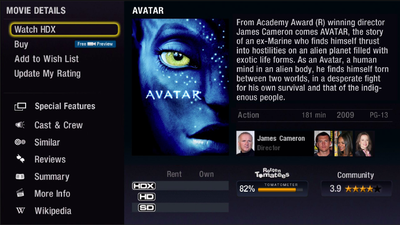 Pricing for the Avatar HD download will be $19.99 for SD and $24.99 for HD/HDX. The way VUDU works is that the service is now streaming-only. There are no downloads whatsoever, presumably to meet the demands of the studios regarding licensing and rights.  These are the prices for purchase (as opposed to rental).  "Purchasing" on VUDU essentially gives the customer unlimited license to stream it as often as they like, but it is stored in "the cloud" (VUDU's servers). This of course brings to mind issues of DRM and longevity, but that is another topic altogether.
Twentieth Century Fox set Earth Day, April 22, for the DVD and Blu-ray release of Avatar. True fans are in for a royal bilking, however, as they will have to wait until November for another version that will include all the usual extras. And while Avatar may have been known for its amazing 3-D picture, don't expect to see a 3-D Blu-ray version until next year, when more consumers are expected to have 3-D televisions in their homes.
By the looks of it, people aren't exactly going to be rushing to stores this Christmas to pick up 3-D televisions and BD players with all the studios delaying the very one thing (software) that will drive sales.
For now, VUDU seems to be leading the way in how this movie can stream into homes quickly and in high definition.