Voltron: Defender of the Universe Live Action Movie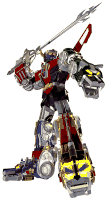 Producer Mark Gordon ("The Day After Tomorrow") is developing a live action feature film based on the 1980s giant robot kids TV series and toy sensation.
The "Voltron" animated TV series debuted in 1984, about the same time as Hasbro's Transformers toy line, igniting a morphing robot phenomenon. It's interesting to note that this movie seems destined to come out at about the same time as Spielberg's Transformers movie . This is not unexpected given Hollywood's proclivity for releasing movies in pairs .
The story is currently being written, but it will apparently be based on the series about "five maverick explorer-pilots who must travel to the planet Arus to learn how to operate Voltron, a giant mechanical warrior formed by five smaller robots. The gargantuan robot is the last hope against the evil Drule Empire that has subjugated Earth and taken control of the universe."
Mark Costa and Ford Oelman, of New Line Cinema, secured the rights from "Voltron" owner World Events, and eventually brought the project to Gordon, whose credits also include "Saving Private Ryan" and "Speed." Costa and Oelman will be Executive Producers, along with Pharrell Williams, who will score the film and produce the soundtrack.