Vogel Announces Mount & Cover System for iPad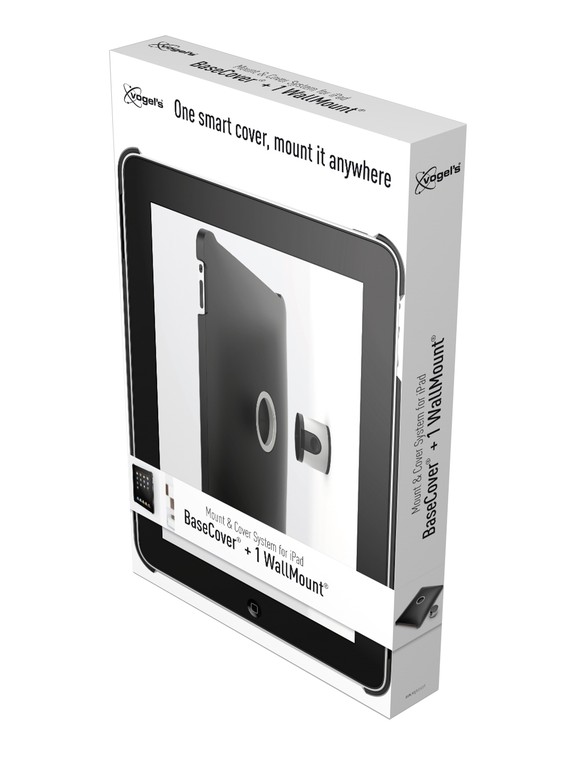 Vogel's iPad Mount & Cover Kit
Vogel's announced today at IFA 2010 Expo in Berlin, Germany, the Vogel's "Mount & Cover System for iPad", a unique mounting solution for protecting and mounting your iPad at home, work and when traveling.  Drawing on Vogel's proven experience in secure mounting systems, Vogel's Mount & Cover System for iPad safely mounts Apple's highly successful iPad tablet wherever it's needed: on walls, tables, desks, or in cars for easy accessibility and usability at all times. 
The Vogel's Mount & Cover System for iPad lets you use the iPad as an in-car entertainment system; in the living room as a sound controller, to watch DVDs, news or weather stations; in the kitchen to view iBook recipes; or in the bedroom to listen to music or as an alarm clock.
The Vogel's Mount & Cover System for iPad includes the following products:
Vogel's BaseCover

Cover protects the back of the iPad with a soft tactile coating, making it extremely easy to hold.

Reverses to protect the front of your iPad and its buttons, especially useful when you are traveling or when placing the iPad in a bag or purse.

Special patent-pending aluminum connector enables the iPad (with BaseCover attached) to be connected to a range of Vogel's mounts, including the WallMount, TableMount, and CarMount (more info below).

Adds minimal additional bulk to the iPad.

Additional mounting/cover solutions will be added in the future.

Vogel's WallMount

Small hidden button mount can be screwed onto almost any wall's surface.

Snaps into the iPad (with BaseCover attached) for easy storage, ready for instant viewing or access.

Once mounted, the iPad can be easily rotated to up to 360 degrees.

Locking system ensures robust and secure stability.

Vogel's CarMount

Mounts iPad for in-car use.

Adapted from Vogel's successful DVDock. 

View movies for an instant in-car iPad-based DVD entertainment system.

No tools needed.

Attaches securely to the headrest, so back-seat travelers can enjoy content on the iPad while in the car.

Vogel's TableStand

Enables the iPad (with BaseCover attached) to be placed on a table, shelf or desk for viewing movies, tv shows, or photos.

Displays in either portrait or landscape mode.

Vogel's patent-pending Mount & Cover System for iPad sets the standard for mounting systems for current and future iPads and other tablet PCs.  It opens the way for mounting personal screens anywhere, building upon Vogel's rich experience in stylish design, advanced functionality, high quality and expertise in mounting flat screen TVs.
Vogel's is offering a licensing program to enable third parties to use or embed the Vogel's system in their covers or mounts.
Pricing & Availability
Available in Europe October 2010, with U.S. availability early 2011, the Vogel's Mount & Cover System for iPad starter kit includes 1 BaseCover and 1 WallMount, priced at 79.99 Euro (U.S. pricing to be determined).  The BaseCover is also sold separately, priced at 59.99 Euro and the WallMount is 29.99 Euro.  Pricing for the CarMount and TableStand will be announced next month, prior to availability. For more information, see or www.ipadonthewall.com or www.vogels.com.
About Vogel's
For over 35 years, award-winning Vogel's has been internationally producing Audio/Video mounting solutions.  The European market leader with a distribution network that spans the globe, Vogel's is one of the most trusted and well-known experts in the mounting solutions business with many prestigious international awards, including the Red Dot Product Design Award, RetailVision Award 2010, and many more. Vogel's designs, develops and sells support and mounting solutions for LCD and plasma screens, audio and video equipment and projectors. In 2010, Vogel's has begun expanding into new categories, such as gaming with TwistDock for the PlayStation 3, and accessories for the Apple iPad. Based in The Netherlands, Vogel's has national sales organizations located in the U.S., U.K., Italy and Spain, and is supported by a local distribution network around the world.  Vogel's stands for innovation, quality and reliability.  For more information, see www.vogels.com.
maxx103 posts on September 13, 2010 21:18
???

Just wondering but how many of you here have one and do you like it. also cool case.
Post Reply