Virtual User Experience (VUE) Opens at Ritz-Carlton Naples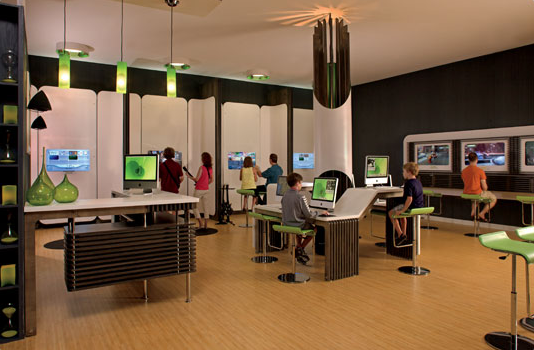 Ritz-Carlton Naples Virtual User Experience
It used to be that the best you could find in a hotel was a 20-inch CRT television. Next came Internet access, then wireless... Finally, it seemed that nearly every newer hotel had a flat screen television. Now, imagine a luxurious, comfortable setting, where your senses are stimulated through the latest in entertainment technology. That's what the Naples Ritz-Carlton offered to its guests with their interactive Virtual User Experience (vue).
The ultimate entertainment lounge, vue features all of the popular interactive virtual-reality games played via consoles hooked up to 40" Samsung LCD TVs from Microsoft Xbox 360 game stations with wireless controllers, to Sony Playstation 3, and the latest from Nintendo Wii.
Sleek, white furniture, eco-friendly bamboo floors, and a modern black and white color scheme with green accents, all contribute to the contemporary wired lounge setting. Additionally, two individual lounge areas each offer a personal 19" flat screen television with DVD player, and iPod docking station for a more intimate experience.
In addition, vue boasts a 63" LCD with Blu-ray player controlled via remote touch pad, a top notch Bang and Olufsen surround sound system and several flat screen high definition LCD televisions to kick back and watch HDTV content and select movies in a home theater environment.
Central to the room is the Mac station, surrounded by six stylish green leather bar stools for the iMac computers. Rising through the middle of the Mac station is a dramatically lit column further creating an intriguing atmosphere.
Guests may participate in a variety of entertaining options from weekly Wii bowling tournaments to Wii Fit exercise classes and casual, fast-paced arcade action or multiplayer frag-fests on Xbox LIVE.
Staffed by experienced gamers, vue provides the perfect setting for the ultimate social gaming experience with the latest in technology.
vue is complimentary to hotel guests, available for groups, and open daily from 3 p.m. to 9 p.m.