ViewSonic Intros N3250w 32-Inch LCD TV for $1299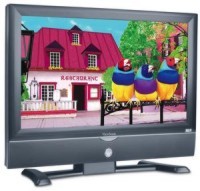 LAS VEGAS - June 8, 2005 - ViewSonic Corp., a worldwide visual display leader, today made it easier for consumers to switch to high definition television (HDTV) and flat panel technology with the introduction of the N3250w. The high performance, 32-inch, wide-screen LCD TV provides superior customer value as a high-definition ready TV or computer display at an estimated street price of $1299.
ViewSonic designed the N3250w to provide an optimum viewing experience--regardless of the content being shown. The LCD TV includes ViewSonic's ClearPicture(TM) electronics, an ultra-high brightness of 550 nits (typ), an 800:1 contrast ratio (typ) and a 1366x768 resolution to ensure accurate colors, vibrant video and sharp data images. A wide 170 degree viewing angle and a fast 12 millisecond video response time further enhance the viewing experience by delivering smooth full-motion video images on applications like HDTV, gaming and surfing the Internet.
According to DisplaySearch, the leader in flat panel display market research and consulting, 32-inch LCD TVs are expected to overtake 20-inch LCD TVs as the number-one size in the second quarter of 2005. ViewSonic is positioned to help fuel this trend by continuing to expand its LCD TV line up with products like the N3250w that offer popular form factors and feature sets.
"Consumers and businesses alike are proving that LCD TVs can be a valued focal point in diverse environments, from capturing attention in living rooms and offices to larger public settings," said Jeff Volpe, vice president of marketing, ViewSonic. "In addition to giving users the larger screen size they prefer, the N3250w satisfies demands for ultimate versatility and value by providing a cost-effective solution for home entertainment."
The N3250w display also features an integrated NTSC tuner with PIP (video-over-data) window, a V-chip and closed caption, as well as provides the highest quality connection possible with multiple composite, component, S-video, analog RGB and DVI input with high-definition content protection (HDCP).
Home entertainment and digital signage experiences are further enhanced with two powerful 12-watt stereo speakers, SRS virtual sound capability and a universal remote that is capable of controlling a variety of peripherals, including set-top boxes, VCRs, DVD players and gaming consoles.
Available in July, the N3250w will be sold through authorized ViewSonic resellers and retailers. It is backed by a one-year limited warranty on parts, labor and backlight and is eligible for ViewSonic's optional Express Exchange(R) program, which guarantees a replacement unit within 48 hours, where service is available. An optional two-year extended warranty is also available. ViewSonic offers toll-free technical support, 24 hours a day, 7 days a week, excluding major U.S. holidays. For more information or images of ViewSonic LCD TVs, or to locate an authorized ViewSonic dealer, visit www.viewsonic.com/lcdtv or call 800.888.8583.
About ViewSonic
ViewSonic(R) Corp., a worldwide leader in visual display products, offers comprehensive display solutions for today's business, education and consumer electronics markets. The company's products have won more than 2,000 awards globally from independent publications and organizations.
Headquartered in Walnut, Calif., ViewSonic was founded in 1987 and is a privately held corporation. For further information, please contact ViewSonic Corp. at tel: 800.888.8583 or 909.869.7976; fax: 909.468.3736; or www.ViewSonic.com .