ViewSonic Introduces 2 New Commercial Flat-Panels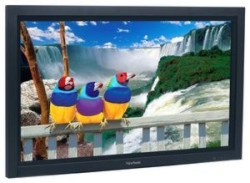 WALNUT, Calif. - ViewSonic(R) Corp., a worldwide leader in visual display products, today introduced two large-screen, flat-panel displays designed for digital signage, videoconferencing and other commercial applications. Featuring superior front-of-screen performance and professional designs, the 40-inch N4000wP HDTV (1280x768) LCD and 42-inch VPW4200 EDTV (852x480) plasma displays are ideal for airports, conference rooms, information kiosks, studios, tradeshows and financial exchanges.
Fully configurable for custom installations, the N4000wP and VPW4200 provide the ability to stream data and video continuously from both computer and consumer electronic sources through a wide range of durable analog and digital video inputs and extensive user controls. The flat screens feature advanced anti-glare treatments to provide clear pictures without reflections or image distortion at any angle. Various optional stands, wall mounts and speakers are also available to satisfy diverse commercial setting requirements.
"Professional AV display technology is becoming necessary for many commercial environments, from meeting rooms and convention halls to retail stores and sports arenas," said Jeff Volpe, vice president of marketing, ViewSonic. "As the choice of professionals, ViewSonic is poised to capitalize on the growth of this commercial market sector by delivering high performance display products with, low pricing and professional designs."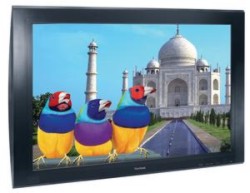 The N4000wP HDTV LCD video display is ideal for exhibiting promotional information, presentations and corporate signage. It supports all data sources and video signals-including high definition-and assures the best content transmission by featuring full computer and video compatibility through DVI with high-definition content protection, S-video, composite and component video inputs. Available for an estimated street price (ESP) of $3,699, the N4000wP provides exceptional performance features such as 450 nits (typ) of brightness, 1280x768 resolution, 600:1 (typ) contrast ratio and 170-degree horizontal and vertical viewing angles.
Available for an ESP of $2,499, the VPW4200 EDTV plasma display offers high brightness of up to 1,000 nits (typ), picture-in-picture and split-screen capabilities. Additional features include a four burn-in countermeasure, an external RS-232C control interface that manages images and sound remotely, a quiet fan-less design and an audio amplifier that ensures compatibility with almost any commercial application.
ViewSonic's ClearPicture(TM) electronics ensure that the N4000wP and VPW4200 provide customers with the highest quality images possible, regardless of the content being viewed. Both displays offer contrast enhancement and motion adaptive de-interlacing technology to correct color, enhance detail and improve overall images, while digital 3D comb filter and 3:2 pull down capabilities provide a larger, clearer picture with fewer artifacts.
The N4000wP and VPW4200 are backed by a one-year on-site limited warranty on parts, labor and backlight, along with toll-free technical support, 24 hours a day, seven days a week, excluding U.S. holidays. For more information or images of ViewSonic displays, or to locate an authorized ViewSonic dealer, visit http://www.viewsonic.com or call 800.888.8583.
About ViewSonic
ViewSonic(R) Corp., a worldwide leader in visual display products, offers comprehensive display solutions for today's business, education and consumer electronics markets. The company's products have won more than 2,000 awards globally from independent publications and organizations.
Headquartered in Walnut, Calif., ViewSonic was founded in 1987 and is a privately held corporation. For further information, please contact ViewSonic Corp. at tel: 800.888.8583 or 909.869.7976; fax: 909.468.3736; or http://www.ViewSonic.com .
Forward-looking Statements
This press release contains forward-looking statements, including all statements relating to the performance expectations of ViewSonic products, business opportunities or financial performance. These statements are subject to risks and uncertainties that could cause actual results to be materially different than expectations. Such risks and uncertainties include, but are not limited to, ViewSonic's dependence on third-party manufacturers; its need to maintain and expand its sales channels; market acceptance of ViewSonic's products; general industry trends, including cyclical trends in the PC and visual display industries; and the impact of competitive products and pricing alternatives. Investors are advised to read ViewSonic's Form 10 filed with the Securities and Exchange Commission, particularly the section entitled "Factors that May Affect ViewSonic's Business and Financial Results."
Undue reliance should not be placed on these forward-looking statements, which speak only as of the date of this press release. All forward-looking statements are qualified in their entirety by this cautionary statement, and ViewSonic undertakes no obligation to revise or update any forward-looking statements to reflect events or circumstances after the date hereof.
Trademark footnote: All corporate names and trademarks are the property of their respective companies.