VidaBox vAutomation 2.0 Turns iPad into Touchscreen Remote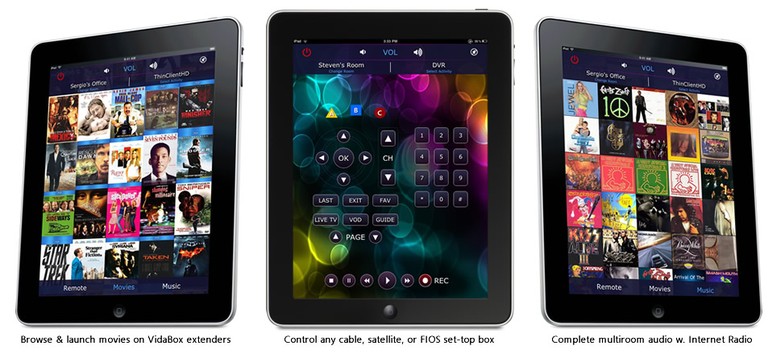 VidaBox vAutomation 2.0 with iPad
VidaBox, LLC announced the debut of the LiivController, a 4U rack-mount system that runs the new vAutomation 2.0 platform. Any iPad can access the LiivController running the vAutomation webapp via WiFi, which then turns its touchscreen interface into a remote control emulator. The iPad can now provide total control of any device, ranging from cable or satellite TV boxes to VidaBox media servers & multiroom audio systems - all via IR, TCP/IP, and RS-232 commands sent from the LiivController.
"The combination of the iPad and the LiivController running our vAutomation 2.0 platform provides the seamless AV equipment control & media browsing experience that dealers and customers are clamouring for," states Steven Cheung, President of VidaBox, LLC. "With a single tap on an iPad, customers can power their TV, receiver, dim the lights, and then see a cable box remote displayed right on the touchscreen & start channel surfing - all from one touch. They can also switch to different device inputs on their TV or receiver - say, a Blu-ray player - and see the remote control for their disc player come up right on the iPad. While they're enjoying the movie, volume and mute buttons are available on the same iPad interface - making it very simple and convenient to use."
Beyond controlling devices via IR, any iPad can also interface with the LiivController to control any VidaBox media center via TCP/IP to access Blu-rays, DVDs, Netflix, music, photos, videos, IPTV, and more. It also provides the unique ability for a user to browse stored movies and music via cover art, via the fast, efficient scrolling interfaces familiar to all Apple users. Tapping on any cover art will bring up rich, detailed metadata, and allow playback to start. This is natively available when a LiivController is added onto any VidaBox media server setup.
"Not limiting itself to video distribution and controls, the LiivController also provides optional support for up to 20+ zones of synchronized multiroom audio - without any additional matrix switchers," Cheung continues. "Best of all, audio can be streamed from stored CDs or internet radio sources, allowing endless variety. The same iPad interface can be used to control any one of the audio zones, and select music from Pandora, Rhapsody, Napster, Last.fm, Shoutcast, plus other popular streaming services!"
Unlike the older vAutomation platform, the touch interfaces on the newer vAutomation 2.0 platform are all based on predefined templates and require minimal programming. An integrator simply inputs standard information like zone names, AV devices' brands & model numbers, etc., plus communication & control details into the LiivController Configurator software. The system then automatically generates the iPad interfaces to be presented to the customer, reducing the time needed to complete new projects.
"As a standalone control system, or in combination with our VidaBox media servers and multiroom audio support options, the LiivController can be assembled together with a myriad of different products to create feature-rich, integrated solutions for virtually any audio, video, or control project - all at an excellent price point," Cheung elaborates. "Combined with the myriad of lighting, HVAC, and security apps available from different manufacturers, the iPad now becomes a truly powerful, yet inexpensive, all-in-one control tablet."
The LiivController is shipping Q4 of 2010, and will be available to qualified VidaBox dealers. For more details on vAutomation 2.0, the LiivController, VidaBox media centers, audio servers, and other VidaBox digital entertainment and control solutions, please visit the company website at http://www.vidabox.com, call +1-516-730-7500, or visit them at the upcoming CEDIA Expo in at booth 3670.
About VidaBox LLC
VidaBox LLC is a digital entertainment and controls solutions company focused on manufacturing premium media centers, audio servers, and integrated home control & automation solutions.  VidaBox is on a mission to create user-friendly, stable, high-performance Media Center systems that work right out of the box and integrate seamlessly with multizone audio and smart home technologies.  For more information, visit www.vidabox.com or call 1-516-730-7500.