VidaBox to offer all-in-one systems with CableCARD, Blu-ray, and HD DVD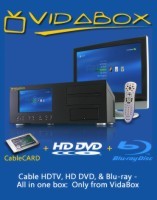 GARDEN CITY, NY - January 23rd - VidaBox, a manufacturer of premium media center systems, is delighted to announce that it will be offering a new CableCARD option to its line of media center products. With dual internal digital cable receivers, VidaBox CableCARD systems will not only feature integrated tuning for premium high definition digital content, but users can also add Blu-ray, HD DVD, and more than 3TB of RAID-5 protected storage.
"We're thrilled to be the only manufacturer to offer the latest in high definition - CableCARD, Blu-ray, and HD DVD - all in one box," said Steven Cheung, a co-founder of VidaBox. "Integrated dual CableCARD systems are one step closer to having a true 'one box' entertainment solution. Anyone can obtain a CableCARD from their cable television provider, insert it into their VidaBox, then start watching and recording dozens of premium HD digital channels (HBO, Showtime, Cinemax, ESPN, Discovery, etc.) All of our users can now experience up to 1080p playback, whether it be from their TV provider or a high-def video disc."
Continuing to be at the forefront of crystal clear and life-like video/audio playback, VidaBox CableCARD systems are engineered to allow a user to record two HD shows while playing back a third pre-recorded show, Blu-ray, HD DVD, high fidelity music, upscaled DVD, or digital picture slideshows. High definition content recorded from CableCARD can also be streamed and played back on connected Xbox 360 systems.
The new line of VidaBox media center systems with CableCARD are slated to ship March 2007.
About VidaBox LLC
VidaBox LLC is an innovative systems integration company focused on manufacturing and engineering premium Media Center systems. VidaBox is on a mission to create user-friendly, stable, compact, and quiet Media Centers that work right out of the box. For more information, visit www.vidabox.com or call 1-516-730-7500.