VidaBox RackServerV2 Adds Drop-n-Rip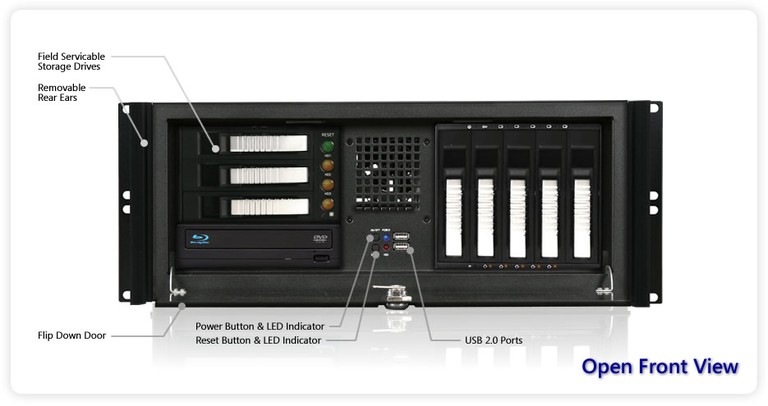 VidaBox RackServerV2
VidaBox, LLC, an innovative manufacturer of media server and control systems, introduces the new RackServerV2 dedicated media server. Over a single CAT cable, this 4U system can stream Blu-rays, DVDs, music, photos, videos, & other digital content to (10) or more VidaBox extenders losslessly, and sports popular features like 1-Step Drop-n-Rip and DualRip for seamless archival of unencrypted discs. The server comes in two variants - with or without RAID protection - and starts at $3299 US MSRP.
"We kept the very best features of the original RackServer, optimized its design to cut the cost, and this new RackServerV2 is the result. First, the massive expandability of the original system is preserved. For example, a project can start with as little as 2TB of RAID5 protected space, then be upgraded at anytime to 14TB onboard, or even up to 32TB by adding the RackServerV2+Plus expansion unit. That's enough storage for up to 5280 DVDs or 1280 Blu-rays - more than adequate for any residential or commercial project or application."
- Steven Cheung, President of VidaBox, LLC
Customers can quickly make use of the massive storage on the system with the 1-Step Drop-n-Rip™ archiving feature. Simply insert an unencrypted CD, DVD, or Blu-ray into the disc tray, and once closed, the system automatically identifies the title, tags it with the appropriate cover art, complete with rich metadata, and archives it onto the server - all in a single step. Movie titles are archived bit-for-bit, losslessly preserving the original quality. The tray is ejected when the archival is complete, notifying the user that it's ready for the next disc.
"Another great feature on the RackServerV2 is DualRip, which was designed with audiophiles in mind," explains Cheung. "Many people have iPods, so ripping music in a universally compatible format like MP3 is a great choice - but audiophiles will want high fidelity. This requires archiving CDs in lossless formats like FLAC or WMA lossless, but they won't play with iPods. The WAV audio format is another option - but it doesn't always preserve the metadata properly. DualRip solves this conundrum by archiving a CD in two formats - once in MP3 for universal compatibility & portability, with another rip made in a lossless format. This provides the customer with the best of both worlds and satisfies everyone's needs in any household."
The RackServerV2 is shipping and available now for all VidaBox dealers. For more details and specifications on the RackServerV2, media centers, servers, extenders, and other VidaBox digital entertainment and control solutions, please visit the company website at http://www.vidabox.com, call +1-516-730-7500, or visit them at the upcoming CEDIA Expo in at booth 1956.
About VidaBox LLC
VidaBox LLC is a digital entertainment and controls solutions company focused on manufacturing premium media centers, audio servers, and integrated home control & automation solutions.  VidaBox is on a mission to create user-friendly, stable, high-performance Media Center systems that work right out of the box and integrate seamlessly with multizone audio and smart home technologies.  For more information, visit www.vidabox.com or call 1-516-730-7500.