VidaBox Ultimate iPad On-wall Mount Preview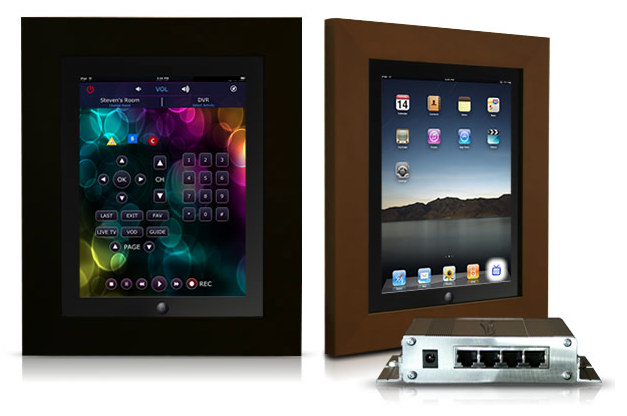 VidaBox Ultimate iPad On-wall Mount
VidaBox LLC today announced that the company is now shipping its on-wall iPad mounting solutions. A perfect fusion of form and function at a great value, the on-wall mounts add a touch of elegance to any high-end installation, bolstered with the iPower charging station — a custom-engineered solution available exclusively from VidaBox — to deliver power to up to four iPad-compatible power feeds over CAT5.
"The iPad is a revolutionary device, and more and more consumers are looking to unleash its true potential by incorporating it into their home systems to control their environments. For end users, our on-wall mounts provide this level of sophistication by making the iPad a natural, seamless extension of any room. For integrators, they are easy to assemble and install, and the optional iPower station makes reliably powering them a breeze. And all of this is offered at an amazing value that won't break the bank."
- Steven Cheung, president of VidaBox LLC.
Designed to complement the look of any décor, VidaBox iPad mounts feature slim, sleek 19-mm aluminum frames in seven different colors and finishes: Black Metalline, Brushed German Silver, Florentine Black, Florentine Grey, Florentine Silver, Florentine Walnut, and Matte Black. The frames can also be painted to seamlessly blend into any environment. For electronic systems contractors, the optional iPower charging station allows multiple mounted iPads to be continually charged from a single centralized location, without having to utilize unreliable USB-over-CAT5 extenders.
The VidaBox iPad wall mounts/frames are available now at a suggested retail price of $149, while the optional iPower complete iPad charging solution retails for $399.
Integrators in attendance at the Integrated Systems Europe (ISE) show, Feb. 1-3, will get an exclusive look at VidaBox's complete digital entertainment and control solutions at stand 9F138.
More information about VidaBox is available at www.vidabox.com. 
About VidaBox LLC:
VidaBox LLC digital entertainment and control solutions seamlessly combine premium media centers, audio servers, and integrated home control and automation products into complete A/V distribution ecosystems to provide an unparalleled user experience. The company's reliable multiroom Blu-ray and DVD media server products support the latest options, including Netflix and streaming video, and enable comprehensive yet intuitive control of any device on any iPad®. As highly scalable systems that integrate smoothly with multizone audio and smart home technologies, VidaBox products can be installed simply and cost-effectively all at once or over time. Competitive pricing of the full VidaBox line offers exceptional value to professional integrators and their customers. More information is available at www.vidabox.com or by phone at +1 516-730-7500.